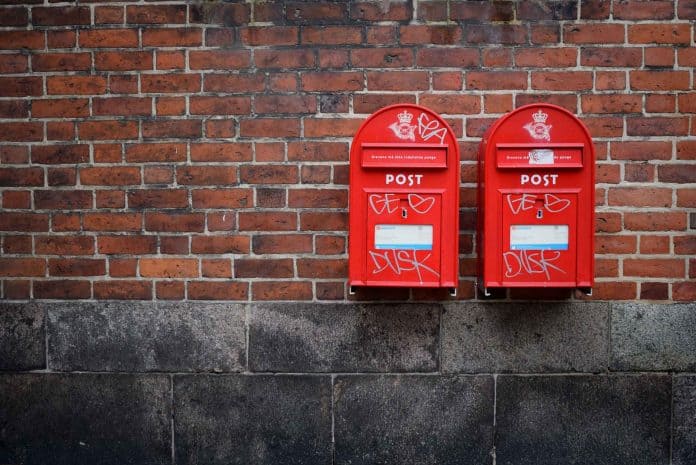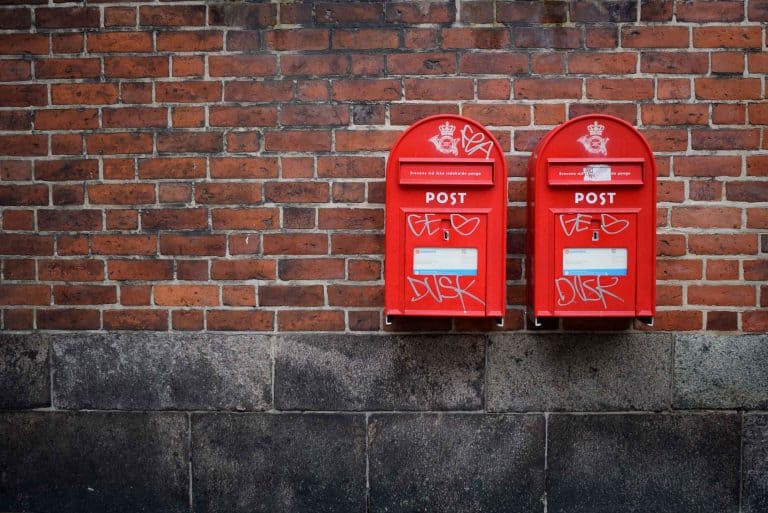 Postal Life Insurance is not a popular product. I came across the product features while analysing the Investments of one of my clients who was a Government employee. And I actually did not recommend him to surrender the policies after looking at the Bonus rates and Surrender value, following the same process which I use to analyse the LIC policies.
Until recently the Postal life insurance policies used to be available only for Government employees, PSU employees, Employees of nationalised banks, Employees of Government aided educational Institutions and Universities and Defence services.
W.e.f. 19 September 2017, the scope and clientele of Postal Life insurance has been widened and now the policies are available to (Including government employees):
Employees (Teaching/Non-Teaching Staff) of educational institutes affiliated to recognized boards like CBSE, ICSE, State Boards etc.
Professionals such as doctors, engineers, management consultants, Chartered Accountants, Architects, Lawyers, bankers etc.
Employees of Listed companies on NSE & BSE
Please refer notification here.
With all these changes, a postal agent approached me some days back and pitched the endowment assurance policy.
According to him, the Product is far better than LIC and even PPF.
Though I was not interested in any Insurance product, but with him asking me to compare it with PPF, I thought of having a look at it.
But, why am I writing about Post life insurance in comparison to LIC only is because both are Insurance products? Where LIC is owned by Government of India, there Post offices are also directly under the control of Government of India. So Postal Life Insurance also has Sovereign Guarantee attached to it.
And now with the recent widening of the scope of postal life insurance, it is quite expected that soon you will be getting pitches of these policies too.
Postal Life Insurance – Product Offerings
There are only 4 product offerings by Postal Life Insurance, which makes it easy for me to understand the features.
Whole Life Assurance (Suraksha)
Endowment Assurance (Santosh)
Anticipated Endowment Assurance (Money back Plans) –(Sumangal)
Convertible Whole Life Assurance (Suvidha)
Joint Life Endowment Assurance (Yugal Suraksha)
Postal Life Insurance – How it works?
For the sake of simplicity, for now, I will not delve much deeper into the products but give you a basic overview of how these plans work. I may do a detailed review of anyone at a later stage.
Just like other endowment plans, you enter into the policy after deciding the sum assured you want to opt or the premium you want to pay. Keep paying the premium for the term you have chosen and at the end of the policy term, you get the Sum assured along with the accrued bonus.
During the continuation of the Policy, if the Life assured dies then the nominee will get the Sum Assured plus the accrued bonus till the date of death.
Postal Life Insurance policies ask for Monthly Premium payments, but if you want to pay annually then this is considered an advance payment of premiums and you will be eligible for a discount @ 2%.
Postal Life Insurance – Other Important Features
Minimum Sum assured Rs 20000, and Maximum aggregate sum assured available is Rs 50 lakh
You may surrender the Policy after 3 years
Facility of Loan is there
You may convert the policies to Endowment assurance plans after a specific period
Rebate available on the high sum assured as well as an advance deposit of premium.
Premiums paid are eligible for tax saving u/s 80C.
Postal Life insurance – Premium and Bonus Rates
This is where the major difference comes in comparison to LIC. Bonus rates are quite better in PLIs. And when the premium cost is also less, this together impacts the Investment returns of the Investor.
Check out Historical Bonus rates in PLI, here
Since 2012-13, bonus rates in Endowment assurance policies have not been changed and remained at Rs 58 per thousand of Sum assured, whereas in case of LIC (new endowment Plan) bonus rates are in the range of 38-48 per thousand of Sum assured, depending on the term of the policy.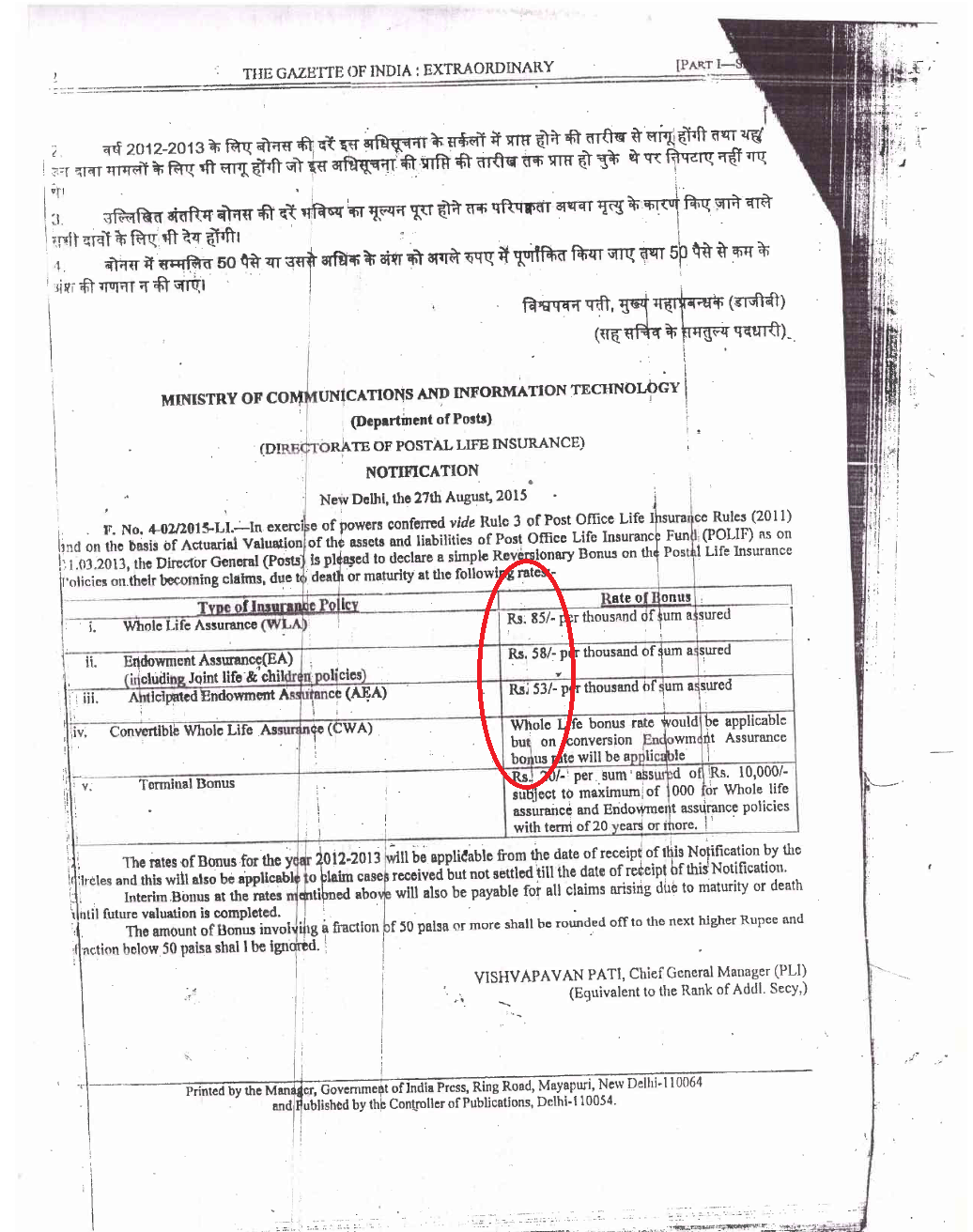 Let's see, how these bonus rates translate into Investment returns in PLI Vis a Vis LIC.
Below is the Premium chart of Endowment assurance plan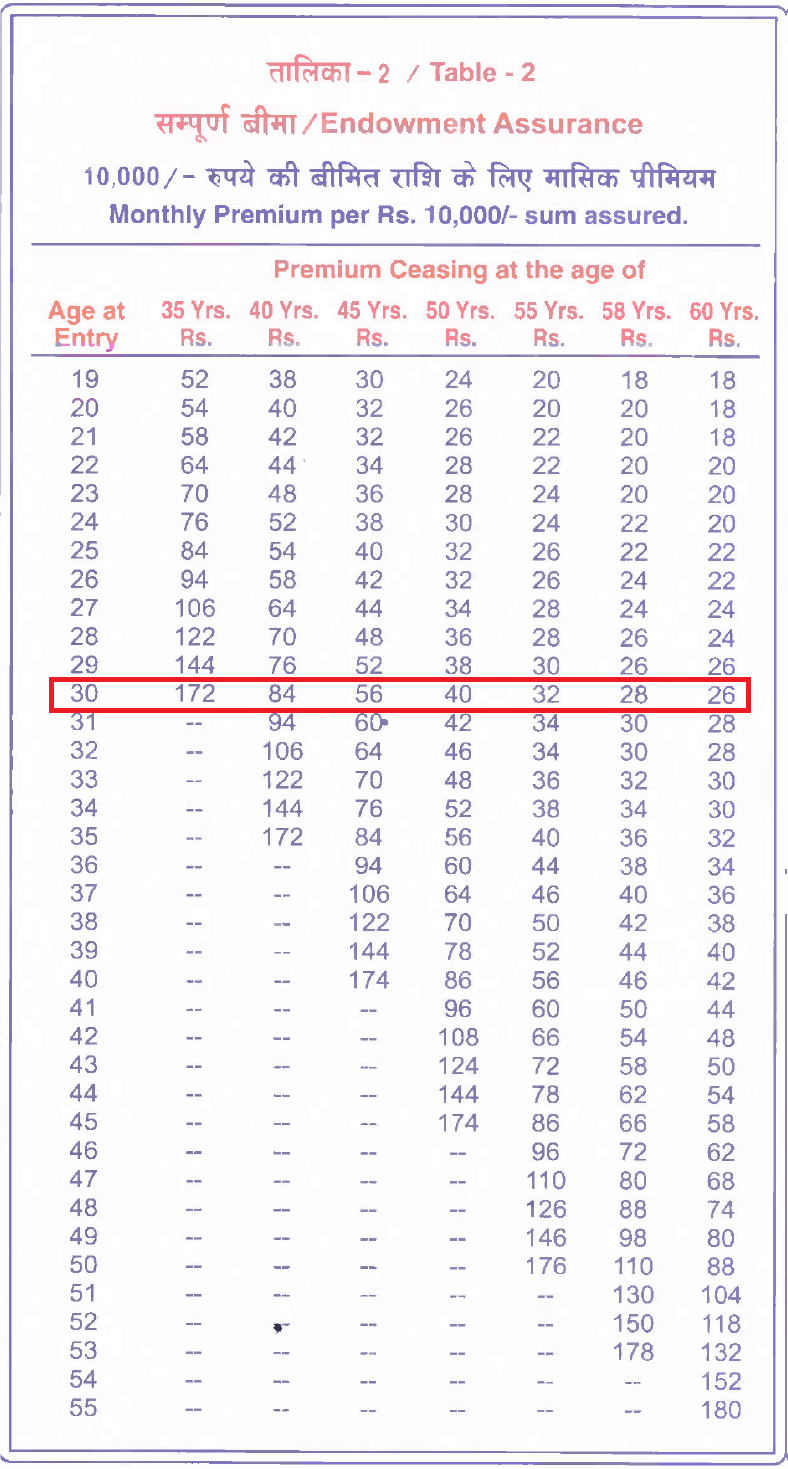 Assuming a case of a 30-year-old male, buying a sum assured of Rs 10 lakh and looking for a policy for 15/20/30 years term. He is considering PLI Endowment assurance and LIC New endowment plan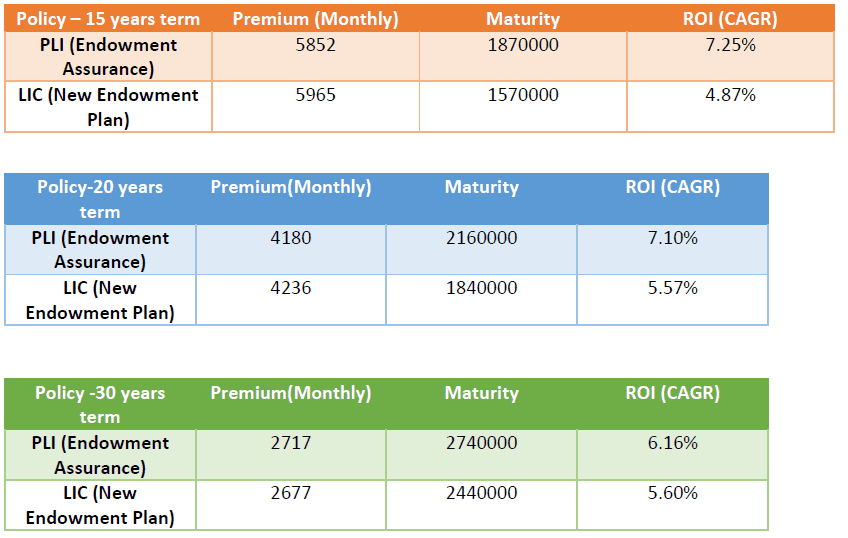 Above calculations are after assuming the current bonus rates to continue till the completion of the policy term. Premium rates are Inclusive of GST@ 4.5%
The above calculations clearly show that in the given parameters PLI policies are generating better returns in comparison to the said policy of LIC. But, please note these calculations might not be valid in different situations, Policy terms, Sum assured and products.
Postal Life Insurance – Should you buy?
Well, even postal Life insurance policies are looking better than LIC, but still, it is an Insurance product with all the restrictions which a normal insurance policy have. Thus, it is no comparison to PPF, which is a flexible investment option.
PLI has lock-in period, no liquidity except with loan or surrender, the returns may look better in comparison but may not be that good in comparison to long-term active management in mutual funds.
Moreover, the Bonus rates are not fixed and may get changed at a later stage, as happened in the past.
Postal Life Insurance policies have no mention of discontinuation clause, like in other companies' policies, and neither has any mention of TDS on surrender or maturity. The website is under construction and even agents are not easily accessible since only a few branches have PLI sales arrangements.
In fact, even Post-office employees hardly know about the schemes and do not take interest in serving the policyholders So, if you get into PLI schemes, be ready for service issues too.
I feel, it's better to stick with simplicity and keep insurance and Investments separate. Buy Term insurance policy with adequate risk coverage and do investment in Flexible and easy to understand products.
But if at all you are considering LIC policy, then do have a look at its competition with the name Postal Life Insurance.