Because It's more than Just Money…It's Part of your Life
With whatever name you call, your major Goal is to provide comfortable Life to self and Family.
You are giving part of your life to earn this money…and it's natural to expect the money to be used and invested to make life better.
We Understand this and thus have come up with Range of personal financial planning services to suit your different requirements.
At Good Moneying, you will experience what it feels like to have your own trusted financial advisor, ready to help when you have questions. With our Focus on Building Long-term client relationships, we are with you every step of the way as your life unfolds
Our Personal Financial Planning Services for you
Ranging from Single goal-based personal financial planning services like Child education planning, Retirement planning, Insurance planning, Loan advice or debt management, tax planning, estate planning, wealth management to Detailed/Comprehensive financial planning and ongoing services, we can support you on every aspect of financial life.
Below is the snapshot of our services: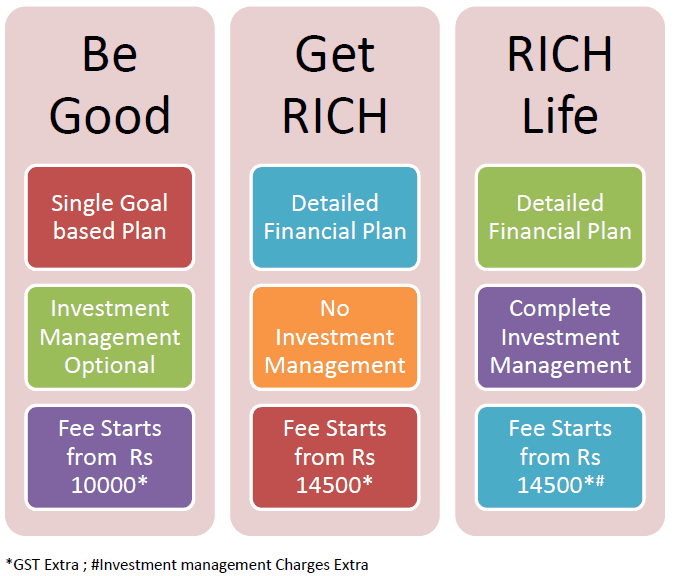 Here is Something about Us
Under our personal financial Planning services, We cater to clients across the globe. In India, our client base is scattered across big cities like Mumbai, Bangalore, Pune, Chennai, Kolkata, Delhi NCR, Chandigarh, Ludhiana along with small towns like Chiplun(Mah), Ankleshwar (Guj), Nawanshahr ( Pb.), Patiala (Pb.). Out of India, we serve clients in USA, UK, Singapore, Kuwait, Dubai, Malaysia.
We use technology extensively. 80% of the work happens online and our clients are happy with that, as it saves their time too.
We have diversified clients' portfolio with different needs, age group, and Profession. This also helped us earn rich experience on varied requirements and behaviours.
Manikaran Singal is the founder and Chief financial planner at Good Moneying Financial Solutions. He is a CERTIFIED FINANCIAL PLANNER CM and SEBI registered Investment adviser (Regd no. INA 100001620). He's having more than 15 years of experience in financial services space.
He under the banner of Good Moneying provides Comprehensive financial planning and Investment advisory services to Salaried, Professionals, NRIs and Retired. His clients are spread across the globe.
Besides regular blogging on this website, Manikaran also contributes and features in leading media publications like Business Standard, Money control, Dainik Bhaskar, Dalal Times, The Tribune etc.
Manikaran is currently the General Secretary and one of the founder members of "The Financial Planners' Guild, India" (FPGI), a not for profit and the only association in India of SEBI registered investment advisers.
He keeps on taking various financial literacy initiatives and regularly organizes workshop on financial planning for general public and corporate employees. He is regularly invited to speak at various investor awareness programs organized by Mutual fund houses. He has also conducted training sessions in collaboration with F1FX, FPA (Financial Planning Academy) for Banks and Insurance companies' employees.
Earlier to this, Manikaran works with ICICI Bank and used to look after the Branch banking and Investment advisory. He worked there from 2003-2006.