Started as Blog, Good Moneying Financial solutions is now a Full-fledged personal financial planning and Investment advisory firm, caters to clients across the globe.
We work with diverse set of clients' profiles ranging from Service to Business persons, Professionals to retired, Resident to NRIs. We Serve clients who are in their early 20s and also those who are in late 80s.
Experience with such a mixed client base of different age and Income groups, having different requirements, aspiration and goals, give us great insights into the profiles and help us create a suitable financial plan to help them achieve their financial and life goals comfortably.
Founder and Chief Financial Planner's Profile: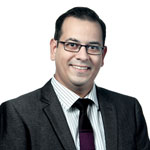 Manikaran Singal is an MBA ( Finance) gold medalist, a CERTIFIED FINANCIAL PLANNER and SEBI Registered Investment advisor. Being a Registered adviser he assumes the role of Fiduciary to the clients.
A Fiduciary legally and ethically bound to act under good faith to act in other person's best interest
An ex-banker, having more than 15 years of experience in the financial services industry. He manages clients across the globe. He's an active member of Financial Planners' Guild India ( An association of practicing SEBI registered Investment advisor). He believes that focus and discipline are the 2 pillars of success and when you follow a structured process, success comes automatically.
He firmly believes that though money is important, its not only money that brings wellness in your life. You have to create a balance to lead a happy and healthy life. and to create this balance you have to be GOOD in every area of your life. Its the goodness that pays you over the long term. Be good with Money, Be good with your health, be good with your Nears and Dears.
Living RICH is the basic theme of Good Moneying. Though he works on the money management part, the counseling and action points will make you good holistically.
He's very passionate in the financial planning space and with a view to spreading financial literacy among masses, he writes blog articles and also contributes and quoted in various media publications like Money control, Business Standard, Dainik Bhaskar, Dalal times, Indian express, Business Bhaskar etc. He also delivers training on Various personal finance topics to various corporate houses, banks and Insurance companies. You may get in touch with him at [email protected].
FPSB Registration no. : 18471
SEBI Registration no. : INA100001620