Health Insurance policies Offered by Nationalized banks are gaining attraction these days. The first thing which attracts the most is the Low premium. Of course, the cost is one of the main factors which make people think that they are still healthy and if they really require health Insurance coverage or not 🙂
I happened to look at a few of the health insurance policies by nationalized banks when one of my clients asked me the suitable one for his uncle and parents, and I actually find them worth considering.
Though I never advised any of my clients to buy such policies, due to presumed services issues but still for those who are finding difficulty in getting mediclaim coverage from anywhere, and are finding the market premium to be unaffordable, they can consider these policies, but only after understanding the pros and cons. Low premium should not be the only factor leads to your decision. (Read: How to select best health Insurance policy in India?)
I am going to write a series of article with detailed reviews of some of the health insurance plans being sold by nationalized banks. This article is covering PNB Oriental royal mediclaim policy
PNB Oriental Royal mediclaim policy – In brief
Nationalized banks in tie up with general insurance companies (Nationalized/Private) have come up with special products for their customers and bank employees. These are exclusive offerings to their account holders, under group insurance scheme.
PNB Oriental Royal mediclaim is one of such product, which is offered by Punjab national bank to its customers and employees in association with Oriental Insurance Company Limited. Through this policy, account holder or employee can cover Self+Spouse+2 dependent children under family floater coverage.
PNB Oriental Royal Mediclaim policy- Key Features

PNB Oriental Royal mediclaim policy– Premium Chart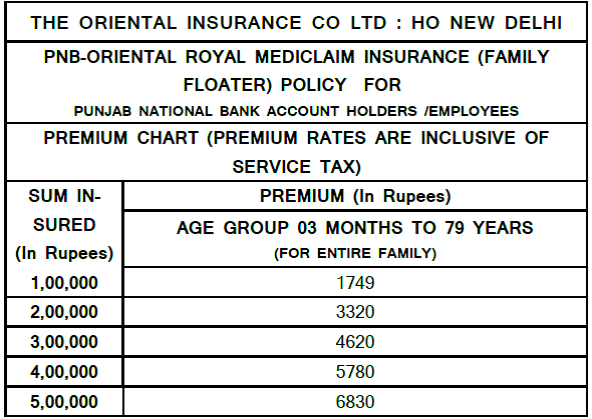 (Click to Download the policy document/wordings)
PNB Oriental royal mediclaim policy – Should you buy?
Well this is a decision which i have to leave with you. But let me share my observations which may help you in your decision making.
The premium rates are no doubt mouthwatering, especially when the premium rates are same for all age groups till 80 years, and market rates of individual policies are way ahead of this.
The main point to consider before deciding to buy this or not is that this is a group health policy and the result of special tie up between banks and insurer, once the tie up is over which can happen anytime and due to any reason then what would happen to existing policy holders? (Read: Mediclaim for parents – Other options)
As per IRDA guidelines existing policy holders in group policy can move to individual policy of the same insurer (Oriental in this case) and chose the policy best suitable for his needs. Of course at that time policy holder may have to manage with higher premium and different terms and conditions. However they will be offered with continued coverage i.e. they will get the credit of Preexisting and waiting periods already spent in the earlier policy.
The entry age in this policy is as far as I know is maximum in the Health insurance policies offered by nationalized banks. In fact even in individual policies, it is difficult to find policies after 65 years of age. So if you are not finding any suitable policy for your parents you may get them insured from here, by opening their bank accounts with PNB.
As banks are acting as intermediary in this case, so you will not get any Policy servicing or claim related support from them, you have to take the entire headache yourself and communicate directly with TPA and Insurance company.
Oriental being a nationalized insurer has a defined list of network hospitals, and thus there are conditions on claim repayment in case policyholder gets treatment in non-network hospitals
So as you see that there are both pros and cons while going in for PNB oriental royal mediclaim policy. If you find high pros as per your requirement and you can handle the service issue well, then you may consider going in for this policy. Else you may wait for my reviews on other such health policies being offered by banks.