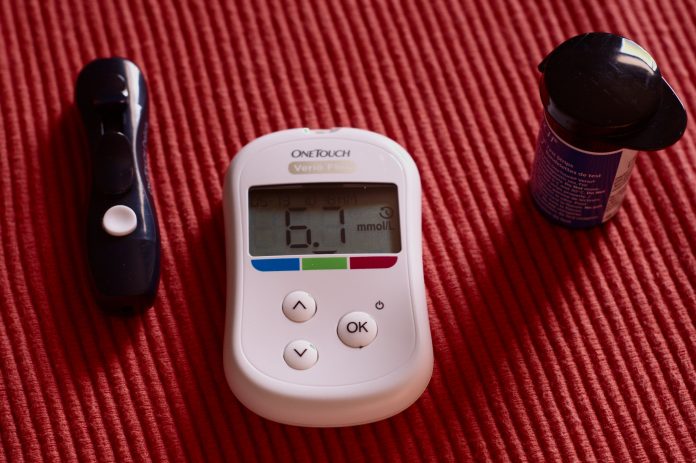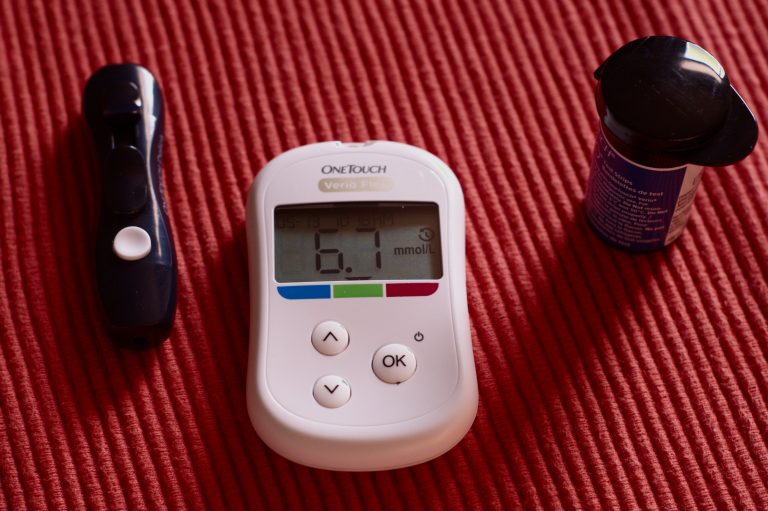 Diabetes, the word itself is very haunting. As commonly called "Sugar" it is a chronic disease which leads to multiple complications if not managed well. It can impact your Eyes, Kidneys, Heart, Nerves and what not.
Though it's a lifestyle disease which comes from sedentary life and wrong eating habits.
But if you think that you live an active life, exercise regularly, eat right, and thus you will be spared, then you may be wrong. I have seen many such persons which otherwise are living quite actively but have been diagnosed with diabetes at a quite a young age.
Genes are also a reason for this. If you have a family history of this disease then you should be doubly conscious.
Insurers are also wary of this and thus many are reluctant in giving health insurance cover to diabetics. Whereas some look at it as an opportunity and thus have come up with special health insurance for diabetes with some additional features.
Insurance companies which are lenient in covering diabetes in their normal products, give coverage to Type 2 diabetes only, and that too with Pre-existing waiting period.
In this article, I have tried to give a bird's eye view on the health insurance products available for diabetics. Some are specific products by Apollo Munich, and some are general policies which otherwise are open in covering diabetes.
There are many others too, which are willing to cover diabetics where the diabetes is not so old and should be acceptable to the underwriting norms.
Health Insurance for Diabetes – In brief
Even though India is called as Diabetes capital of the world, still the health insurance options which cover the diabetics are very limitedly available.
The Health Insurance companies having specific diabetics-oriented policies have put lots of restrictions in it, and thus may not look that attractive. But as they say, something is better than nothing. If you do not get cover from any other normal policy then this special health insurance for diabetes becomes a must to have.
As even some companies are open to cover the Type 2 diabetes, but still they may charge a higher premium or put loading on the same.
Let's see what are the options available
Health Insurance policies for Diabetes – A comparative analysis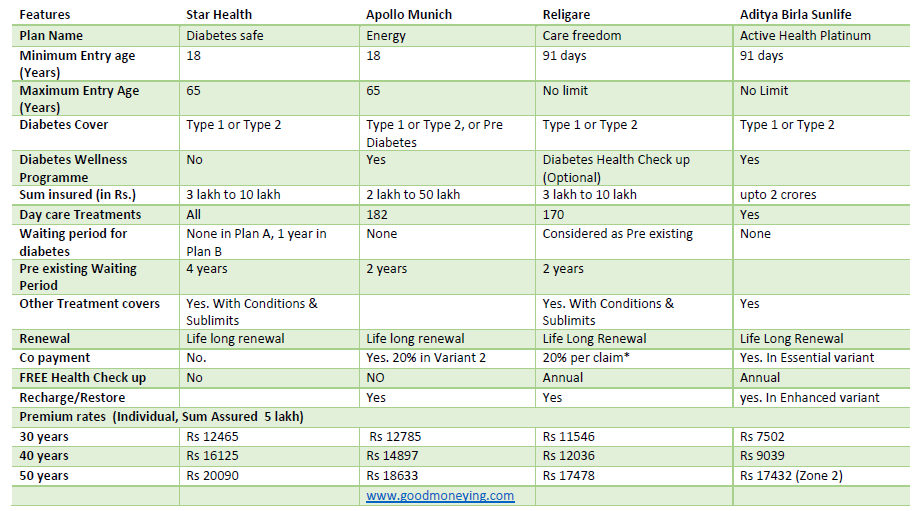 Besides the above, if you have not so old diabetes (Type 2), then you may try with Max Bupa, Religare (Care policy), ICICI Lombard. National Insurance also covers diabetes with some extra Premium.
(Also Read: How much Health Insurance cover you should have?)
Conclusion:
Apollo Munich Energy seems to be a good product for diabetics, Aditya Birla also looks quite good with lots of features in it.  In the above comparison, Religare and Star look to have lot many conditions.
I think Special health insurance policies for diabetes should be the last option to go with. Firstly, you should try for the general mediclaim as they have comprehensive features, and fewer restrictions and sub-limits.
However, diabetes policies are more focused on this particular disease and thus offer some wellness benefits and discounts on premiums if you also work on managing the same well. But since it puts sub-limits on the other connected diseases where it loses all its attraction.
But since type 1 diabetics do not get any health policy easily, so as a last resort you may go for these special policies. Do read the policy wordings and understand the specific plan in detail and then only select.
and being a financial planner my advice has always been that health insurance may not support you always so have good liquidity in the form of health fund or at least keep money in liquid investments.
Good Moneying!!