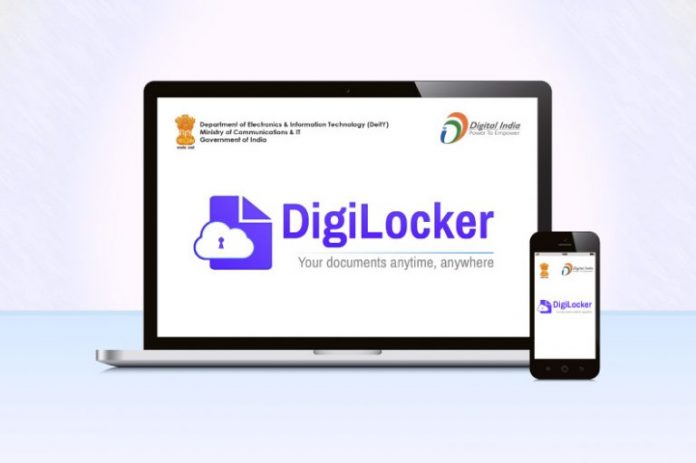 The recent changes in Motor Vehicle Rules which came into effect from 1st October 2020 say that the physical verification of vehicular documents such as- RC, Driving License are not required, for those verified electronically, stored on any authorized digital portal. 
As per IT Act, 2000 these e- copies of documents should be considered at par with the original ones, in terms of validity. This would not only eliminate the use of physical documents but also reduces the risk of damage to such documents.
Also, as per the new rules, even the seizure of documents can be done electronically, if required and e-challans would be issued to offenders.
These rules apply when the documents are stored in Government-approved apps like- DigiLocker Account or M Parivahan. Where M Parivahan is specifically for Transport and driving-related documents, Digilocker is a kind of vault where you can keep the copies of your important documents and use them whenever you want.
Many organizations are registered with this facility where you need not submit original or copies of the document but can transfer electronically.
DigiLocker Account is of Govt. of India, which was launched in 2015. In these pandemic times, Government wants people to avoid having physical contact as much as possible and thus has once again started promoting the digital platforms.
Not only the Transport and other Govt. Ministries, SEBI, and RBI have also accepted the validity of these e-documents on DigiLocker for KYC verification purposes. Now, Banks and other Intermediaries in the capital market can do KYC from DigiLocker.
(Read: Why you should not ignore if the Bank is asking you to resubmit your KYC Documents?)
In this post, I will be discussing – What is DigiLocker and how to use DigiLocker Account Step by Step.
What is DigiLocker Account?
DigiLocker Account or Digital Locker is an online document storing platform, where you (any Indian Resident) may store all your important documents. It is an initiative by the Govt. of India under the Digital India mission, which is reducing the dependence of physical documents.
Available both on website and Mobile app, it offers you a cloud storage of 1 GB per account, which is linked both to your Aadhar Card and Mobile Number where you can store scanned copies of any document or certificate- Aadhar, PAN, Driving License, Passport, Vehicle Registration, Insurances, Marksheets, Receipts etc. in PDF, JPEG or PNG format and access them anytime anywhere. The individual file size should not exceed 10 MB.
Here is the list of types of documents which are part of the DigiLocker Account Platform:
Click on the image above and go to the 'Document Types' section to view the full list of 415 documents.
In addition, the Registered entities with DigiLocker can also push e-copies of these documents/certificates into your DigiLocker account. These registered entities include- UIDAI, Departments of various Central and State Ministries, Income Tax Department, CBSE, EPFO, Insurance companies, Hospitals, etc. Here is the list of Registered issuers with DigiLocker:
For the full list of 174 registered issuers, click on the image above and navigate to the 'Registered Users' section.
You can also share these documents, whether issued or uploaded on the portals of registered requesters. Below are some of the Registered Requesters:
For the full list of 52 Registered Requesters, click on the image and go to 'Registered Requesters' section.
As per the latest statistics on the DigiLocker website, DigiLocker Account has 4.7 crore (47 million) registered users with over 4 Billion documents. Trends also show that users have considerably increased since June 2020.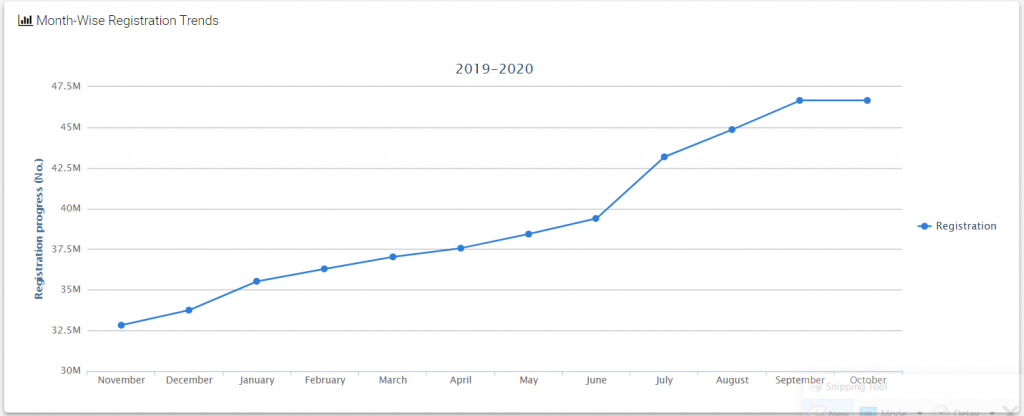 How DigiLocker Account Works?
The image below explains the working mechanism of DigiLocker Account: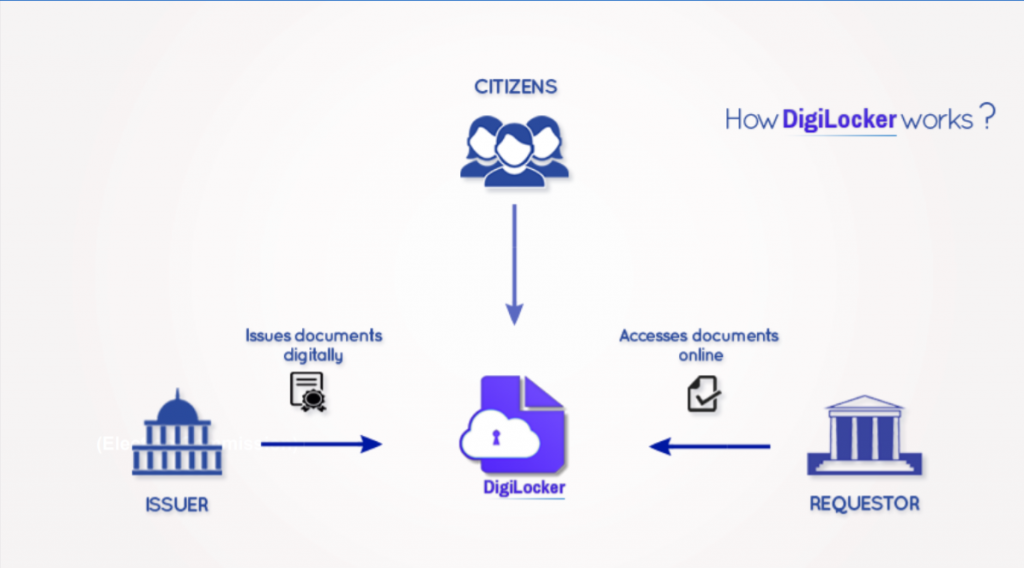 How to use DigiLocker Account?
In order to use DigiLocker, first you need to visit the DigiLocker website or Download the DigiLocker mobile app. It can be downloaded both on Android and ios Platform and then Sign Up to the DigiLocker account.
DigiLocker Sign Up Steps- Creating a DigiLocker Account:
You can sign up using your Aadhar/Mobile. Before signing up please ensure that the Aadhar is linked to the mobile number.
Click on the Sign up Button on the DigiLocker website or Mobile App and Follow the steps below to sign up DigiLocker:
Step1: Enter your Mobile Number in this field and click 'Continue'.

Step2: Enter the OTP received on this mobile number through DigiLocker and click Verify Button.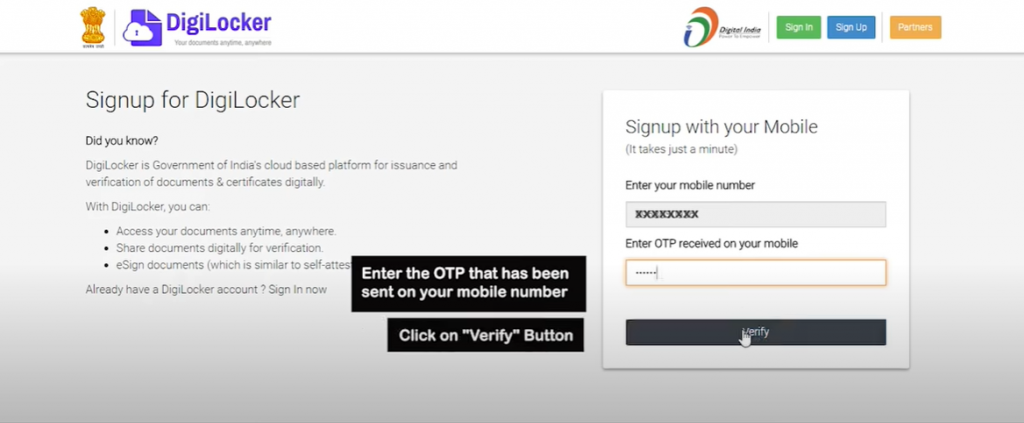 Step3: Now you may either create a User Id and Password as shown below or can just set up a 6 digit PIN for login.

Steps to Link the DigiLocker Account with Aadhar:
Now, in order to pull the e-copies of Aadhar and other documents from the registered issuers, you need to link your Aadhar to DigiLocker Account. Follow these steps to link your Aadhar Card with DigiLocker after signing up:
Step1: After you Sign up, the following screen will appear, where you have to enter your Aadhar Number and check the consent box of Aadhar based e-KYC and click 'Submit'.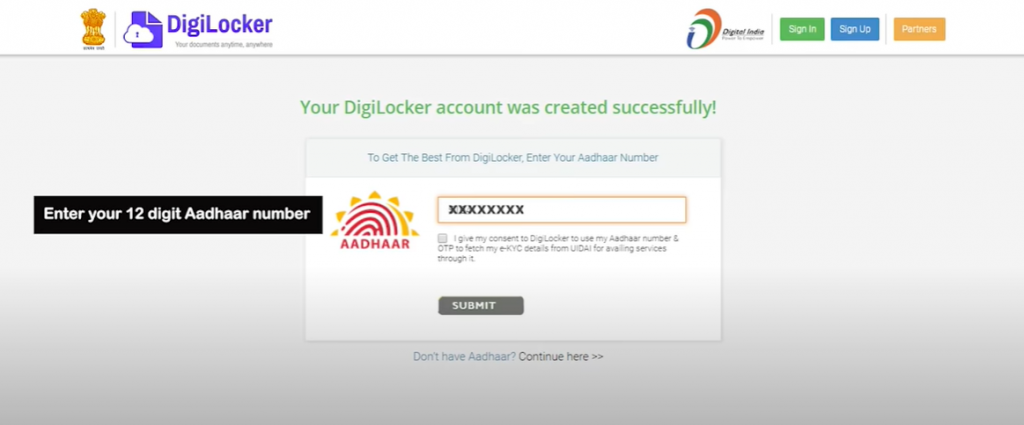 Step2: Enter the OTP received on the mobile number linked with Aadhar and click 'Verify' Button.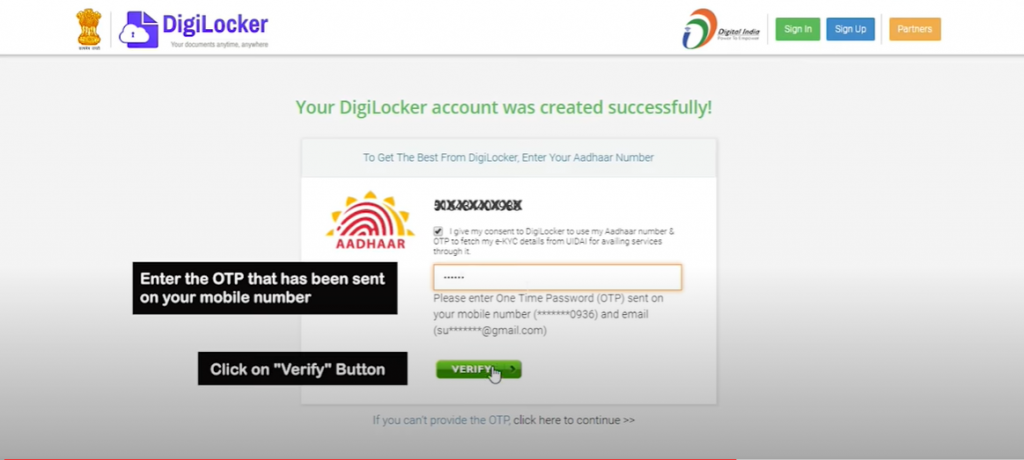 Once the Aadhar Verification is successful, Your DigiLocker Account dashboard should display the message shown below: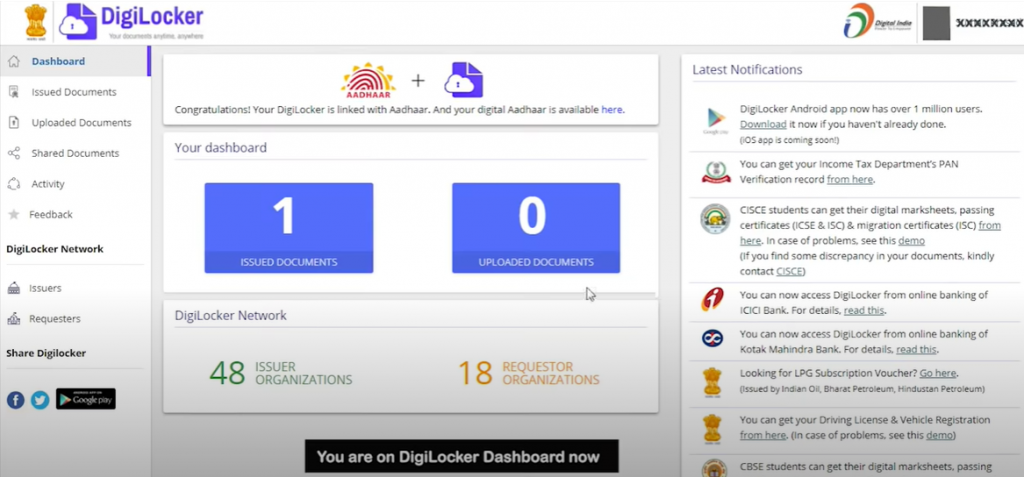 Upon the successful verification, you can view your Digital Aadhar by clicking on Issued Document section: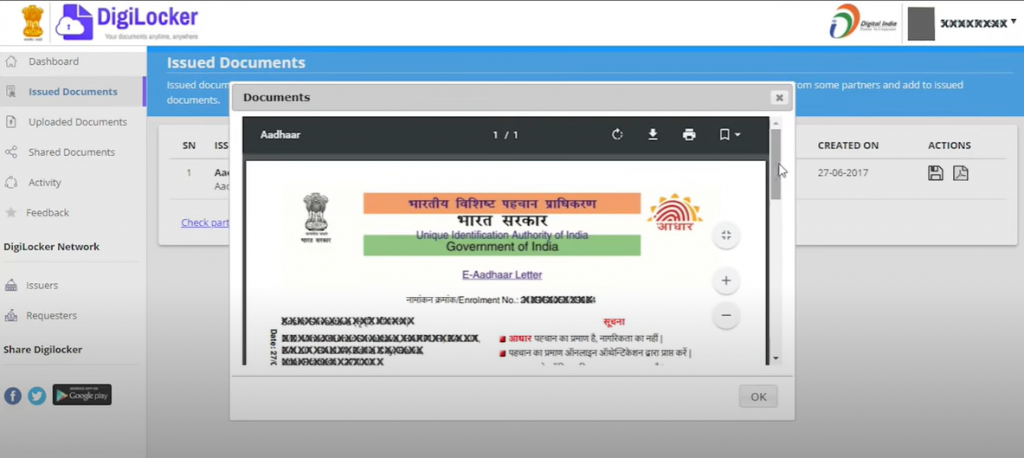 (Also Read: How to Link Aadhar to Mutual Funds online?)
Steps to Fetch Issued Documents:
Just like Aadhar, you can also fetch the issued documents from the Registered issuers on the DigiLocker Account. Follow these steps:
Sign In to your DigiLocker Account.


On the DigiLocker Account Dashboard, click on the Issued Documents section on the left side.

To fetch more documents, click on "Get More Issued Documents".


Select a Partner from the screen so appears.


Now Select the Type of Document.


Now Fill in the form with the required information as asked in the relevant text boxes.


 Check the Consent Box and click 'Get Document'.


Based on the details provided, the system tries to Fetch the URI (link) of the document and once it is done the following screen appears:


You can see the fetched document details in the 'issued documents' section by clicking on the PDF icon next to the document.

How to upload documents on DigiLocker?
You can upload scanned copies of any documents in the 'upload documents section' in PDF, JPEG, or PNG format. The video below illustrates the steps to do the same, the e-sign feature is now discontinued.
In addition, it is also possible to share these documents with the registered requesters through DigiLocker.
What about the security of these documents? Is DigiLocker Safe?
Since this is a Government App, and thus security is the responsibility of Govt. (Ministry of IT). They claim that every possible precautionary measure has been taken to ensure the data is protected.
The website says that DigiLocker follows standard software development practices of uniform coding standards, guidelines, internal testing of application and reviews.
As said, 256 bit secure socket layer (SSL) Encryption and ISO 27001 certified Data Centre app hosting also adds to the security.
In addition, security audit of the DigiLocker app is also carried out at regular intervals by recognized audit agencies.
Other safety measures include- secure data backup, explicit user consent before data sharing and OTP based authentication for Sign Up.
DigiLocker Account- Conclusion:
All in all, Digilocker is a good initiative taken by the Govt. of India to boost digital infrastructure in the country which would help every Indian resident a safe and secure vault for all his important documents, which can be accessed anytime anywhere that too free of cost.
The hassle to carry physical documents is completely eliminated by this and the validity of these documents are at par with the original ones. Digital exchange of documents not only provides convenience but is time saving and environment friendly also.
DigiLocker Account is user-friendly as well. Even less tech savvy people can use it comfortably. It would also reduce the chances of fraud and fake documents as well.
For now, you may find not all agencies connected to your work may be registered with this locker, but since this is a government initiative just like Aadhar, slowly all may have to mandatorily register under this.
In future, it is also anticipated that more and more organisations would follow this route and would register themselves with DigiLocker. But, as the portal gets more popular Govt. have to put more efforts on the security front, apart from the measures already taken to protect these documents.