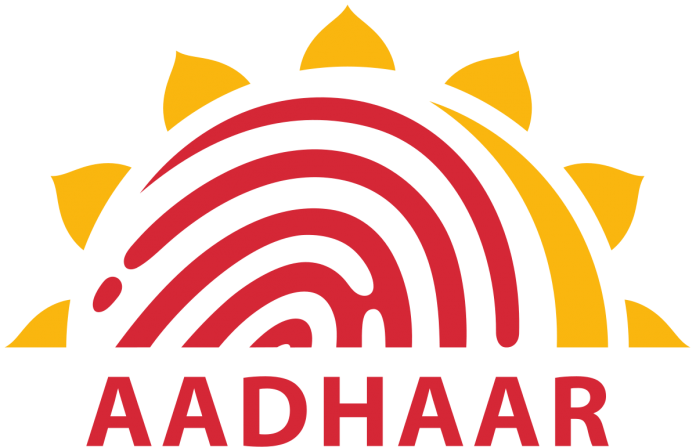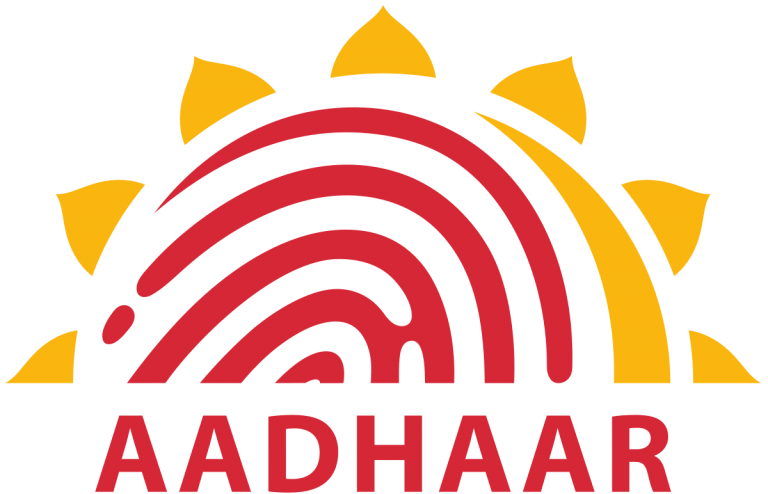 Linking of Aadhaar to mutual funds investments is now mandatory, as per the recent amendments made by Ministry of Finance in the Prevention of Money laundering ( maintenance of Records)rules 2005, through notification G.S.R 538(E), Dt. 1st June 2017.
The last date to comply with the new rules is 31st December 2017, failing which the mutual fund folios will be frozen.
You may be thinking that when PAN numbers have been linked with Aadhaar, and without PAN you are not allowed to invest in Mutual funds, then why this new hassle now. Can't the government take all the data from MF companies itself?
Well, this may be due to the reason that not all Mutual fund investments require PAN numbers, and also not all MF investors have PAN numbers. The Investments up to Rs 50000 can be done without PAN and even KYC can be done without PAN for them. So the intention could be by linking Aadhaar, the government may be able to clearly identify the investor and collate the other data of Income, to prevent the money laundering and also catch hold of tax evaders.
Your PAN numbers, Bank accounts, Demat accounts and Now Mutual funds all will be linked to Aadhar number by 31st December 2017. and also soon your mobile numbers and Driving licenes also.I believe this government in its mission to curb the black money wants to connect all investments be it Financial or Real with Aadhaar for easy tracking and identifying the owner. So very soon you may find your real estate investment and even your Gold Investments to be under Aadhaar linkage(My guess :))
The purpose of this article is to help you with the process on how to link Aadhaar to mutual funds folios. The process is easier if you are net savvy, and even if not you may submit a signed form with the required documents with the Registrar and transfer agents.
Please note that Aadhaar linking is not mandatory for NRIs, Non-Individuals, and HUF
How to Link Aadhaar to Mutual funds investments
You need not visit each and every office or website of Mutual fund house to update your Aadhaar with them. This can be done on the RTAs website.
There are 4 RTAs under which all the Mutual fund companies operate
Franklin Templeton
Sundaram
If you do not know what mutual fund holdings you have then you may generate the Mutual fund consolidated account statement online. Click to know how.
CAMS and KARVY, take care of the maximum mutual fund companies, Franklin and Sundaram manage their own schemes. All have laid down their own processes to link Aadhaar with Mutual fund investments.
How to link Aadhaar with mutual fund folios in CAMS?
Follow the below-mentioned steps to link your Aaadhaar with your Mutual fund investments
Step 1 – Visit http://www.camsonline.com/, and click on Investor Services

Step 2 – IN the left sidebar, click on the Link your Aadhaar option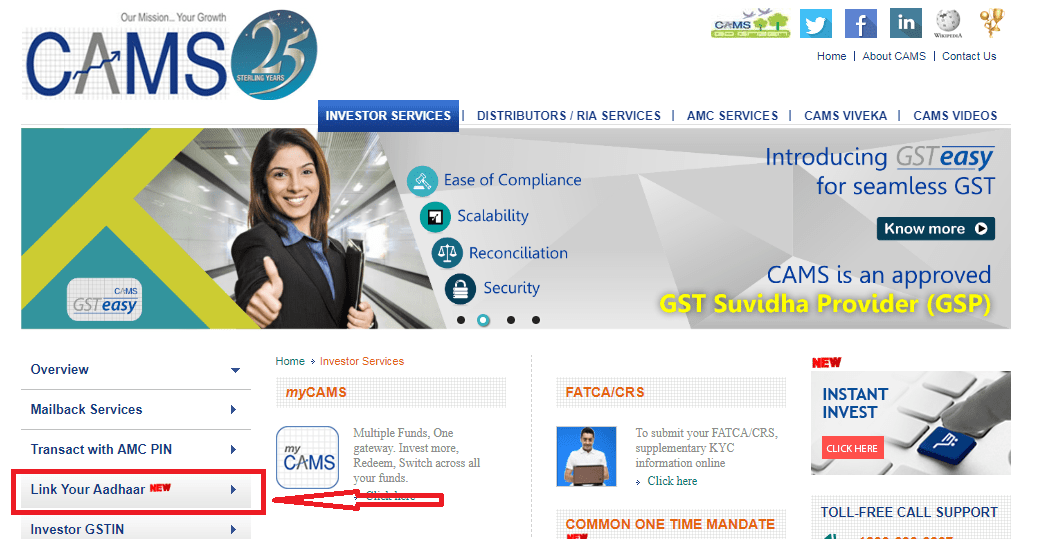 Step 3 – The next screen will prompt you to fill up your Email ID, Pan Number, Aadhaar number and Mobile Number. You need to fill the same email and mobile which have been registered in your Mutual fund folios. Since you will get OTP on these.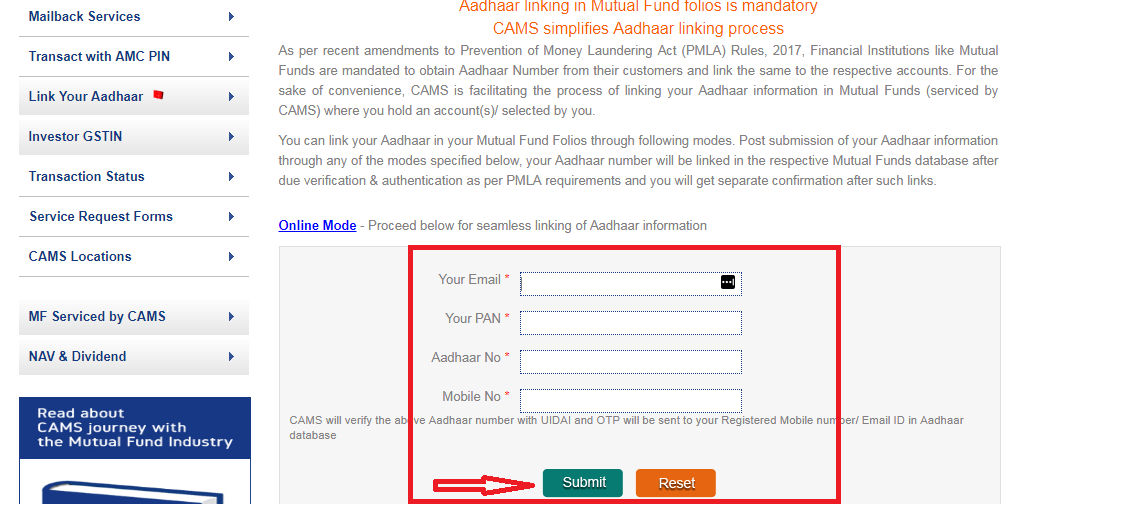 Step 4 – Once you submit these details, the next screen will show you the name of the Mutual funds' houses where you have ever invested or are currently Invested in.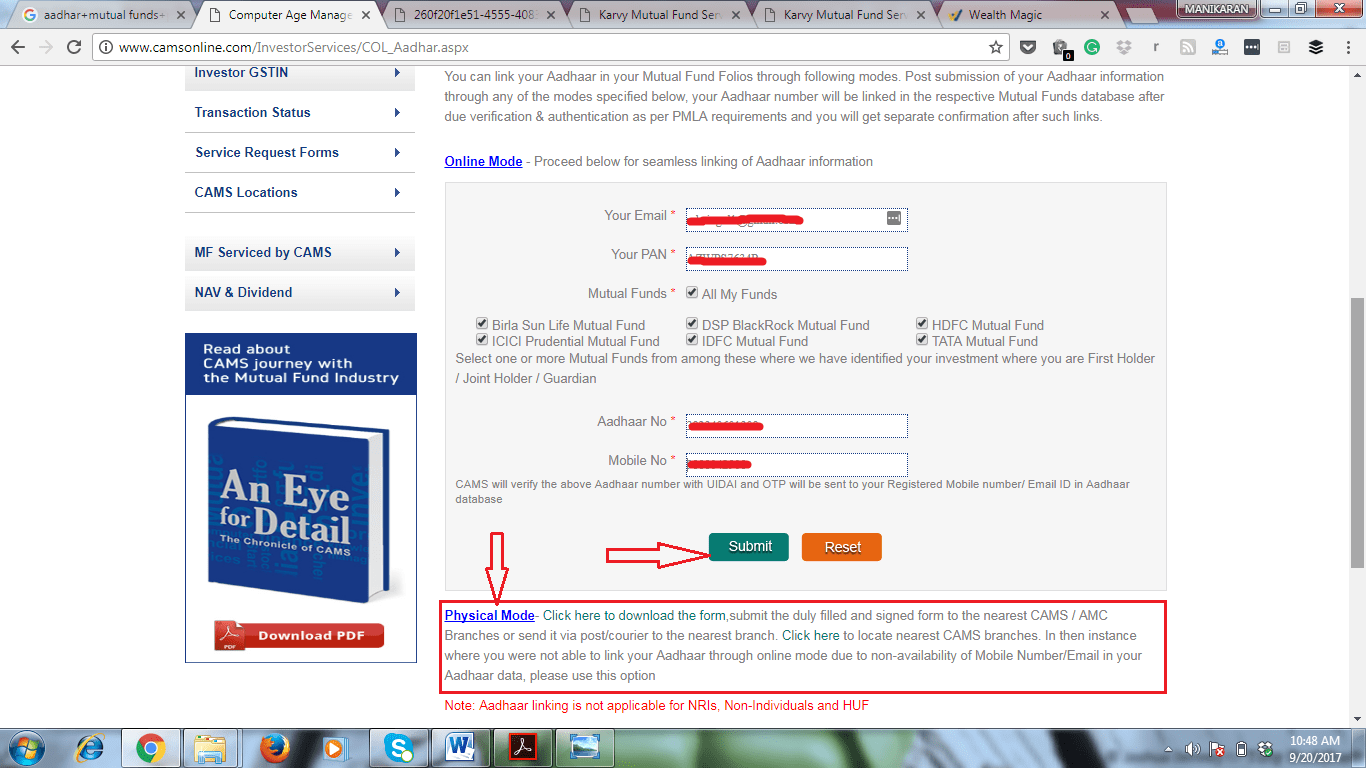 If you or anyone in the family is not net savvy or does not have registered email Id, then do not worry. You can download the form and submit the same physically at nearby cams office or send it via post. Do not forget to attach self-attested Pan card copy and Aadhaar card copy along with the form.
Coming back to online process. Once you submit the details as mentioned in step no.4 above, you will receive OTP on your registered mobile number, which you need to put in to confirm.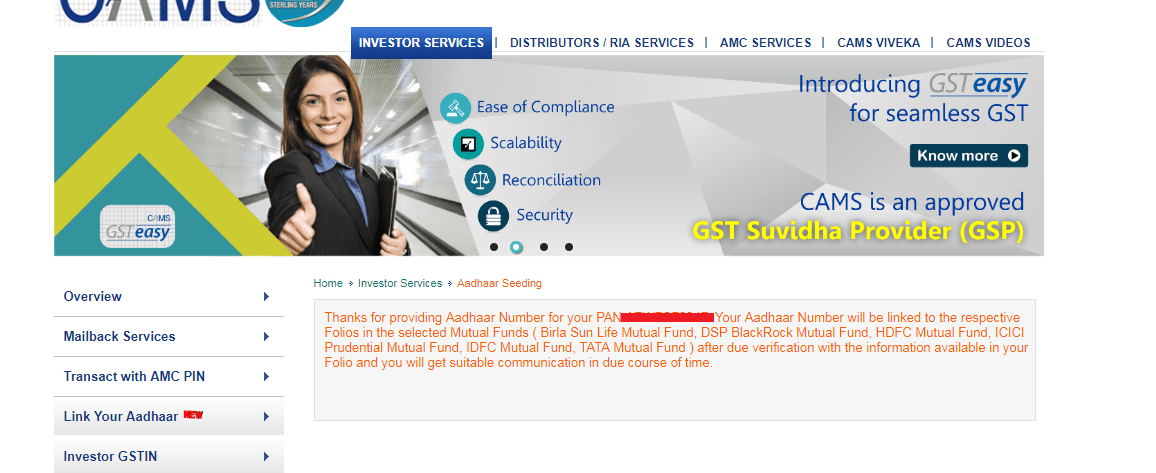 Give your consent by checking the box, and submit the form to get the acknowledgment.
How to link Aadhaar to mutual fund folios in KARVY?
If you have some folios in Karvy serviced funds, then along with CAMS you have to get the Aaadhaar number updated in Karvy too. Below is the process to link Aadhaar to Mutual funds in Karvy.
Step 1 – Visit www.karvymfs.com and click on "Aadhaar linking made easy" button on the right sidebar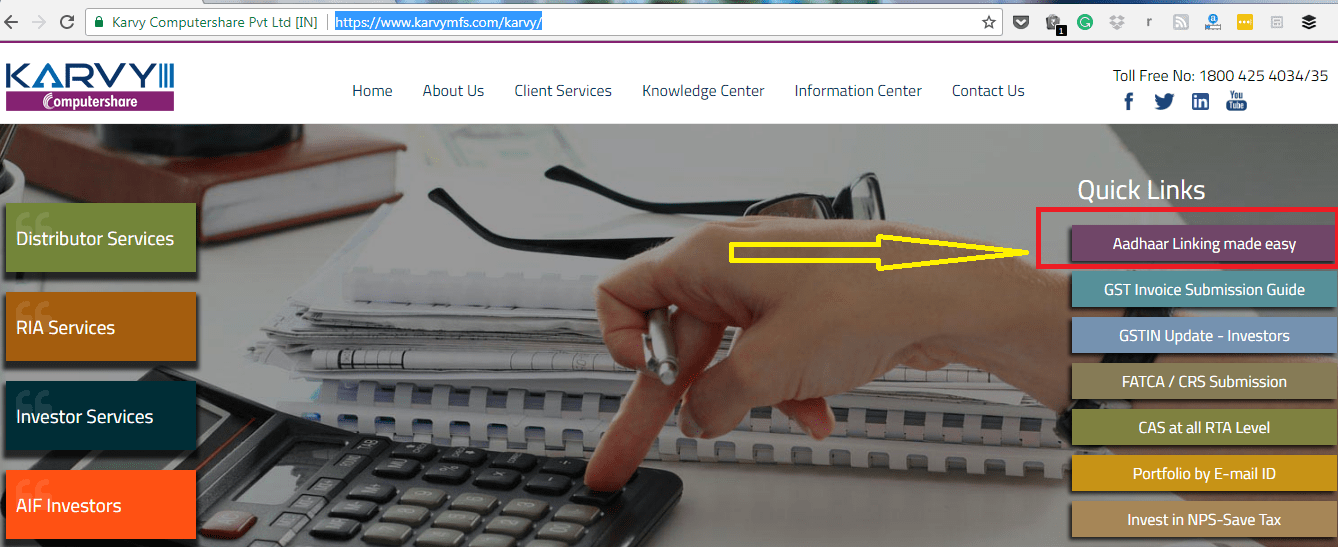 Step 2 – Start with checking the consent box. Punch in your Pan number and generate OTP, which you will receive on your registered mobile number. Put in the OTP to Validate the request.
Karvy has other methods to link Aadhaar with Cams. You may also send SMS through your Registered Mobile Number to register. One may also submit the physical signed form with self-attested documents at the nearby Karvy office.
Step 3 – After Validating the OTP, you will be shown with the list of fund houses where you have ever invested or are currently invested in. Now you are asked to put in your Aadhaar number.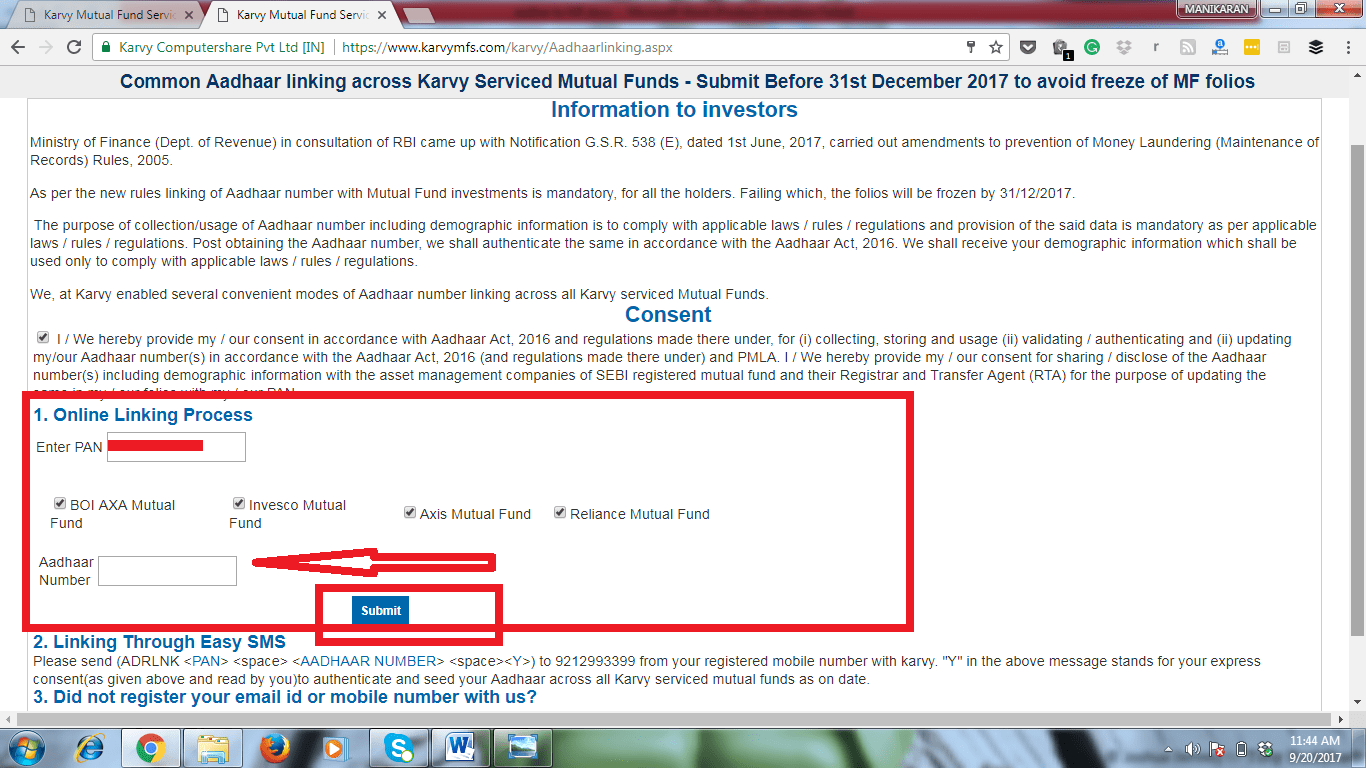 Once you submit, you will get the acknowledgment.

The process is simple and faster and for net savvy people its just 10 minutes work. You are supposed to get an email after completion of the process, but sometimes email system does not work, so better to save the screenshot of the acknowledgment.
For Franklin Templeton, please follow the link https://accounts.franklintempletonindia.com/guest/#/customerservices/updateaadhaar/accountdetails
For Sundaram, Please follow the link
They have self-explanatory processes.
Do update your Aadhaar number in your mutual fund folios before 31st December 2017. Do not wait for the dates to be extended :), as your folios might get frozen after the deadline.
Hope you find this article useful.