Samar, one of my school-time friends who works with a software firm in the UK, called me during the lockdown days to discuss his financials. Though we usually have general chit chat over Whatsapp, this was a focused discussion.
His queries were related to Indian taxation. He had some earnings from India in the form of rental, dividends, and fixed deposit Interest. Also, he keeps visiting India, for Personal and professional purposes, and in the last few years, the visits were quite frequent due to his father's bad health.
He read somewhere that in Budget 2020, the Indian Government has changed the definition of Non-Resident Indians, and now if a person stays here for 120 days or more instead of 182 days earlier in a financial year would be called Resident.
He counted his period of stay and found that last year he was in India for 131 days, as his company allowed him to work from home due to Parents' health.
So his question was if that situation repeats in future, would he be counted as Resident Indian, and if yes, what would be the tax implications? And What is RNOR? as he has never heard this term before.
This was a valid question and a genuine concern, as many NRIs were confused after this announcement, and plus RNOR status was something of an alien term for many.
Post Budget 2020, a lot many queries have been pouring in regarding the RNOR status of the NRIs. The Government announced some major changes in the definition of NRI, which led to the confusion in the minds of Visiting Indians and PIOs (Persons of Indian origins).
Generally, RNOR status is looked upon in the case of Returning NRIs, but with the addition of 2 more conditions in the definition of RNOR, it may get applied to some others too.
(Also Read: Taxation of NRE Fixed Deposits for Returning NRIs)
So, let's first understand who actually an RNOR is?
Who is RNOR?
As per Income tax rules specially meant for Returning Indians, RNOR (Resident But Not Ordinarily Resident) is an Individual who:
Has been an NRI in 9 out of the 10 previous years preceding to that year, OR
Has, during the 7 previous years preceding that year, been in India for a period of, or periods amounting in all to 729 days or less.

OR

An Indian Citizen, who is not a tax resident of any other country, and having a total income of Rs 15 lakh and more (Excluding income from foreign sources)

OR

An Indian Citizen, or a PIO, having Income in India of Rs 15 lakh or more (Excluding Income from foreign sources), and the period of stay in India was 120 days and more but less than 182 days.
The conditions 3rd and 4th have been added in Finance Bill 2020, which was the cause of all this confusion. "Income from foreign sources" means income which accrues or arises outside India (except income derived from a business controlled in or a profession set up in India).
The below infographics summarizes the conditions to check for Resident, Non-Resident, and RNOR residential status: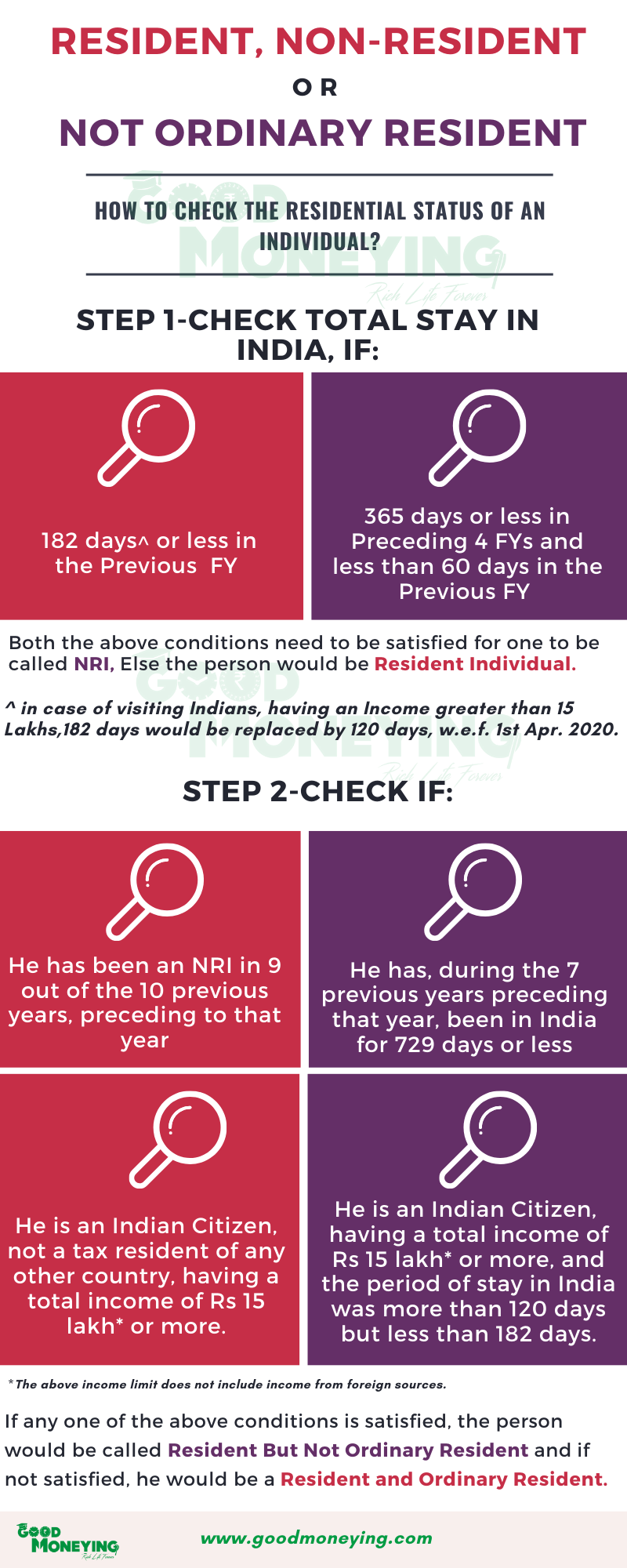 Since Samar does not have that much income from India, the change in the period of stay is not applicable to him.
One of the above 4 conditions needs to be satisfied to be eligible to be construed as RNOR.
You must have noted that the first condition is of your Residency tax status, the other is on your stay in India, the third one is about your total income and its source plus tax residency in another country, and the last one is the mix of Income and period of stay.
Why is RNOR status Important to check?
The Residential Status is an important factor to determine the taxability of the Income of the concerned person. The taxation of an individual depends on the A) Residential Status and B) The nature of the Income. (Read: Mutual funds taxation – How is it different for NRIs?)
Income tax rules say, if a Person is a Resident, then the Indian Income, as well as Foreign Income, be taxed in his/her hands; whereas if the Person is Non-Resident, then Only the Indian Income be taxed and not the foreign income.
RNOR status is treated the same as Non-Resident. Thus in the case of RNOR too only Indian income is taxable and not the foreign Income.
Though this time Government has added conditions on the visiting NRIs or PIOs, generally RNOR status is the point of contention among the Returning Indians.
The purpose of RNOR residential status is to provide a safe tax net to the returning NRIs so they can wind up their financial arrangement from the other country and bring back the assets along with less worry on the taxation part.
So, if someone is an RNOR and is still earning rental income on properties abroad, or earning some kind of interest on their deposits, or capital gain on their shares or mutual funds invested abroad, then that will not be taxable in India, till the time they are RNOR
Considering the First 2 conditions of RNOR status, and assuming someone are not having Total Income of Rs 15 lakh in India, then the undermentioned may apply:
Those returning India after being NRIs for 5 continuous years or less, immediately become Residents as they won't be able to satisfy the first 2 conditions.
Those returning India after being NRIs for 6 continuous years may become RNOR for one year, provided he/she had not visited India in all those years
Even those who after being NRI for a considerable time say 15-20 years, may become RNOR but for 2 years at the most. In rare cases, a person can become RNOR for 3 years.
How to determine the taxation status of an Individual?
Firstly you have to find if you are a Resident or a Non-Resident. Check the rules for the same here
If the calculation says that you are not a Non-Resident, then you have to find out if you are a Resident or a Resident but not ordinarily resident (RNOR), by checking the rules as stated above in the article.
You have to do these calculations every year to be on the right side of the law, so to file your tax returns accordingly.
What is the benefit of having RNOR Status?
As mentioned above the major benefit of having RNOR status is that till the time you become completely Resident, you will not be taxed on your Foreign income.
Plus this is to ease out the procedures so you can bring your money back to your country smoothly with not much tax hassles. (Check your Residency status from this RNOR calculator – Click here)
So when you are RNOR and come back to your home country for good, you are allowed to open the RFC account (Resident Foreign currency) account where you may transfer your NRE bank balance and even FCNR account balances, in case you want to keep the tax free interest status, and also the easy repatriability of the funds. (Read: Everything about NRI bank accounts)
You may receive foreign remittance easily in your RFC account, like your Rentals, Capital gain proceeds, Employer benefits, Retirals, etc. and you will not be charged any tax on the same in India.
(Also Read: Tax Planning Tips for NRI Returning to India)
The below table summarizes the taxation on different Residential status:

Conclusion:
Samar's case was different, but still, his concern was genuine. If you have Income in India above the threshold limit, and you are a regular visitor then soon you will lose your NRI tag and may be asked to pay tax on your foreign income. Even if your visits are genuine and you are a law-abiding citizen you may fall into tax complexity due to all this.
However, for returning NRIs coming for good in their home country, RNOR status would help them manage their foreign transactions in a tax-efficient manner and will have ample time to wind up.