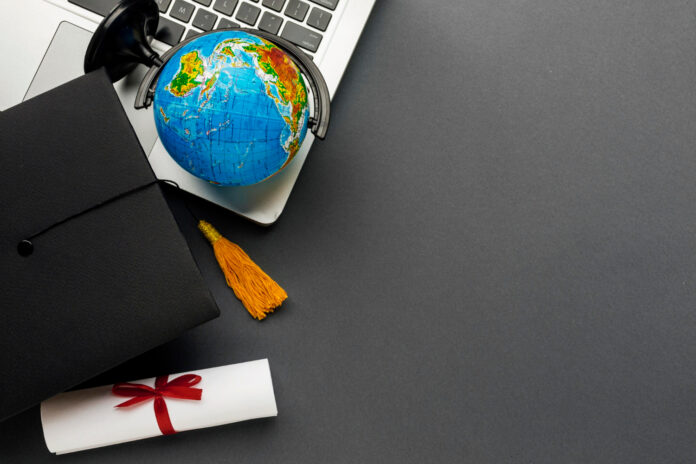 On December 20, 2011, 1 USD was worth Rs.52.77, but as of December 20, 2021, it touched a low of Rs.78. And on today the day, I am writing this, it is at Rs.81.90 (Sept 28'2022). This is at its All-time High or Highest to date.
The INR has lost almost 7% within a short span of 7 months of the current year and still trading in a narrow band, and has already crossed the psychological barrier of Rs.80 for a dollar.
As a consequence of this depreciation of the rupee against the US dollar, various sectors have been impacted. This includes imports of crude oil, coal, gold, electronics, and other goods. It also affects anyone who is planning to travel abroad or invest abroad. (Read: Cause and effect of Rupee Depreciation on Personal Finances)
But one group of people that will be hit the hardest from multiple fronts are the students who were planning for foreign education and their families.
The students who want to study abroad are among the worst hit segments because, in addition to an increased tuition fee, the falling rupee will also raise the cost of travel, food, and living for them. In addition to this burden, they will have to face the decadal high inflation that most of the advanced countries are facing.
Also check- How NRIs can take the best advantage of the depreciating rupee?
So, what are the Options for the Students?
If not been planning for long, most families who wish to send their children for a foreign education take an education loan, sometimes even gold loans or personal loans, to finance their education. (Read: Types of loans in India- Good and the Bad ones)
Taking a loan in a scenario where the INR is depreciating, with no respite in the sight, and causing the interest rates to increase is no longer a simple decision.
In light of the above fact, students and their parents must do comprehensive research about not only the educational institution that they aspire for but also on multiple other fronts to save as much as possible.
Yes, currency movement is the one issue you need to address or plan for while taking an education loan. But there are some aspects as well which you should have the answers to, before sending the kids abroad for education. In this article, we will discuss all those aspects.
Ways to protect your foreign education budget from the falling rupee:
1. Make a Financial Plan-
Parents should have started this a way back, actually, the right time to start planning for kids' education is when the child was born. But better late than never, so the second-best time is now.
But after reaching this stage even the student who wishes to go abroad needs to learn the basics of budgeting, generating part-time income, and overall financial planning. (Also Read: Essential money management lessons for your kids)
If your target year of studying abroad is at least a few years away, then you may still get some, if not all, things in order before you leave.
A financial plan would not only comprise the list price of all the expenses – such as tuition, boarding, lodging, travel, and insurance. Your plan must comprise incidental expenses like buying laptops, project fees, the cost of certifications, travel for conferences, local travel, recreational trips, and an occasional indulgence. (Also Read: Laddering approach to managing Child Education expenses)
If you have the figures of all the listed expenses that you need to pay upfront to the university, then you should add at least 15 to 20 percent to that figure for additional expenses in normal times.
In these times of inflation when even the natives find it challenging to make ends meet, you should provide for at least a 25% higher budget.
From this corpus requirement, you must deduct all the scholarships and grants that you may receive based on the experience of students in the past. You must also deduct the sum that you expect, and your university allows you to legally earn while studying. Finally, you must deduct the funds that you have already set aside, and the balance is the target that you may seek financing.
Also Check- How to safeguard your Child's Future through Financial Planning?
2. Open an Overseas Bank Account-
A foreign currency-denominated bank account is one of the simplest ways to hedge against the fall in the value of the Indian rupee. Such foreign currency accounts can be opened with any foreign bank that is registered with the RBI (Reserve Bank of India) for such purposes.
Though there are annual limits on the funds that you can transfer to a foreign currency account, with your funds locked in at the current rates, you will be protected against any further depreciation in INR. You always run the risk of booking losses if the rupee appreciates significantly in the future.
To open such an account, students require valid identification such as a passport, proper study visa, address proof, and student ID card from the admitting university or school.
Most foreign universities have a partnership with a local bank that facilitates the opening of such an account even while you are in India. You can operate these bank accounts like any other when you land there. But you must remember that most foreign currency deposits, however, do not offer any interest income.
3. Education Loan in Foreign Currency-
Another option for students aspiring for a degree from abroad is to take education loans in foreign currency rather than in INR. It is allowed by RBI but not sure how banks provide this. However, this becomes an even more attractive proposition when the value of the Indian Rupee is sliding and is expected to slide further going forward.
For instance, one may take an education loan of Rs. 32 lakhs to finance one year of education costing USD 40,000 at an exchange rate of Rs. 80/dollar. But if the rupee further slides by another 4% (its historic annual depreciation since the 2000s), then in the second year the same $40,000 amount would require at least Rs. 33,28,000.
Even in the short term, a sliding rupee can hurt your plans adversely. This is because in 2022 alone the INR has lost almost 7 percent of its value against the US Dollar. This translates to an additional expense of Rs. 2.25 lakhs in just that many months!
On the other hand, if the same student would have secured a loan in USD at the beginning of the year, then despite the fall in the value of the Rupee, her liability would have remained the same.
The Catch
This option would make sense only if you would continue to work in the same country after completion of your studies and earn in their currency. On the other hand, if you come back and earn and repay in INR, then you will have to pay more to repay the loan taken in (say) the USD. This is because, while you can lock in the current exchange rate at the time of taking the loan, but when you will start repaying it after a few years, the INR would have depreciated furthermore. (Read: Why you should not default on your Education Loan?)
4. Research the Country-
Ideally, this should be the first step. Even before thinking or planning for the loan, one needs to be sure which country should be opted for the foreign education and why, plus what would be the total tentative cost.
Researching the education system of a country and the total cost of education for the entirety of the program duration are very important. For example, the cost of medical education in Indian private medical schools is four to five times higher than that of most East European countries. This came to the limelight during the Russia-Ukraine crisis when thousands of Indian students were stranded in the war-torn region.
Many factors affect the total cost of education including employment & job opportunities, accessibility, quality of life, social security, and the host country's education policy. For example, all students in Germany – domestic or international – receive free education as far as tuition is concerned. But the cost of living in Germany and the language are two big impediments.
I would recommend consulting some "Fee-Only" Foreign education consultant. There are many such professionals available these days, who can give you a clear idea of the cost, lifestyle, benefits, and risks of different countries' education systems. Since their interest is not to grant you Visa, but a conflict-of-Interest Free advice, so you can expect an unbiased view.
Also Check- When Students studying abroad will be considered an NRI?
5. Quality of Education-
When it comes to education, you can never compromise on quality. That is one of the prime reasons, that you are choosing to study at a reputed university abroad and not staying back. If only for the sake of acquiring a foreign degree, you compromise on the country or the school, then the whole purpose of the endeavour is defeated.
A reputed institution gives you access to the best faculty, research, resources, environment, and opportunities to expand your knowledge and horizons. More importantly, access to the global network of alumni and connections can help you kick-start your successful career.
Therefore, students and parents must focus on the quality of education as the highest priority when considering opportunities abroad. While some destinations may be more affordable & economical, they may not be a reasonable investment.
You may ask for the alumni reference from the University. Better to know the institution's placement experience also.
6. Fixed-Rate or Variable-Rate Loans?
A fixed-rate loan offers you steady EMIs and a fixed tenure allowing you enough room to plan your repayment schedule. On the other hand, a variable-rate loan allows you to benefit from lower interest rates but can sting hard in an inflationary scenario. Most banks prefer to lend Repo Rate linked loans only.
As we are witnessing a scenario of imported inflation and a depreciating rupee, one should better be clear on the mathematics and its impact on other finances. It is difficult to gauge what would be the rate a few years from now, so if you feel comfortable with a Fixed rate loan then go for that, as Variable rate loans may rise further, and once, they rise, they may stay elevated for a long time before easing.
Though Fixed-rate loans generally are always higher than Variable ones. As Banks also like to protect themselves from the movement of Interest rates domestically and globally.
Do note, there could be a clause in the loan agreement to revise even the fixed rate if there are some big movements in the benchmark. (Also Read: How external benchmarking impacts the interest rates on loans?)
Therefore, it is wise to have a detailed understanding of both rate structures. Different market scenarios, and personal financial scenarios may result in different decisions.
Additionally, do check what the loan actually covers. Like does it cover expenses on living expenses, books, tools, conferences, laptops, etc., or just the tuition fee? These are crucial costs that many lenders may not cover resulting in a significant additional burden on the parents and the student.
7. Opt for A Lower-Cost Education Loan-
You must not jump the gun and sign the dotted line with the first lender that approves your loan. Thorough market research would reveal that if one lender is willing to offer you an education loan, then there are certainly some others as well. And you might get a better deal there!
As discussed in the previous point, the students should consider the lenders that provide a clear and full-service loan product. With a long chain of satisfied customers, you will find that their cost of funds is also very less allowing them to offer the best rates. (Also Read: Factors to consider before going for an education loan)
As of July 2022, the PaisaBazar article cited by Business Standard reports the following interest rates for studying abroad.
| Lender | Annual Interest Rate (%) |
| --- | --- |
| State Bank of India | 7.00-10.15 |
| Bank of India | 6.85-9.35 |
| ICICI Bank | 10.50 onwards |
| Punjab National Bank | 6.95-10.40 |
| Bank of Baroda | 7.45-9.90 |
| Axis Bank | 13.70-15.20 |
8. Bonus Point – Invest Abroad
An alternative workaround for mitigating the currency depreciation risks could be for people who have almost the entire corpus for funding the foreign education of their children. They can repatriate the entire sum and invest in securities in the country where your children are/will study.
You can redeem the investments as and when the tuition and other fee become due, while the remaining corpus can sit in a cushy fund. Your only criteria for such types of funds must be Return of Capital and not Returns on Capital. This is because the goal is hard and immediate with no scope of error. Therefore, you must invest this corpus only in the highest-rated and least volatile securities.
Conclusion
Foreign education certainly would open a new and much larger world for you. It can help you shape your career dreams into a reality much earlier than with a degree from an Indian institution barring a handful of exceptions.
By careful research, planning, and budgeting, you can still make it to your dream school at an affordable cost.