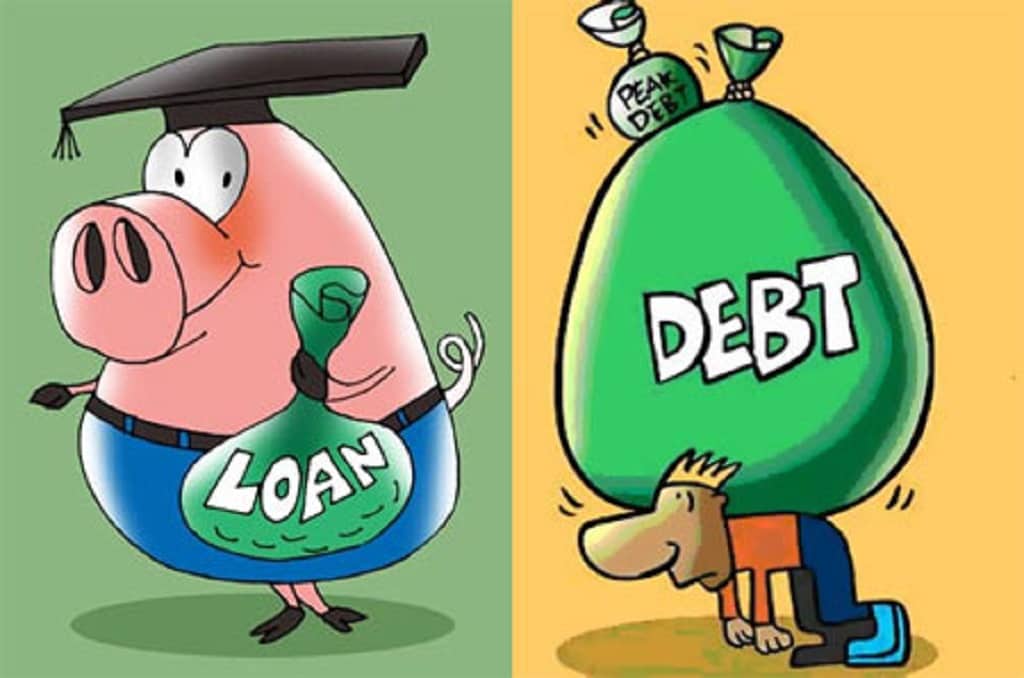 There are many situations you face in your Lifetime where you have to borrow money from someone to satisfy your needs which could be purchasing of some assets or for personal expenses .Your Desires govern your needs and Loans help you to convert that need into demand.
When you borrow from a Financial Institution, your purpose defines the type of Loans and your income defines your capability to repay the loan. Even if you are capable of repaying it, the Quantum of loan should be serviceable such that it will not prove to be a burden on your finances.
In case of goals, you normally would put a monetary value and a time frame within which to achieve it. Financial Planning focuses on assisting you in achieving your goals through proper Financial management.
Loans, if not used judiciously, can make your life miserable. Through this article, I want to make you aware of the types of loans products and also how these loans can affect your financial Life.
To make the whole discussion more interesting, I termed some of them as Good loans, which if taken can prove to be good in some way to the Personal Finance and other as Bad loans which if taken can prove to be a big burden on your Financial Life. There are two more categories.
Types of Loans – Good and Not so good loans
Good Loans:
1.     Home Loan :
It is the loan which helps you build or buy the most precious asset of Lifetime – your "Home". This can be termed a good loan because House property is an appreciating asset. So, even if you are paying a cost to service the loan, it hardly pinches since property itself is appreciating all along. (Read: How prepared are you for your House purchase?)
What's more, you get a tax rebate of up to Rs 1.5 Lakh u/s 80C on Principal payment and u/s 24 up to Rs 2 lakh on Interest payment. Which means your interest payment is also being subsidized.
If you have taken a Home loan to purchase a House property for investment purpose, even then you will get the tax benefit. But with the nex changes announced, the benefit for the second loan is also limited to Rs 2 lakh which was earlier for the unlimited amount of Interest payment. This loan comes with rate of Interest in the range of 8%-10% p.a.
(Read: Falling Interest rates – Should you move from Base rate to MCLR rate?)
The Appreciating Value of House and Tax Advantages together make this loan best among lot. ( Read: Housing loan tax benefits)
Not So Good Loan:
    Vehicle Loan:
This loan also helps you to acquire an asset which could be Four Wheeler or Two Wheeler but both of these assets are depreciating assets which means that the value of these assets goes down, year on Year.
If you are paying the cost in the form of Interest to purchase such Assets, you are losing on both counts. This loan comes with a rate of Interest in the range of 10%-13% p.a.
Looking at no Tax benefit and depreciating the value of the asset, it's better to plan and save first to purchase such asset. While this types of loans are not so good it is not all that bad as it helps in creating an Asset with some resale value.
Types of Loans – Bad and Not so bad Loans
Personal Loan:
This loan is usually taken to satisfy immediate personal requirements or expenses like buying some Consumer Durables or going on vacation. When your income is not sufficient enough to satisfy your desires immediately,  then you would go for a  personal Loan.
As these types of loans are purely for personal expenses, this is comparatively costly than Home and Vehicle Loan. From Financial Planning point of view, this loan comes under the bad and avoidable category.
The Reason for that is – one, it doesn't help in the creation of any Asset which has a Resale value and second, its effect on your Finances can be significant, due to the high-interest costs. This loan comes with a rate of Interest in the range of 15%-18% p.a. This loan doesn't provide any tax benefits. (Read: Are loans available to people having no Credit history?)
Credit Cards:
This is the Worst type of loan. Credit cards are generally called as Easy Money and this easy money, in turn, proves so costly, if not used judiciously. This loan is the costliest among lot.
Those who want to play with the credit period and minimum outstanding must note that this is a sure way of falling into a debt trap. If not serviced on time, this loan can make a big hole in your pocket.
Here, along with the interest charged on loan, you have to pay the rollover interest cost. One has to understand that Credit cards should be used as Convenience tools and not to enlarge cash availability beyond your means. This loan comes with a rate of Interest in the range of 18%-24%. Rollover interest cost can be in excess of 40%.
(Read: How to use Credit cards to your advantage?)
In life, one faces different circumstances where one is forced to take some loan to satisfy the short-term requirements. To counter this problem there are different types of loans which are economical. Following are some of those:
Not So Bad Loans
Loan against Securities:
If you have some Shares or Mutual Funds, then you can take loans against those securities. Banks provide you with 50% of the value of securities a s as loan, the with rate of Interest ranges from 12%-14%.
Loan against Property:
You can unlock the potential of your Real Estate for short term requirements. If there's any property (Residential or commercial) in your name, you can always ask a bank to take this as collateral and provide you with short term financing.
Loan against Gold:
Now day's banks and many NBFCs have come up with this product. You can provide bank with Jewellery, Ornaments, coins or bars. Bank will accept all forms of gold. This loan gets processed fast and you may get loan in half an hour after submitting of requisite documents. Interest rate on this product ranges between 10%-12%.
Loan against Fixed deposit:
If you have some fixed deposits with your bank but you need some amount for very short term need then there's no point breaking that FD and lose on interest but you can ask bank to open a Fixed deposit overdraft a/c so that you can use the liquidity of your deposits. Bank will charge 1%-2% extra for this facility and you will get the required Liquidity.
Some Financial Planning Tips to use Loans:
Total Loan EMI outgo of your income should not be more than 50% of your Take home Salary, if you have a home loan. Else your total EMI should not be more than 30% of total income.
Understand what you want to purchase. If you need can be postponed, then it's always better to save first and then purchase… especially, if you want to purchase a vehicle
Never take a loan to purchase consumer durables or if at all you want to go for it then try "Not so bad" ones first as mentioned above.
Never take a loan to Invest in Stock market.
Always give monetary figures to your goals and prioritize. It happens that we spend our whole life servicing some loans and thus avoid saving for our life goals.
Personal Loans or Credit card Loans should be your last option to consider.
Ask your bank to open Overdraft a/c if possible  as it will be more cost effective.
This article on Types of loans written by ManiKaran Singal for Financial Planners' guild India and has been published in www.fpgindia.com. Hindi version of  the same was published in Business Bhaskar dt 9/12/2010.