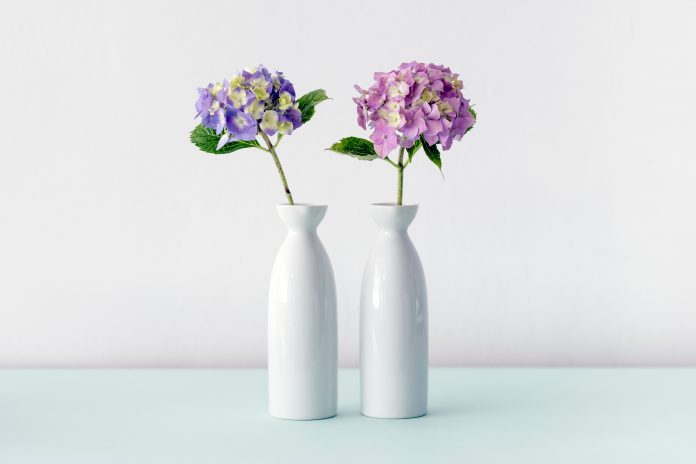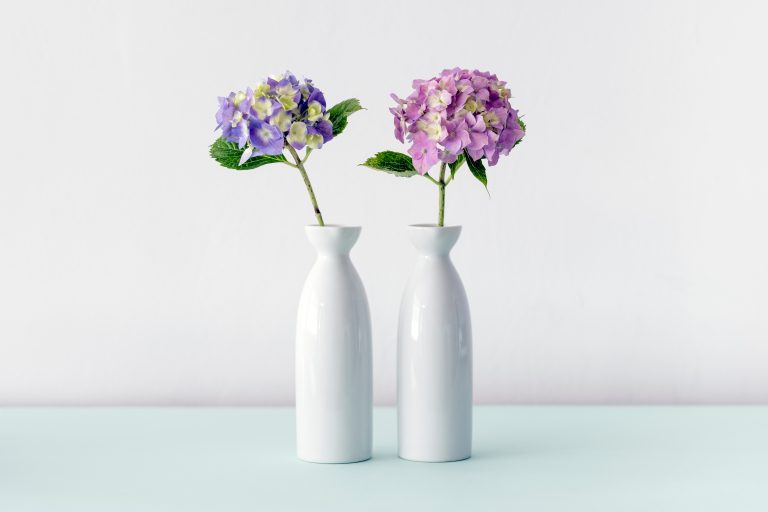 NPS is no longer an alien product to Investors. With the tax benefit u/s 80CCD, it is one of the sought after product, especially for tax saving. Though Investors have concerns on the taxation on maturity, the feature of 60% tax-free withdrawal at maturity, has taken care of the most part of worry. (Read: NPS withdrawal rules?)
Check the NPS Infographic at the end of the Post to have a detailed understanding of the Product.
But while opening of NPS account two doubts has always come up as to which fund manager to choose among the 7 fund managers and also which investment choice to opt for between active or auto investment choice.
NPS is a very long term product, meant for Retirement Planning, and what is generally said is that longer the horizon higher should be the equity allocation to earn more in the long term.
Earlier the auto investment choice did not have high equity allocation or aggressive portfolio, so whenever a young person in his late twenties or early thirties ask on what to chose, my answer had always been to go with active choice of 50% E, 25% C, and 25% G, and leave the money as it is in this allocation until the maturity. (Read: what is E C G in NPS?)
But now with the coming up of aggressive allocation in auto life cycle fund where 75% can be into equity up to 35 years of age, it is natural to attract eyeballs of many investors.
But, is it really so attractive that everyone having a longer horizon, say 15 years or more, should put their money into aggressive allocation or should one still consider the active choice and chose the allocation as per the risk profile and requirement?
Now it is also possible to start SIP in NPS. Click here to know how to set up SIP in NPS online using the D-Remit Facility. 
Recently one of my client in his early 30s while opening enps account, asked me the same question as to should he go with aggressive auto allocation with 75% of equity allocation or go with an active choice where the choice of allocation is personal. This made me do some calculations to figure out the end result, to help him take the decision. But I otherwise do not want any person to choose between active and auto choice based on the numbers alone, and one should have the following considerations before taking the final decision.
I otherwise do not want any person to choose between active and auto choice based on the numbers alone, and one should have the following considerations before taking the final decision.
Considerations before choosing between active or auto investment choice in nps investment
NPS allocation should be a part of your overall investment allocation. If you are conservatively allocated in your otherwise portfolio, then you should not be aggressive or moderate in NPS allocation.
You should know that the Auto choice in NPS is a lifecycle fund, where the allocation keeps on changing with the age. Even in aggressive allocation 75% of equity exposure remains only till 35 years of age and keeps reducing in later years.
The Equity allocation will be into Index kind of portfolio, and thus the returns would more or less replicate the Broad market Index. Thus you should not compare it with the actively managed mutual funds as generally available in the market.
The Investment choice should not depend on your age. If you are young, that does not mean you should go aggressive in Investments and if you are old that also does not in any way means that you should go conservative. It all depends on your Risk tolerance and other aspects of asset allocation.
Before sharing with you the calculations and Results, let me give you a brief on how these active or auto investment choice in NPS works.
Active Investment Choice: Under this option, Investor can decide his own Investment allocation in Equity(E), Corporate Bonds ( C ), and Government Securities (G). There is one new addition to this choice which is an Alternative asset (A), where one can allocate a maximum of 5% of total investments.
Under "A" choice, Investment in SEBI Regulated 'Alternative Investment Funds' AIF (Category I and Category II only) as defined under the SEBI (Alternative Investment Fund) Regulations 2012 is permitted. Read a Detailed Article on AIFs here.

There's one further restriction in the active choice i.e. a maximum of 50% can be allocated in Equity (E) category. However in case of C and G, one is at liberty to even have 100% in a C or G
Auto choice: In Auto choice, which is also known as Lifecycle fund, there are further 3 choices where there is a predefined spread of funds in E C and G, and which keep changing every year as investor ages. 
Below is the NPS Investment Auto choice table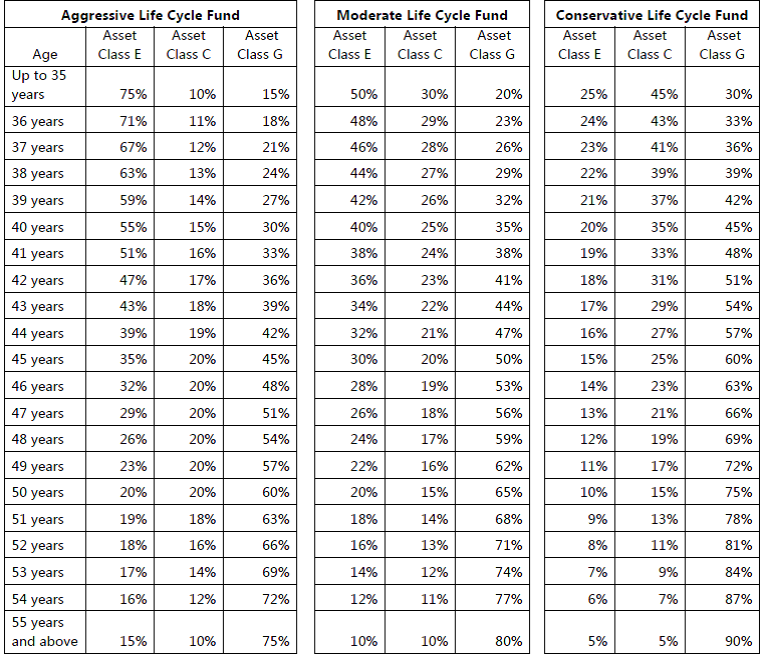 Earlier there was only Moderate Lifecycle fund, but then in 2017, the other 2 choices have been provided.
The announcement of this aggressive choice has made young and market savvy investors to think if they should opt for this in the active or auto investment choice, which led me to do some calculations to help them made this choice.
I assumed that the Investor's age is 30 years and he will be investing Rs 50000 per annum till 60 years of age. Since he has 30 years of investment time horizon and his otherwise Investment allocation is also 60% E and 40% D, so either he can go with the Aggressive allocation with 75% of equity up to 35 years of age or active choice where he can chose 50% of equity and rest equally divided into C and G, and continue this allocation till Retirement.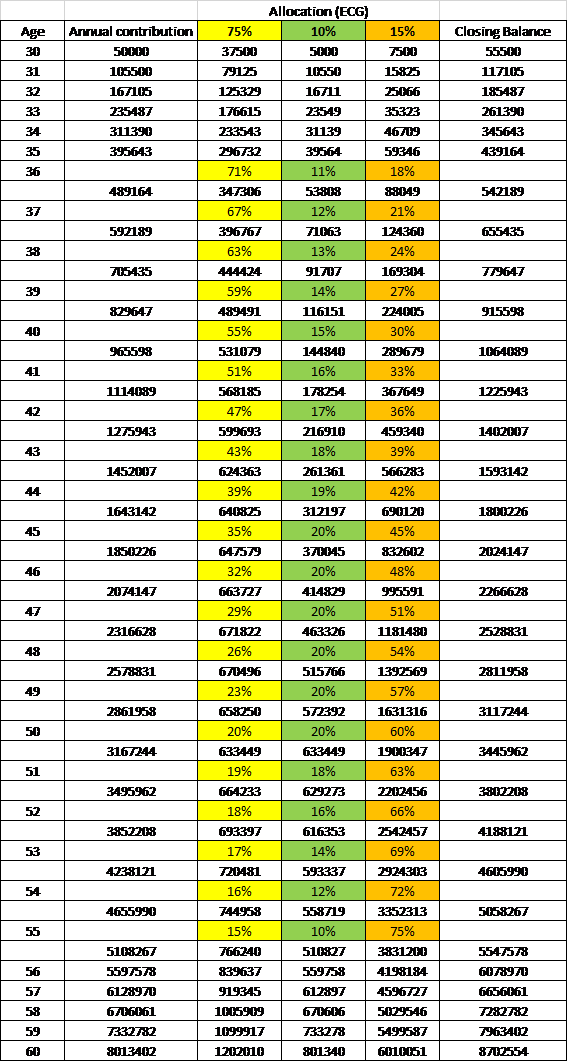 I further assumed the Equity Returns to be 12% per annum and debt (C or G) to be 8%.
This comes up to an annual return of 10% (50%*12% + 50%*8%) in the case of auto choice, which has resulted in the maturity amount to Rs 90.47 lakh after 30 years.
Whereas, in the case of aggressive choice, the maturity value comes out to be Rs 81.26 lakh.
This clearly shows that keeping money in aggressive option in auto choice may result in Rs 10 lakh lesser than the active choice with aggressive allocation.
NPS Investment Subscribers can change between Auto and active choice
There is one more option which market savvy investors may like to exercise. NPS investment subscribers can now switch between active or auto Investment choice or between different allocations in active choice. This option can be exercised twice a year. So one may start with an aggressive auto choice for first few years and later on say by 41 years of age one may move to active choice with higher equity allocation.
But do keep in mind that you should not keep playing with the choices, which means that you should not switch your holdings too frequently. This is due to 2 reasons; one is that every switch will cost you some amount, which may not be that high but cost is cost. And the second reason is that this may result in you into trying to time the market which itself is not possible and you will lose the discipline of Investment.
If you want to make the most of your NPS Investment, better to decide on the allocation at the start and stick to it for long. The Best option is to have a single allocation for a lifetime, and another good option is to Review the allocation every 10 years.
What are your views on selecting of active or auto Investment choice? Kindly share in the comments section.