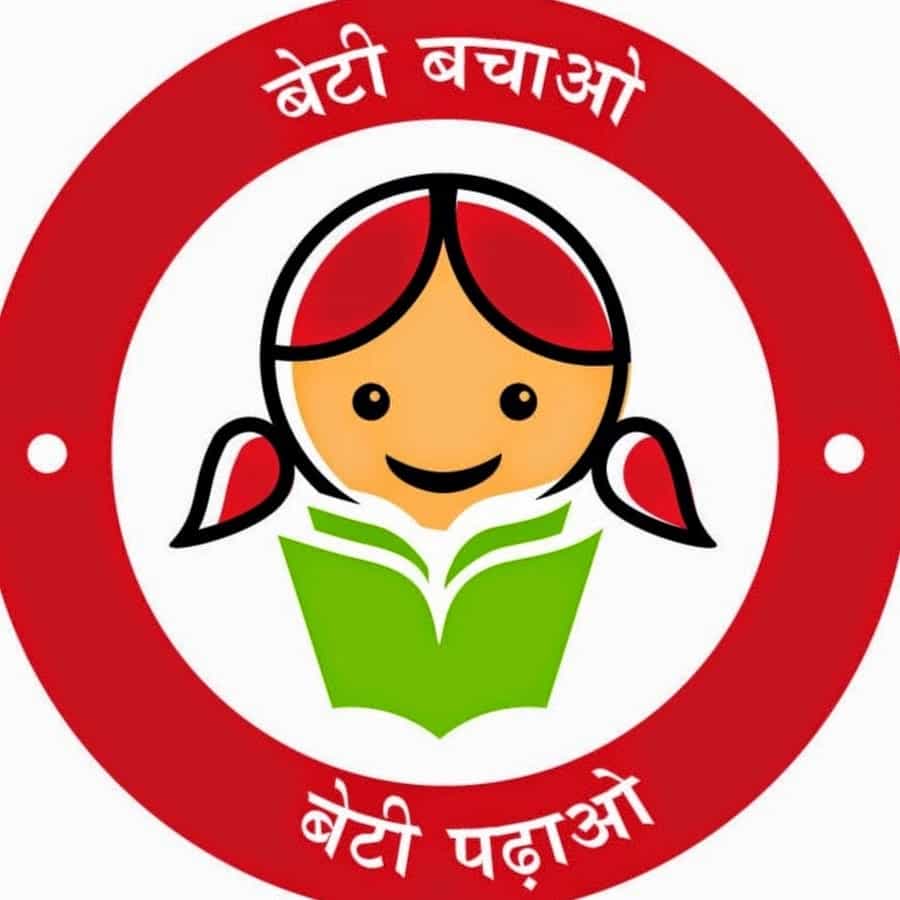 The current government has a focus on the development of women and the girl child. They have launched a slew of measures for the girl child under the name 'Beti Bachao Beti Padhao'. As a part of encouragement for the girl child, the government has launched the Sukanya Samriddhi Yojana. Apart from the social benefits that this scheme aims to bring, it is an excellent scheme from an investment perspective. Let us evaluate the Sukanya Samriddhi Yojana scheme from an investment viewpoint- what this scheme has to offer and how it stands in comparison to other similar schemes.
Sukanya Samriddhi Yojana – Basic details
– Where can the account be opened?
The account can be opened at any post office in India and all public sector banks.
– Who can invest?
Parents or legal guardians of a girl child can open the account in the name of the girl anytime after her birth till she attains an age of 10 years. For the first year, there is an exemption provided in the age condition. The scheme was notified on 02/12/2014. All girls who have turned ten, one year before notification of the scheme are also eligible to get an account under this scheme. That means the account can also be opened for a girl who has attained the age of 10 years between 02/12/2013 to 02/12/2014.
Only one Sukanya samriddhi yojana account can be opened for a girl child. Parents/guardians can open accounts for up to two girls. In case there are twin girls born as the second birth or triplets-all girls born as the first birth, parents/guardians will be allowed to open three accounts upon presentation of the relevant documentary proof.
– How much can be invested?
The account needs to be opened with minimum Rs.1000. Minimum investment amount is Rs.1000 per year and the maximum allowed is Rs.150000 per year. These amounts can be deposited any number of times in a year.
– What is the duration of the scheme?
Investments can be made till completion of fourteen years from the date of opening of the account.
– What is the rate of return?
The rate of return will be announced by the government every Quarter. In the current Quarter (Jul 2016-Sept 2016) the rate is 8.6%. The interest would be compounded yearly. Apart from the rate, the yearly compounding nature will help create a good corpus upon maturity.
With effect from 01.04.2020, the interest rate would be 7.6% p.a. compounded yearly.
There is also an option of monthly interest payout. Though this option is provided, it will be better to avoid it, to be able to have a sizeable corpus for your daughter's higher education or marriage.
– Account operation
The account has to be operated by the parent/legal guardian of the girl. When the girl becomes 10 years old, she herself can operate the account.
The details of the transactions in the account will be updated in a passbook given by the post office or the bank where the account is maintained.
– What is the level of safety?
The level of safety is highest in this product as it is scheme from Government of India.
Sukayna Samriddhi Yojana account – Taxation
This is a tax-free scheme. When you invest the amount in this account, you get a benefit under Sec 80C. The interest received is tax-free and upon maturity, you will be able to withdraw the amount tax-free. So it is under the EEE taxation level, same as that of PPF account. ( Read : tax saving – financial planning way)
When the scheme was launched the taxation was not clear. The tax-exempt status has been announced in the budget of 28 February 2015, which was later approved by both houses of the Parliament.
Sukanya Samriddhi Yojana – When can the money be withdrawn?
The sukanya samriddhi yojana account will mature after 21 years from the date of opening of the account. All amounts in the account can be withdrawn on maturity. If the account is not closed on completion of 21 years from Date of account opening, it will continue to earn the rate of interest that is announced by the government every quarter till its closure.
If the girl gets married before the account is due for maturity, the account will have to be closed. The girl will have to give an affidavit that she is above eighteen years of age if she is closing the account before maturity for this reason. This ensures that there is some support for child marriage using this scheme.
So if the account is opened for a girl 9-10 years of age today, the maturity will be at her age of 30-31 years. She can close the account if she gets married before this age or continues it for the full duration.
After the girl turns eighteen a partial withdrawal is permitted to provide for her education/marriage. An amount equal to 50% of the balance at the end of the preceding financial year will be allowed to be withdrawn.
Premature closure of accounts will be allowed only in two conditions
Death of the account holder
If the account holder is suffering from life-threatening diseases for which the funds might be required.
Sukanya Samriddhi yojana – Documentation required to open the account

Birth certificate of the girl
Address proof
Photo identity proof of the girl
Photo identity proof of the parent/legal guardian
How much can you accumulate?
Table A shows the possible accumulation if the interest rate continues at 9.1% ( the rate when scheme was announced) Since the rate will be announced every year and might be different for the years to come, another working of the accumulation assuming the rate to be 8% from year two is shown in Table B. So we see that a good accumulation of Rs.60-80 lakhs is possible until maturity under this scheme.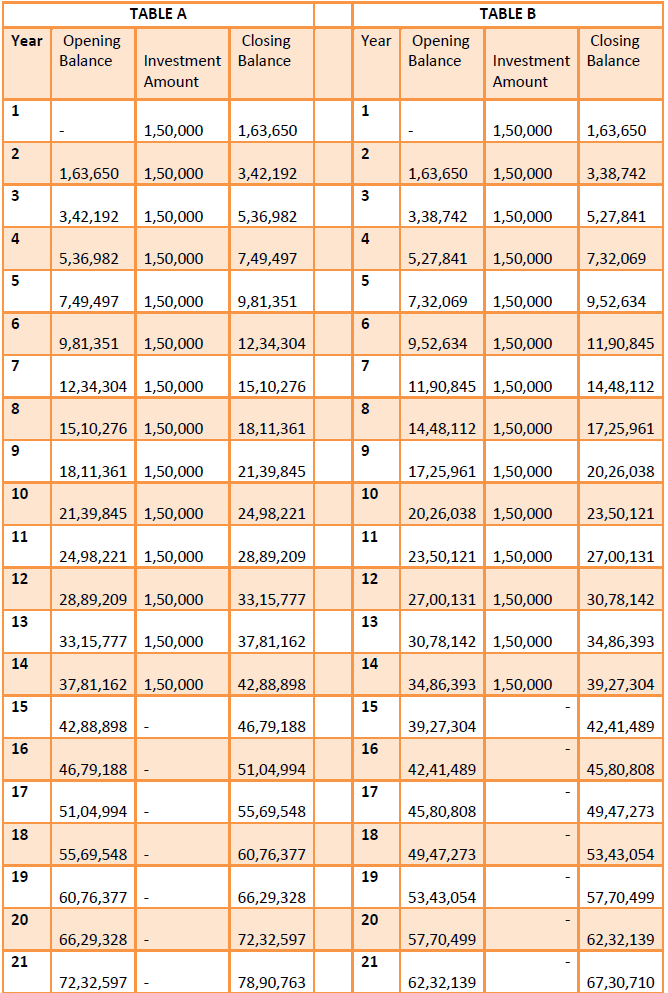 Sukanya Samriddhi Yojana account – Comparison with PPF/FD/RD/Equity MF SIP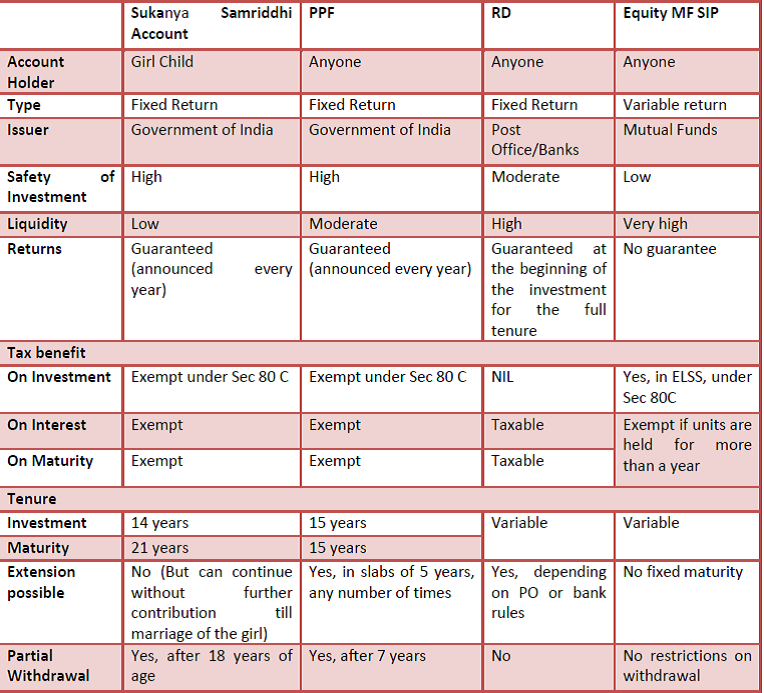 It would feel strange to see equity mutual fund SIP in the comparison table because it belongs to a totally different asset class. The reason for putting that in this table is that equity mutual funds are a great source to build wealth for long-term goals, education, and marriage of children being amongst them. Though equity mutual funds may be perceived as risky, in reality, they are more volatile than risky and have shown to perform very well over long durations. Schemes like Sukanya Samriddhi and PPF have their own place in the creation of the portfolio for goals, but they should be looked as a part of your portfolio composition and should not be relied upon entirely to fund your goals as they have their own restriction in terms of investment amounts and tenure.
Also Read : Child Plans of Mutual funds
We have already seen the kind of accumulation possible in two different interest rate scenarios in Sukanya Samriddhi yojana account. Table C below shows the possible accumulation in PPF account assuming an interest rate of 8% over the tenure (current rate is 8.7% and changes every quarter). Since PPF allows extension in a slab of 5 years, we have stopped the calculation at 20 years. ( Here's everything you want to know about PPF)
Table D shows a scenario for a similar investment in equity mutual fund assuming a rate of return of 12% per year. In equity investments, there is no guarantee on the rate of return and returns do not follow a linear pattern, they tend to be lumpy. ( Read : Best Mutual funds to invest in 2015)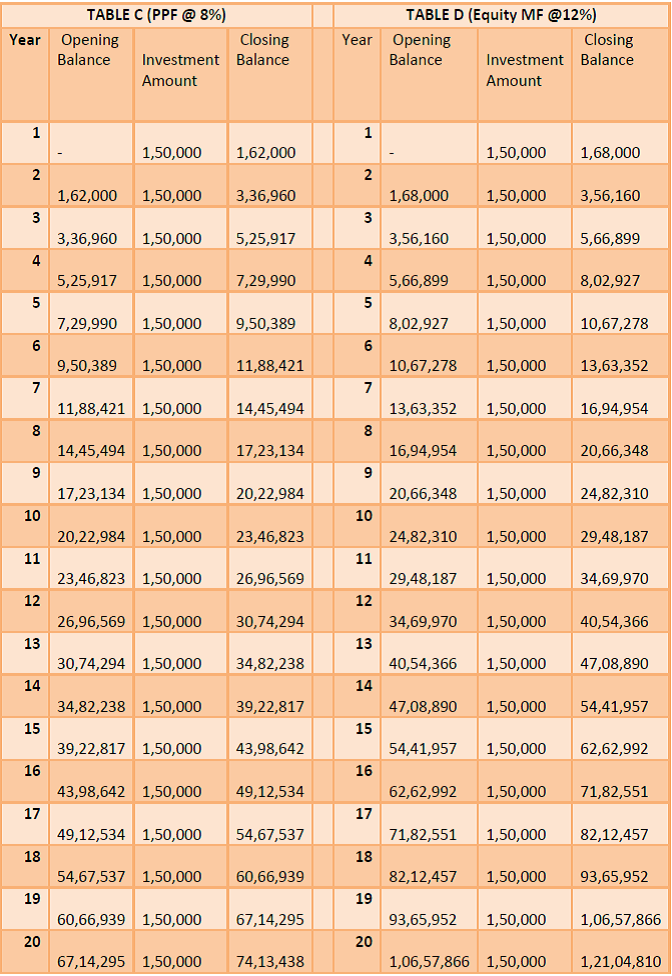 Sukanya Samriddhi Yojana – Pros:
Tax Exemption: The biggest benefit of this scheme is that it has a tax exempt status at all stages of investment. In any investment, we have to ideally look at the expected returns post-tax to be able to comment on its suitability for our goals. A fixed deposit of 10% will mean only a yield of 7% to someone who is in the highest tax bracket. ( Read the perfect ingredients in a perfect investment portfolio)
Guarantee: Both safeties of your principal and guarantee of the interest payment is the highest level.
Interest to be announced every year: (From April 2016, all small savings rates will be announced every quarter)The interest amount, though not fixed guaranteed, will be in line with the general investment scenario. This is a safety in itself because it will ensure that sukanya samriddhi yojana scheme sustains over different interest rate scenarios.
Some years back, many people had invested in schemes like the Rajlaksmi Unit Scheme from UTI which had guaranteed maturity amounts with returns working out to a little more than 16%. As the interest rates started tending down the scheme it was not possible to fulfil the promise of such high-interest rates. The scheme was launched in 1992-93 and prematurely withdrawn in the year 2000… Many parents who had trusted such schemes to provide for their daughter's education/marriage were left bitter by this experience. Sukanya Samriddhi yojana by design will avoid such experiences.
Illiquidity/Liquidity: The lock-in can be both a pro as well as a con. Discipline in investing is one of the main requirements to build a decent corpus. Many people are tempted to pull out amounts from investment accounts to cater to various wants which might seem very urgent at those particular points. This robs them of the wealth they can create for their goals. This scheme allows by default of building of the investment discipline.
Investment limit : PPF has a limit on investment of Rs.1.5 lakhs per year. If both the husband and wife are earning, they can each invest up to Rs.1.5 lakhs in their own PPF accounts. IF they wish to invest in PPF in their child's name, the rule says that the total amount allowed per year is RS.1.5 lakhs combined with the parent. So effectively the rule says Father+Child1+Child2= Rs.1.5 lakhs or Mother+Child1+Child2=Rs.1.5lakhs. In such a case Sukanya Samriddhi Scheme account becomes an excellent option to invest additionally if the child is a girl.
Sukanya Samriddhi Yojana – Cons:
Limited Investment: There is an upper cap on investment. So if you want to send your daughter abroad for studies, this in itself will not be sufficient to meet the requirement.
This being a fixed return scheme, it is bound to have an upper cap on investment.
Age barrier: The opportunity is lost for girls who have crossed 10 years of age. This probably is from the social perspective where there is an attempt to protect little girls who might otherwise be married off early and will not have a chance at pursuing higher studies.
Illiquidity: For parents who will have to stretch their resources to make savings in this scheme this might prove to be tough if their financial situation deteriorates. The money will not be able to be withdrawn before the girl turns eighteen.
Sukanya Samriddhi Yojana – Should you invest?
Sukanya samriddhi yojana is an excellent scheme for the girl child, both socially and from an investment point of view. Parents having daughters should evaluate this option in their investment portfolio. If the debt component of your asset allocation permits and you have the capacity to invest, the full amount should be invested in this scheme for the complete duration of the scheme. You must watch out for big dips in interest rates or any negative changes on the taxation front to decide to invest further amounts in this scheme. A very low-interest rate or the scheme being made taxable would mean that you should look at reducing investment in this scheme.
On the social side of things, we must encourage people in our community support structure to take benefit of this sukanya samriddhi yojana scheme. Domestic help, drivers, cleaners, etc. can be helped with the knowledge about this scheme so that their daughters can also benefit when they grow up. The lock-in structure of this product will ensure that they provide for their daughters as they grow up.
Parents with little boys would be wishing that they had this opportunity for their sons too!
Review of Sukanya Samriddhi Yojana is done by Kiran Telang, a SEBI Registered Investment adviser. Views expressed herein are the author's personal views
If you have any question on Sukanya samriddhi yojana account or any other investment product, please feel free to ask in the comments section below. Would also love to you see your views about this new yojana .