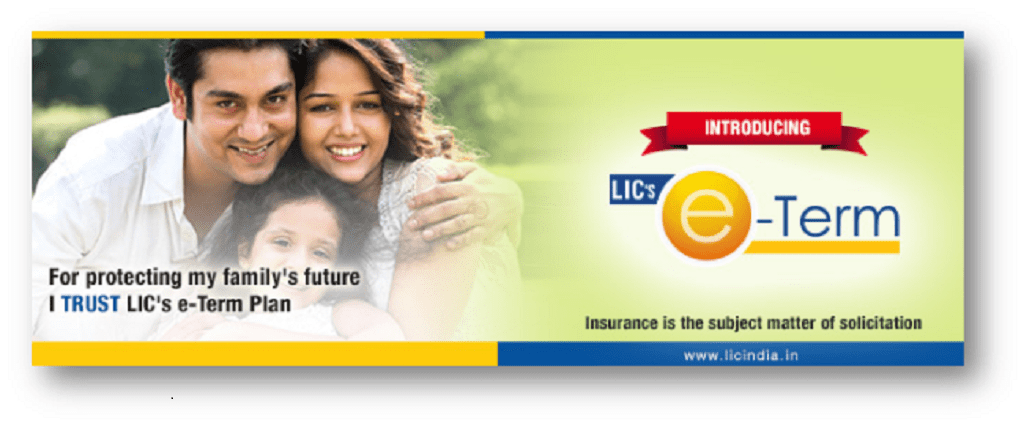 Finally, LIC has launched its much-awaited online term plan under the name "LIC e term". We have been expecting this move from India's biggest insurance company for the last 3 years, but better late than never.  Online term plans are not new but the launching of e term by LIC direct has provided one good option to those who are delaying their buying of insurance just because they don't trust private insurance players.
In this article, I will review the LIC online term plan – e term in detail and also check out the premium rates of different age groups in comparison to other insurers.
Brief on LIC e term online term plan
LIC has come up with an online term plan with the name LIC E term. Being an online plan it can be bought only online through internet and no intermediaries will be involved.  As Term plans are only meant to provide you with insurance coverage, so your family's financial requirements can be met in case of your absence, thus there is no maturity benefit attached to it.
In LIC online term plans there are 2 categories of premium rates.
One is called as Aggregate category where there is no difference between the smoker and non smoker rates. Minimum sum assured asked for this category is Rs 25 lakh and applicable upto Rs 49 lakh. Even if you are non smoker but you want insurance cover of Rs 30 lakh, you will fall under this category
and the second category is Non-smoker category where the buyer will have an option to choose differential premium rates for non-smokers. This applies to Sum assured above Rs 50 lakh.
Also Read: Online Term Insurance Plan with Income benefits
LIC e term Online Term Plan – Other Key Features
Among other features mentioned below, the one which I found different from other online term plans is that in LIC online term plan there's only one mode of premium payment i.e. Annual.

LIC e term Online term plan – Comparison with other insurers
As there are no special feature inbuilt under any term plan so the basis of comparison can only be the Premium rates. Now being Online Plan, its comparison can only be with online plans of others.
This comparison is among 4 life insurance companies' online term plans
1. Healthy Non-Smoker Male for Sum Assured – 1 crore ( Non-Smoker category of LIC).
Term 25 years

2. Healthy Non Smoker male for Sum Assured Rs 40 lakh (Aggregator category of LIC)
Term – 25 years

This is very much visible from the above tables that, LIC e term online term plan has come up with very competitive premiums in different age groups. And also as compared to the offline term plans of LIC itself. Where LIC Amulya Jeevan costs Rs 22022/- in age group of 30 years, LIC E term is costing Rs 13596/- That's a significant 38% difference.
Conclusion:
Term insurance provides decent insurance coverage at less cost and online term insurance is much cheaper as compared to offline products, so as far as the product goes one should definitely go for it for their life insurance needs. LIC launching its online term plan, LIC e term, comes as a good offering for those who were avoiding other insurers' term plans.  So especially for those people who are in love with LIC, please don't wait and go ahead with LIC Online term plan and provide your family the necessary security they have been waiting for. And for others, here comes one more online term insurance product for your kind perusal.
Hope this review helps. How about you? Were you also waiting for LIC Online term plans or are open to any other insurer plan too? do share your views in the comments section