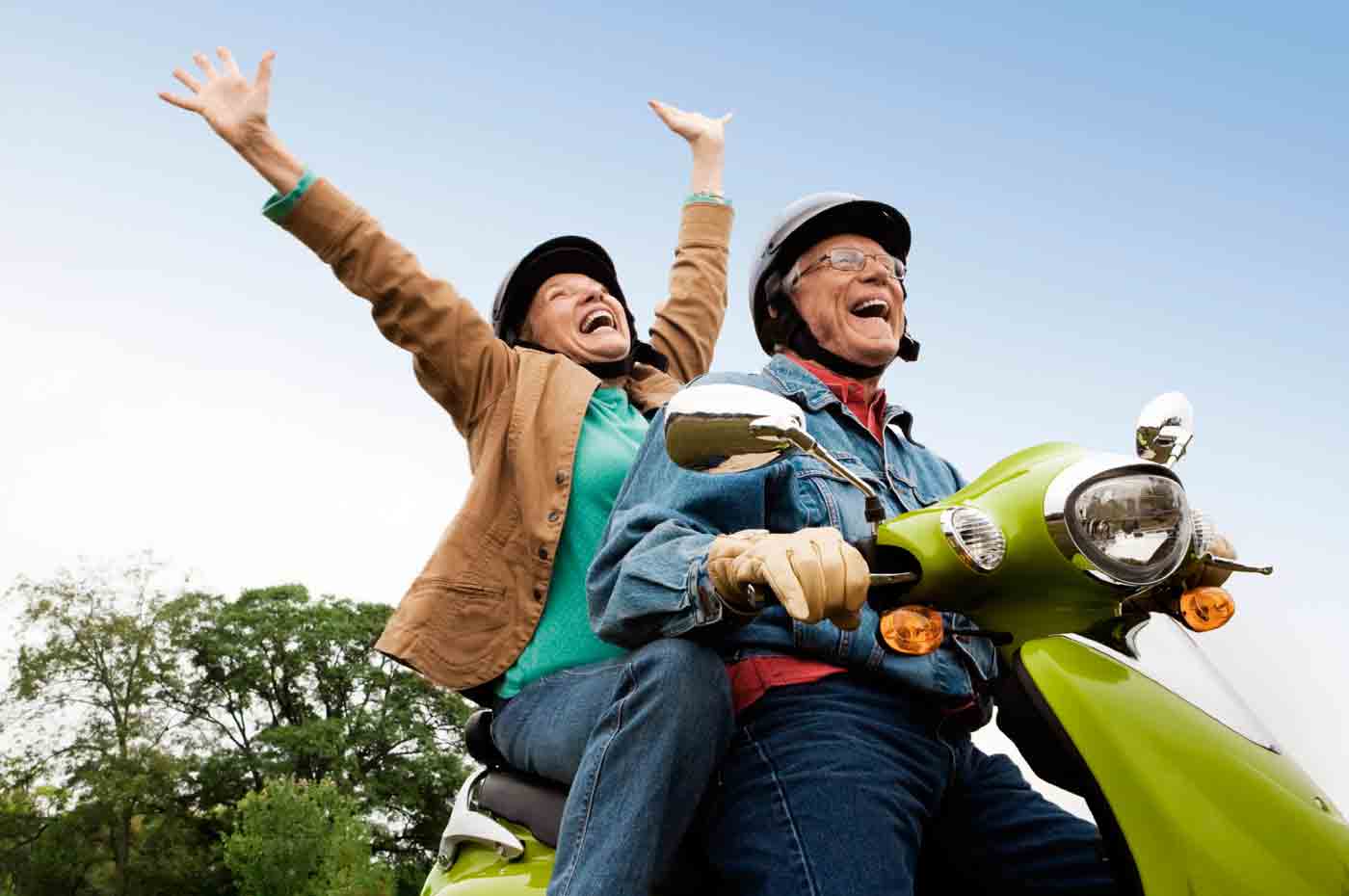 Retirement planning may not require you to invest in a pension plan, but buying a pension plan is always for post- retirement income. People are unable to differentiate between Retirement plan and pension plan, but still with government efforts in promoting NPS and with insurance companies' reach through agents, banks and other channels people are getting sensitized towards retirement, though through products only.
Today I am writing on an Online Unit Linked Pension plan of HDFC – HDFC Click 2 retire. Due to announcements of many tax benefits in NPS, investors knows about NPS ( New pension scheme) as one of the pension plan, so I will also try to make a comparison between HDFC Click 2 retire and New pension scheme, and figure out which one is better.
HDFC Click 2 Retire – in Brief
HDFC Click 2 Retire is a Unit Linked pension Plan by HDFC life insurance which can be bought only Online. It works more or less like other regular insurance pension plans (ULIP), but the main attraction in this plan is that it is devoid of heavy charges.
With No entry/allocation charges, no administration charge, this policy don't even have any discontinuation charges. But it does have Fund management charges.
To simplify its working, you keep investing in this product till vesting age, and later by whatever amount gets accumulated in this plan, you can buy annuity and enjoy regular pension.
Being a pension plan, once invested you can only take the benefits in the form of pension only and could not be able to withdraw the money in lump sum. Investments in HDFC Click 2 retire gives tax benefit u/s 80CCC and at maturity you can claim benefit u/s 10(10A), by commuting 1/3rd of pension as lumpsum.
HDFC Click 2 Retire – Key features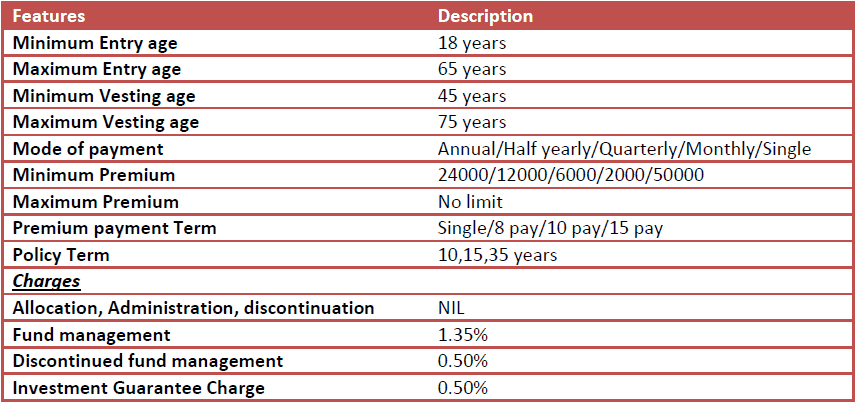 HDFC Click 2 Retire – Other benefits
Vesting(Maturity) benefit
Vesting means maturity benefit. It is the time when you can claim policy benefits. Since HDFC Click 2 Retire is a pension plan so you can claim the benefit only in the form of pension/annuity. However, there is a provision to withdraw 1/3rd of the total fund value as a commuted pension. This commuted pension will be tax-free in the hands of the policyholder.
In HDFC Click 2 Retire, Vesting benefit will be higher of the following:
Fund value
Assured vesting benefit
Assured Vesting benefit can be calculated as (101%+ 1% (Policy term minus Premium paying term))*total Premium paid
If you want you may postpone your vesting date to any future date, before annuitization, subject to the maximum vesting age limit of 75 years and provided you are below the age of 55 years. If opted, for this then the fund value or assured vesting benefit whichever is higher will move to Pension conservative fund till the extended vesting age. The death benefit will remain continued.
Death benefit
In case of unfortunate death of policyholder before the end of the policy term, your nominee will receive higher of following:
Fund value or
105% of premium paid till date
Utilization of Policy proceeds
As per current regulations, you have the option to take the Maturity (Vesting) Benefit in the following manner:
1.) Take up to 1/3 of the benefit as tax-free cash lump sum as per the current tax regulations. The rest of the amount must be converted to an annuity at the then prevailing annuity rates. You have to buy the annuity from HDFC life insurance only as per the prevailing regulation.
2.) You can utilize the entire proceeds to purchase annuity at the then prevailing annuity rates. You have to buy the annuity from HDFC only as per the prevailing regulation.
3.) Alternatively, you can utilize the entire proceeds to purchase a single premium deferred pension plan from HDFC life insurance.
Discontinuation of HDFC Click 2 Retire:
Discontinuation clause is also same like all other ULIPs. The main difference is that where Other ULIPs deduct up to 6% of discontinuation charge, HDFC Click 2 retire does not deduct anything.
On discontinuation of the policy premiums, insured gets 2 years of time to revive the policy by paying all unpaid premiums. Else policy is considered as surrendered and Policy holder would have to utilize the discontinued policy proceeds to buy pension.
During discontinued phase, policy fund value gets shifted to discontinued policy fund where it gets 4% of fixed return.
HDFC Click 2 Protect Vs. New pension scheme
Indian Government wants to create a pensioned society and thus is promoting its new pension scheme by announcing many tax benefits. Now if one has to buy a pension plan, what does he do? Should he go with HDFC Click 2 retire kind of product or go with New pension scheme. Let's do a comparative analysis to find out the answer:
Read complete detail on New Pension Scheme.
HDFC Click 2 Retire – Should you Invest?
I am always of the view that whatever product you invest in should be backed by a Proper Financial Plan. Goals dictate plans, and plans dictate your asset allocation and diversification, which in turn results into selection of suitable product.
Retirement is a very sensitive subject, and you need financial management not only in accumulation stage but also post retirement. Even during accumulation you need to be actively involved with your expenses so you can tweak on your savings as and when required. With the change in lifestyle your savings should also be looked into so necessary action can be taken on it, from retirement planning perspective.
Now this cannot be possible in a close-ended product like HDFC click 2 Retire or NPS. Somewhere active management is required in your portfolio to manage a very long-term goal like Retirement. Though looking at tax benefits offered under New pension scheme, if used in full and for the one who's in the highest tax bracket, using NPS can be one of the investments for retirement planning. But since Pension is always taxable so investing only in NPS, may not be feasible, investment should support Tax planning too (Pre and Post retirement). (Read : Use NPS benefits carefully)
So all in all, after weighing all the pros and cons, I don't find any attractions in investing in HDFC Click 2 retire. However if you are the one who don't like to plan the things or think that planning is a waste of time and money, then you may go for such products as it brings compulsory discipline in your investments.