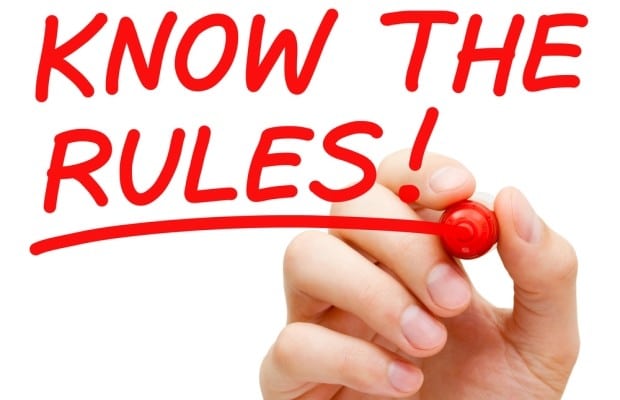 Employee provident fund or EPF is generally the first organized savings product that one experiences at the start of his employment career. The main purpose behind EPF is to help employees save a fraction of their salary and accumulate tax-free corpus to support Retirement. (Read a detailed post on the basics of EPF here)
But there are many instances where you may require money before retirement to pay towards important expenses like for Marriage, education etc. So it's is important to know the epf withdrawal rules so if this is the only or one of the major savings that you are doing you can plan your finances in a better way.
When Gurinder, one of my blog readers mailed me his query on how to partially withdraw money from employee provident fund, I decided to write a complete detailed post on epf withdrawal rates, for the benefit of other readers too. His query was referring to my views on choosing between EPF or NPS. (Read more on NPS here)
Before going ahead with epf withdrawal rules, let's understand some basics on EPF itself.
What is Employee provident fund (EPF)?
It is a compulsory saving tool, towards retirement where 12% of your basic pay (Plus DA or cash value of food allowances) gets deducted every month and deposited in an EPF a/c. Your employer also contributes the same figure, but out of his contribution 8.33% goes to EPS (subject to a maximum salary limit of Rs.15,000) and 3.67% adds into your EPF a/c.
It means that if the salary of the employee is less than Rs.15,000 then 8.33% of his total salary would go into EPS. And if the salary is more than Rs. 15,000 then a maximum of 8.33% of Rs.15,000 i.e. Rs. 1,250 would be diverted into EPS, the rest would go into the EPF account itself.
The EPS portion would be used to offer pension to the member employee in the event of attaining superannuation/retirement, permanent/partial disablement, pension to the nominee in the event of death etc.
However, you may also choose to more than 12% of your salary, then you may do that by opting for the Voluntary Provident Fund (VPF). However, in EPF employer has no compulsion to contribute the increased amount.
(Also Read: 6 Safe Investment options in India)
This EPF a/c earns annual interest (currently 8.50%, tax-free) which is declared every year by EPFO (Employee Provident Fund Organization), a statutory body of the Indian Government under the Labour Ministry, in consultation with the Ministry of Finance.
EPF is a long term savings tool that stays with you until retirement. It is compulsory to register with EPFO, for all organizations which have employed more than 20 employees. However, for some organizations not having more than 20 employees or meet certain other conditions laid down by the EPFO, both employer and employee contribution has been reduced to 10%.
Thus it is imperative for you too, to know the epf withdrawal rules, so you can plan your finances to manage the expenses towards major life events.
In Budget 2021, it was proposed that interest on Employee Contribution to EPF/VPF beyond Rs. 2.50 lakhs per annum would be added to the total income of the individual and taxed as per Income-tax slab rates applicable, from FY 2021-22.
EPF withdrawal rules: At the time of Resignation or Job Change:
EPF withdrawal rules say that it is illegal to withdraw epf while making job switch. You can withdraw epf only when you have no job and 2 months have been passed since your last employment, in other words you should be unemployed for at least 2 months. Though in practice this does not happen as it is not possible for EPFO to track these things and employee also finds convenient to clear off the account while leaving job, as he assumes hassles in claiming back the money later on.
However, with effect from December 6, 2018, this rule is tweaked a bit. You may now withdraw 75% of your EPF corpus after remaining unemployed for one month and balance 25% if not employed for 2 months.
Besides the legal angle behind it, from the financial planning perspective also it is not advisable to withdraw your EPF while switching jobs. Tax-free interest, compulsory savings, equal employer contribution, and annual compounding make this product very attractive from a long term savings point of view.
In fact, one should use the transfer facility and transfer the balance lying in one account to the new employer's account. These days it has become quite easy with the launch of "UAN – Unique Account Number" which is allotted to every employee and will remain the same throughout the employment career. Now you will not be given a new account number every time you switch the job. UAN will make transfer and management easy. Online transfer is possible through the EPFO website.
As UAN is applicable to current and future jobs only, all old accounts which are there from earlier employers have to transferred separately through online mode.
Here's a post in the Business standard which will guide on "How to withdraw money from Dormant EPF a/cs"
EPF withdrawal rules – during Job tenure:
There are various conditions laid down for premature withdrawal of EPF balance. Individual has to satisfy the criteria laid down under epf withdrawal rules to be eligible for the withdrawal. Below are the purposes for which you may withdraw EPF while on Job: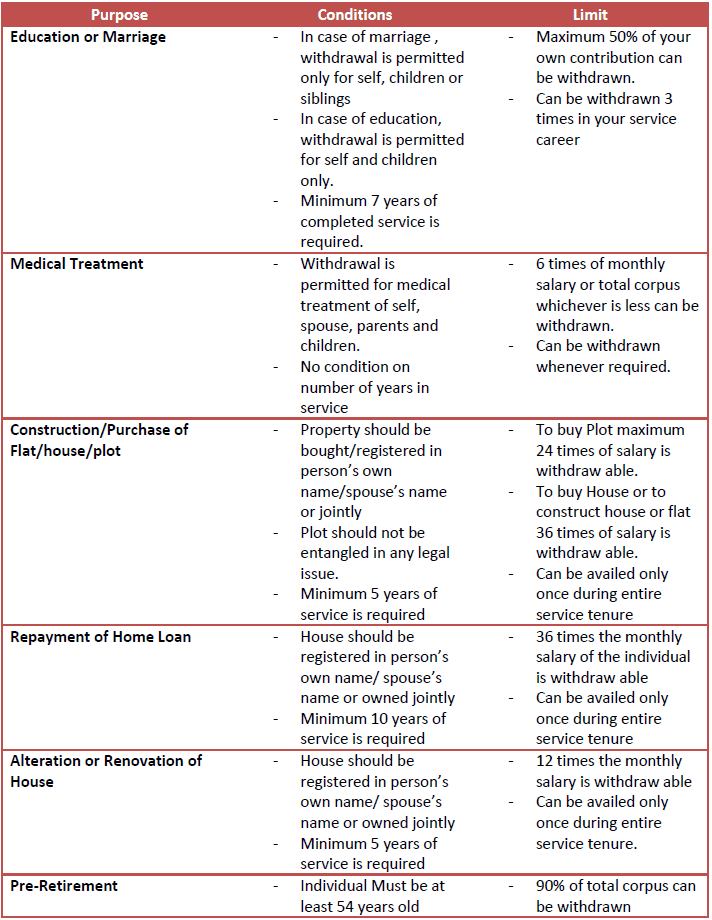 EPF withdrawal rules, also allow some special situation withdrawals like on early retirement due to permanent and total bodily or mental disablement, in case of individual migrated abroad for taking employment or permanently settling there.
As per latest rules, 90% of the EPF balance can also be withdrawn for the down payment of new house and the EPF account can be used to pay EMIs as well, if the employee is a member of a housing society of at least 10 members and have continued the EPF account for at least 3 years.
Also Check- Online & Offline Process to transfer EPF account from old company to new company
Taxation on EPF withdrawal
EPF withdrawal rules say that any withdrawal after completion of 5 years of continuous service will be tax free in the hands of recipient. But if 5 years has not completed than the full withdrawal amount be taxable and all the tax benefits earned in the last years of contribution will be reversed.
As per new epf rules announced in budget 2015, any taxable withdrawal of epf will be subjected to TDS@10% if Pan is registered or @30% (maximum marginal rate) if Pan is not registered. But in case the withdrawal amount is less than 50,000 then no TDS will be deducted. Also you can submit 15g form at the time of withdrawal if his income does not exceed the basic exemption limit after adding the epf withdrawal amount.
Also Check- Top 8 EPF How-to Questions Answered
EPF Withdrawal Rules- Conclusion:
EPF withdrawal rules clearly states that even though this is a long term savings tool, it has necessary liquidity features attached. Still it is advisable to have proper plan at place for your different goals, so you can allocate different instruments towards those goals. EPF is meant for retirement savings, so as long as it is possible you should not withdraw out of it, but if emergency strikes and you don't figure out any other way, option is there.
Do you find the information on EPF withdrawal rules helpful? If you have any query or want to share your experience , please share it in the comments section below.