When we talk of investments in corporate fixed deposits, very few highly rated names comes to mind. Dewan Housing finance limited (DHFL) is one of those. Having been rated as AAA by CARE and Brick works, along with A1+ by crisil, DHFL fixed deposits are one of the popular corporate fixed deposits products in the retail segment.
Recently DHFL has come up with a fixed deposit Overdraft product with name Wealth 2 health, specifically meant to meet the medical emergencies without breaking the fixed deposit. It has gained good media attention and I have been receiving many queries regarding this product, and thus I thought of writing this review post. (Read : Investment options in falling interest rate scenario)
DHFL Fixed deposits – Wealth 2 Health
Structurally it is a normal corporate fixed deposit product. A health card would be issued within 3 months of FD Creation through Vidal Health (Holding company of erstwhile TTK healthcare TPA). Limit of 75% of FD amount gets tagged to the health card. Card would be in the name of First holder of the fixed deposit.
Now whenever you visit any of the empaneled hospital or diagnostic center and don't have liquid cash available with you or blocked in fixed deposits like of DHFL, then you need not to pay any cash over there for treatment or tests conducted. You just have to show this health card at the billing counter and they will punch in your details on Vidal website, which gets authorized through OTP received on first holder mobile phone only.
Each time a customer authorizes a payment to designated hospital/diagnostic center, a loan against FD equivalent to the amount authorized is created. This loan would be at 2% higher rate than FD. This loan can be repaid back fully or partially. Even if you don't want to repay it, then on maturity you will get your FD maturity proceeds after adjusting the interest and principal of loan availed.
Unlike Bank FD, corporate FDs have very low liquidity, and thus offering Overdraft facility through health card definitely is an attraction in itself. Corporate FDs are considered as of high risk and thus also gives high interest rates than bank FDs.
Please note that this product is not health Insurance product but a Loan against Fixed deposit. Wealth 2 health card is just to provide investor with liquidity so he needs not to break the complete fixed deposit for any medical emergency.
DHFL Fixed deposits Wealth 2 Health – Other features/benefits
Cash less access to hospitals and Diagnostic centers
1 lakh of accidental death insurance for first holder
5-25% of discount on tests and hospitalization
Access to doctor on Phone for opinion/Second Opinion
DHFL Fixed deposits – Rate card ( June 2015)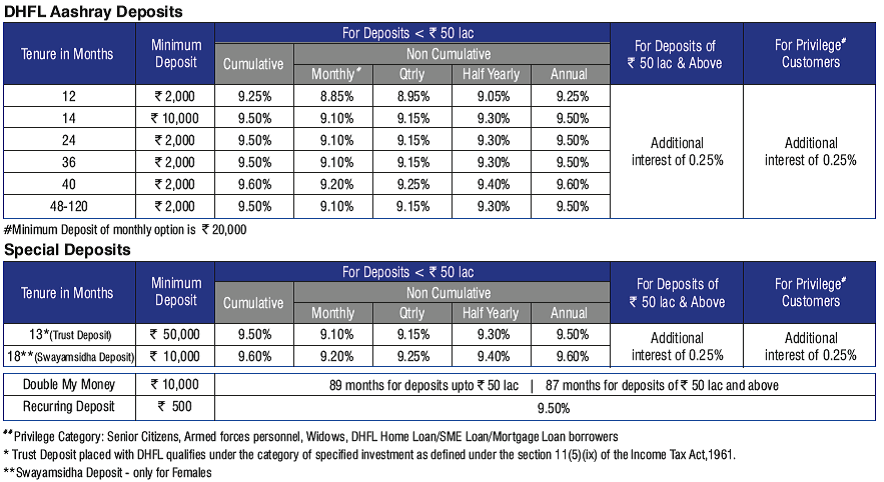 DHFL wealth 2 health -Should you invest?
See this is a simple loan against FD product, which you can otherwise also take from any bank with much more convenience. If you are comfortable with investment in corporate fixed deposits, then DHFL does come under must consider category due to its high Credit rating. Issuance of Health card is a just an additional feature with no costs attached, and thus is purely up to you if you want to use it or not.
But where amount is significant and one wants to invest in DHFL fixed deposits due to high interest rate structure, then surely this health card feature provides necessary liquidity for medical exigencies.
From Financial planning angle, I would not like it to be termed as good place to park for Emergency funding, as emergencies doesn't just arise due to medical issues. There may be Job loss, some house repairs, some emergency purchases etc. for which there has to be liquid emergency funding available with you. Moreover this health card will be valid only at selected hospitals and diagnostic centers which may or may not be your preferred one.
So in nutshell, get into DHFL FD just from investment perspective after understanding the basic risks involved in Corporate Fixed Deposits and not just looking at Wealth 2 Health Feature. Maintain adequate emergency fund to keep up with necessary liquidity.
How do you find DHFL wealth 2 health deposit? Do you invest in corporate fixed deposits. Do share your experience.