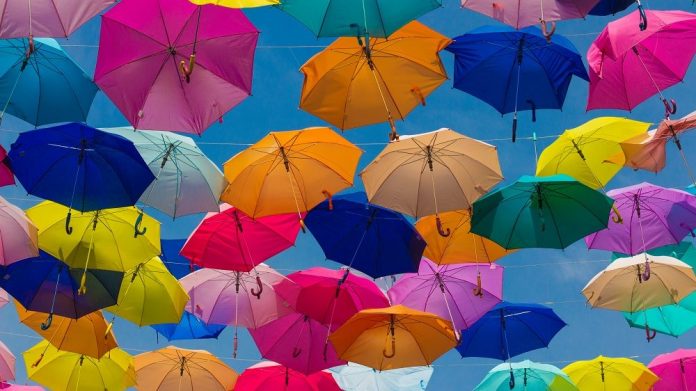 Gone are the days when online term insurance policies were simple and easy to select. Now though the simpler option is still there too many additional and optional features available to confuse the buyer.
It many times results in procrastination or wrong buy which may not suit the family requirements. I have been facing such situations very regularly now, when I advise my clients to buy a term cover, they come up with further questions like what cover – level cover, increasing cover, with income, with increasing income, Accidental benefit, Waiver of Premium, Return of Premium, etc.
I used to be of the opinion that level cover is best, rather get confused on the features and fall in the premium trap, but later I realized that this may hold true in the case of Financial planning clients where the whole family is involved and thus are aware of what to do with the claim money as and when and if at all received.
But in general, I have seen many families where no one knows anything about the insurance policy cover except the Insured. No other person in the family is involved in the Investment and savings process, so they are not aware of how the money received will have to be managed and thus are exposed to many other missllers.
Considering all this I found that some of these features in online term insurance plans may be usable and worth paying an extra premium for. Let's understand the features and see where they are fitting best in. I have taken HDFC Life Click 2 protect 3D plus as a base product as it has almost all additional features available to select, and is one of the Popular and Reliable company. (Read: Claim settlement Ratio)
Now days almost every term insurance cover comes up with such options.
How to select online term insurance plan – Add on Features
The Below Infographics will give you an overview of the add on features for detailed understanding which helps in final decision making, do read the article to the end.
Return of Premium
This feature or version of the online term insurance plan attracts those who worry on their insurance premium going waste and thus keep looking for policies where they can get their premiums back.
To answer this concern, Insurance companies comes with a solution in the form of Return of Premium policies. In this version Insured gets the complete premium back at the end of the tenure…but with no interest.
This satisfies the policy buyers as they agree to forgo the interest to get their capital back. But does it really make sense?
Below are the premium quotes HDFC life click to protect 3 D plus of 30 years old Non-Smoker Male for Sum assured Rs 1 crore, and Policy term 30 years.
Without Return of Premium – Rs 9717/- With Return of Premium – Rs 24968/-
You will pay Rs 15251 per annum as extra premium, though whatever you pay will be returned to you at the time of maturity. However, if you keep investing this Rs 15251/- in PPF @ 8% p.a. for the next 30 years you will get Rs 17.27 lakh
So, it is clearly visible which is the better option.
2. Waiver of Premium Rider
In some Term insurance policies, this is an inbuilt feature, but in others, it is available as an add on. Like in HDFC Click to protect 3 D Plus, the Waiver of Premium Rider is inbuilt in case of Permanent Disability, but for Critical illness, it has to be taken as an add on benefit as a 3D Life option.
Now what this feature says is that If you meet with an accident and gets permanently disabled with the conditions below, then all the future premiums will be waived off and Policy stays continued.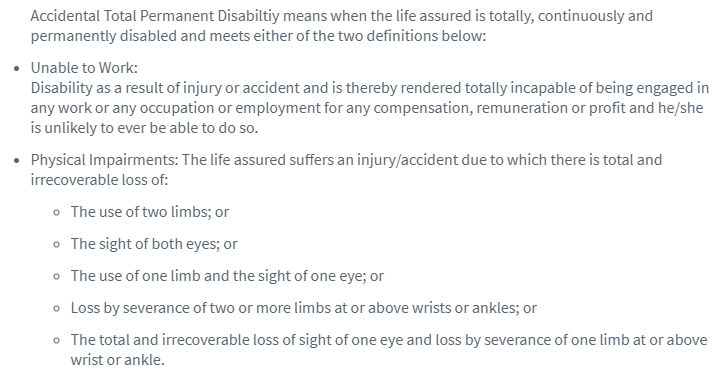 Waiver of premium is an excellent feature which every person should consider while buying the Term insurance policies. Life is uncertain, like death, accident can also happen anytime. And in case of permanent disability when Income is going to be impacted, the Life insurance premium payments may get compromised. So, to maintain the continuity in the premium payments in those unfortunate times, this feature will be of help.
3. Accident Rider
The Accident Rider comes with a feature of lumpsum Payout to the insured in case of permanent total disability or doubling the sum assured on death or a specific accidental death or PTD sum assured.
Different policies may have different features and Premium. But in the case of accident rider, you should compare the features with a separate Personal Accident Policy available through Non-Life insurance companies. Premium wise there may not be much of difference but features wise Separate policies are more extensive. Like Temporary total disablement benefit is not available in the Life insurance Riders.
4. Critical Illness Rider
This rider will come into effect on insured getting diagnosed with any one of the specified Critical illnesses in the policy and survives for 30 days post that. Critical illness benefit is a one-time lump sum payment benefit.
This though looks quite important imagining the kind of illness and the treatment cost, it does not attract me due to the specific severity clause that these policies have. Plus, the premium is quite high for the sum assured that generally is suitable and you look for.
But yes, Waiver of premium rider in case of Critical illness may be considered. Since while getting treated for major illness and when bought online term insurance with all the reminders coming on your phone and emails, there could be a risk of losing track of the renewal dates and miss the premium payment.
Critical illness Plans too are available with Non-Life Insurance companies and may have better and detailed features, so you should consider and compare those also if at all you are adding this rider in your online term insurance plan. Nowadays there are specific illness policies too like Cancer or Heart
Premium wise, rider cover if bought with Term insurance may come cheap vis a vis buying it separately from non-life insurers.
5. Limited Payment term:
In this feature, the premium paying term of the policy is lesser than the Policy term.
In comparison to the otherwise total premium payable by you for the complete term, this feature will be shown to you as something saving your cost. But in reality, things are not how they are presented.
One of my clients showed a calculation of ICICI Prudential I protect Smart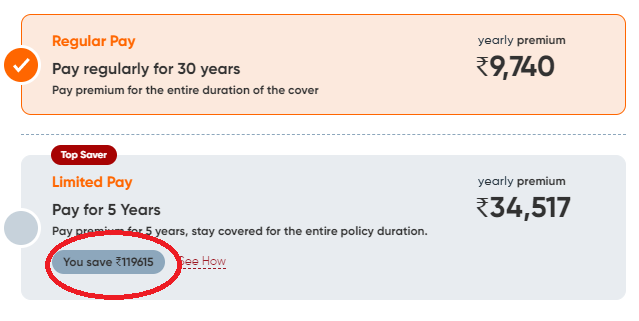 For 5 years term the premium is Rs 34517 and for 30 years PPT it is 9740/-. The Premium calculation sheet shows that you have saved a Premium outgo of Rs 119615 or 41% of the total premiums to be paid as compared to the regular premium.
But further calculation shows that the extra premium paid in the first 5 years, even if invested in the Liquid funds @6% will support the regular premium payments for the next 33 years. Plus, the flexibility of discontinuation of the plan anytime.
The point here is that the benefit that is getting pitched may cost you more. So, choose wisely.
(Also Read: Why you should not opt for the limited premium payment term plan?)
6. Increasing Sum Assured:
This is another interesting feature in Online term insurance plans and worth considering for Young unmarried, and those who are expecting an increase in future responsibilities.
This feature comes in 2 variants:
Variant 1 – This lets the insured increase the sum assured by 50% of the base cover on getting married and 25% on the birth of a child (up to 2). Premium wise it may not come cheap (as in you are buying at a young age), a company will review the premium and add the extra as per the age then and sum assured asked for. Its just that here the extra cover will be given with no Underwriting conditions.
But still, it is difficult to accept that a company put no condition at the time of claiming the benefit it has sold in the first place. So below is the list of Conditions put down in HDFC Click to protect 3 d plus for increasing sum assured benefit.

Variant 2 – Increase in Sum assured at a specific percentage every policy year, till the policy term. Premium will be revised every year. The extra premium will depend on the age then and the extra sum assured. This feature is useful to those who believe that in the future with the additional family and financial responsibilities the base life insurance cover needs to be reviewed and increased. This is good from the affordability angle too, as premiums will be lesser to start with and slowly increase with the sum assured.
Do ask for and read out conditions attached to this feature before getting into.
7. Income benefit
Earlier I did not like this feature, but later I thought that everyone is not financially planned and many not even have adviser by their side. Plus, not every person involves their family members in their financial decision making and family may not be that equipped with the basic financial knowledge on what to do with the insurance amount received post-death of insured.
Considering all this the Income benefit looked like worth considering for many families. This benefit comes in different variants –
Fixed Income – The Complete sum assured will be paid in fixed monthly/annual installments to the nominee
Increasing Income – In this the death benefit gets paid as Increasing monthly income, and the payouts gets increased with a fixed percentage.
Lumpsum +Income – In this feature part of the sum assured be paid in a lump sum on death and part in the form of Monthly/Annual Payouts (Fixed/Increasing)
The Income feature is important to opt for those who want to ensure that the Nominee and family must not be misled. This also ensures the regular monthly payouts to the nominee though for some years to help them get settled financially, and get on to a routine and a stable life.
Please refer to my article on this income benefit feature for more details, but just ignore the conclusion I made there. Since now that depends on person to person and family to family.
How to select Online term insurance – Conclusion:
Online term insurance plans are no longer a simple product. They are coming up with lot many add on features which may or may not be useful to you. You have to have a proper understanding of the calculation behind your targeted Sum assured in a policy so to make up your mind which of the available feature you should have. There's no point adding all or ignoring all. Some are really good and may prove to be beneficial in the long term.