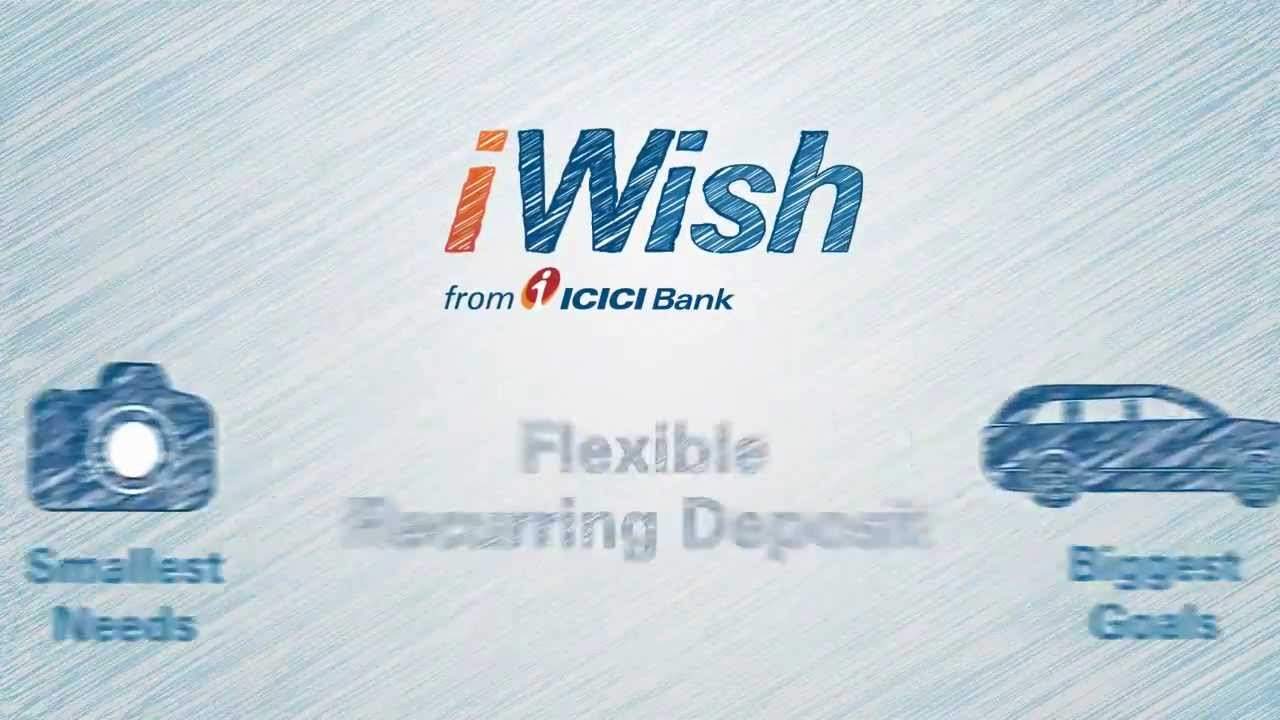 ICICI bank I wish is a very interesting recurring deposit product of ICICI bank available for its saving bank account customers who use internet banking.
The interesting part of this flexible rd product is you can create and manage your short and long term goals (in terms of money you want to accumulate) with these savings and also can share it with your friends and family on Facebook.
By sharing it with others you can also ask for their contribution in this deposit to help you achieve your goal or fulfill your wish faster.
The uniqueness of this recurring deposit is the feature of flexibility. Unlike regular recurring deposits , in this flexi rd there is no compulsion on the part of the depositor to make a month on month contribution into it. You can also make multiple deposits in a particular month. This product can only be invested through internet banking. In this article, I will be covering the basic details of "icici bank i wish fexi rd" and try to figure out the pros and cons of this.
Basic Features of ICICI bank I Wish
This is a recurring deposit product with a feature of flexibility in deposit. Its interest rates would be equivalent to what icici bank offers in other RD products.
To bring excitement in your savings, it has an option of Creating and Naming a goal. For e.g. you may want to buy a camera costing Rs 30000/- after a year. You can name your goal as "Camera", tenure as 12 months and after adjusting to the interest rates, portal will calculate how much you need to save per month towards that goal.
The flexible feature of ICICI I wish recurring deposit allows you either to put a standing instruction for regular deposits or transfer the funds as and when you have towards this goal. You may also share your Goal/Wish on your Facebook account and ask for contribution into this to your friends and family. Other features are as below:

Should you invest in ICICI Bank I Wish?
Well, structure wise it's definitely a unique product.
It is a fact that when you map your savings towards a goal, you become very much disciplined in your approach. And nothing can match the excitement of achieving the goal. The
The flexible aspect of this recurring deposit is also very attractive. But the major drawback of ICICI I wish is that this is a recurring deposit product which by its basic nature is taxable. Whatever you earn out of this saving will be added in your income and taxed as per your slab.
I mean if the intention is to save for a short-term goal, why not to use alternate options like liquid/short term mutual funds. For short term goals, these mutual funds may not be comparable on taxation aspect (due to changes announced in budget 2013) but these funds will definitely provide you with better returns than recurring deposits. (read: bank deposits vs debt funds)
Secondly, the penalty charges on pre closure of icici bank i wish account are also a negative factor. This issue can also be answered by investing in liquid/ultra short term mutual funds as there are no penal charges of withdrawing the amount.
ICICI bank I wish can be a perfect product to inculcate discipline of savings among your Kids especially major kids (Above 18 years of age). They can be encouraged to save part of the pocket money for their goals (of going on vacation or buying costly gadgets) from their own pocket money and once that benchmark is achieved you can supplement that savings with your contribution.
This way you can teach them the advantage of savings by allocating it to a particular goal and also it will not burden you with more of tax payments. As whatever earnings made on the savings will be treated as your Child income only, also the gift made by you to him/her will not attract any gift tax. (Read : tax planning tips)
What are your views on icici bank I wish recurring deposit? Does this flexi RD attract you? Share your views in the comments