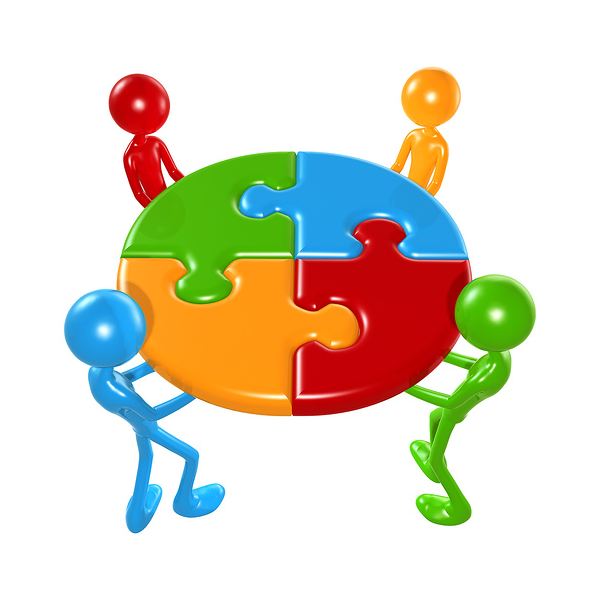 Hybrid funds as the name suggests are those mutual funds which invest in more than one asset class and thus provide a balance between risk and return. We all know that Asset allocation and diversification are the most important elements of any investment planning; these hybrid funds provide us with the best of both worlds. Diversification is the inbuilt feature of mutual funds but Hybrid funds have the additional features of asset allocation as it exposes us to different asset classes like equity, debt, and in many funds with gold. Different hybrid funds have different investment objectives and thus different asset allocation ratios. Thus one should invest in such funds only after understanding the importance and usage of the same in one's portfolio.
There are some
equity oriented hybrid funds
, which are popularly called as
balanced funds
. These balanced funds have minimum equity exposure as 65% and rest goes into debt. The allocation of at least 65% in equity brings balanced funds at par with other equity funds as far as taxation is concerned.
Other than balanced funds
, there is category of
debt oriented hybrid funds
. In these funds the major portion of allocation goes towards debt instruments and rest goes into equity. Investor can select any fund, having different allocation as per his risk appetite, goal and taxation he's falling into. Let's have a look at some of these funds and how and where these can be used properly.
Equity oriented Hybrid funds – Balanced funds
As explained above the asset allocation in balanced funds comes up as 65-100% in equity and 0-35% in debt. The major advantage of these funds is that these are less volatile as compared to pure equity funds but enjoys the same tax treatment as of equity funds. Long term capital gain tax in balanced fund is NIL and short term capital gain tax is 15% of the gain.
These funds are best suited for a single goal and when investor wants equity like returns but with less risk. But do keep in mind that in balanced funds fund manager has option to increase the equity allocation to maximum of 100% so in those cases you may see increase in volatility of returns.
Best balanced funds
as per last 5 years performance are as below: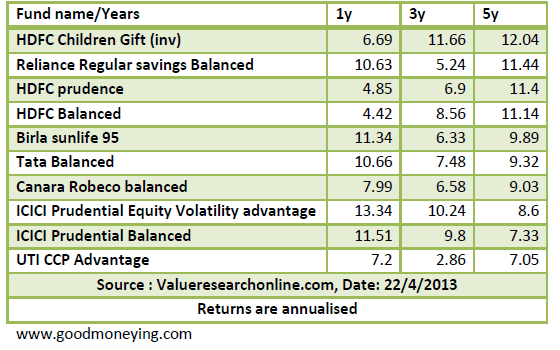 As I always say that if you are comparing funds only on the returns parameters, do look at annualized and annual return both. Below are the annual returns of the balanced funds selected above: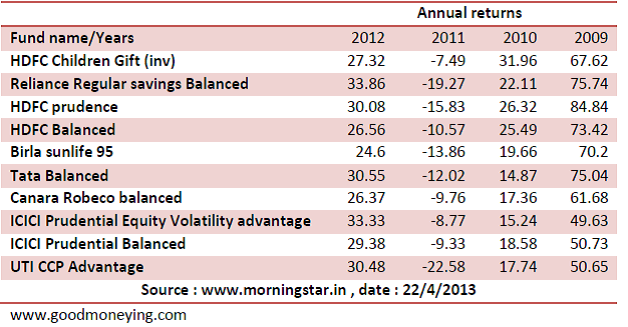 Comparing the annual returns along with annualized returns will help you in understanding the volatility in returns year on year. But this is only one parameter of selecting fund. Do check out the qualitative factors also. (Read : how to select best mutual funds in india)
Debt Oriented hybrid funds:
This is another category of hybrid funds with Asset allocation tilted towards debt side. As the taxation of the all funds having equity allocation below 65% is same, so you will find different variants and combination of debt oriented hybrid funds. Some are categorised as aggressive as they are high on equity allocation compared to others and some are categorized as conservative as they are high on debt allocation. Among these segments some funds are targeted at a particular goal like Monthly income Plans (MIPs) (Read : How MIPs should be used). Lets see how the aggressive and conservative segments have performed in last few years.
Best Hybrid funds – Aggressive Asset Allocation
as per last 5 years performance are as below: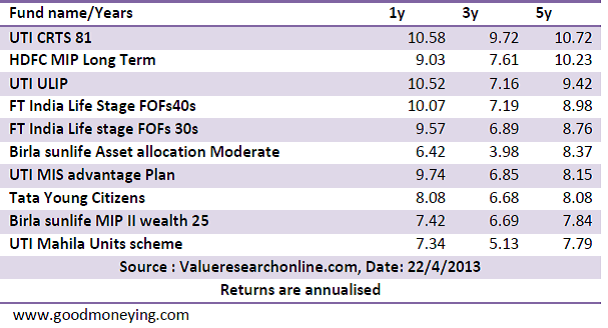 Best Hybrid Funds – Conservative Asset Allocation
as per last 5 years performance are as below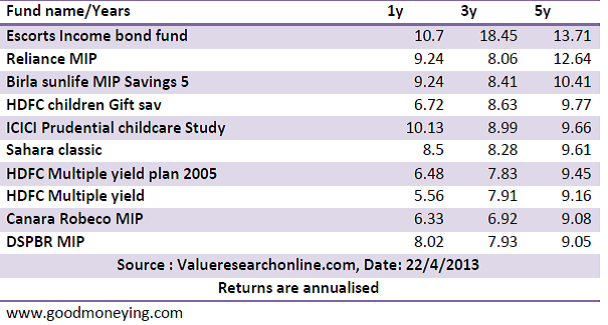 Also Read: Asset location is as important as Asset allocation
You can very well see from the above tables that some of the funds which are under conservative allocation have performed better than hybrid funds with aggressive allocation. And in fact if you compare annualised returns with the balanced funds also, you will not find much difference in last 5 years returns patch. But does that mean conservative funds are better than aggressive ones. No. It's all about asset allocation. Sometime one asset class performs and sometimes other. And this is how your investments should be allocated.
Nowadays you will also find some fancy names of Hybrid funds like "Capital protection oriented schemes" or "Dual advantage schemes" etc. In reality, all these are just close-ended versions of normal hybrid schemes. (Read: Should you invest in Capital protection funds)
Should you invest in Hybrid funds?
Hybrid funds can be a good starting point for a new investor. One can select among the balanced funds or debt oriented hybrid funds as per the understanding and risk appetite. Returns should not be the only criteria, better to understand the structure of product and if that structure suits your requirement or not. When one is targeted towards a single goal with a time horizon of 2 or more years and does not want to indulge in designing own asset allocation and rebalance it time and again, these hybrid funds in the form of balanced funds or others can be a good option. Do understand that higher the equity exposure in a portfolio, higher would be the volatility.
What do you think? Do you use hybrid funds as balanced or others for your investment? Are you comfortable with the Asset allocation these funds come up with? Do share your views?