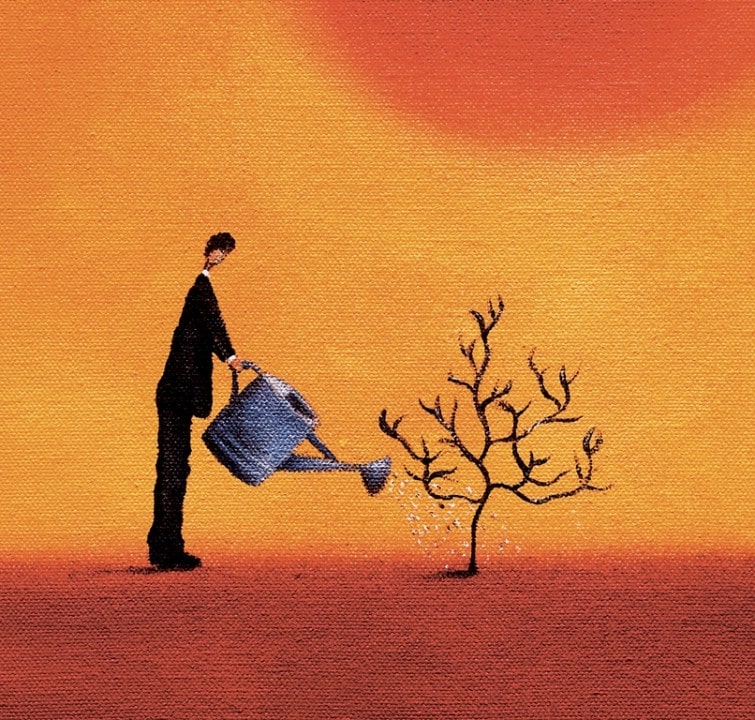 Do you agree that our personal economic health depends on country's economic health? When our country's economy grows, it leads to increase in Job opportunities, attracting foreign investments, increasing salaries, new investment avenues and what not. Though inflation also rises but that don't bother us much as our personal finances also are in better shape. Just recall days of 2004-2007, you will get the proof of what I am saying. But on the other side if country's finances are in bad shape then you won't find that confidence in your bank account too. You don't feel job security, in fact you always work with a fear of job loss anytime , foreign investors are afraid of entering into such markets and if you have to face rising inflation and interest rates in such scenario it would be like rubbing salt into wounds.
Right now in India, we are almost in the latter situation. We have high fiscal deficit, high who to be held responsible for that – International factors? Ineffective governance and corruption? We the citizens of this country?  Well, actually all of these are responsible including us. It's very easy to blame the government and corruption for everything but are we doing our bit to support the country come out of the financial crises. Yes I know that we are paying taxes and many of us are actually paying honestly 😉 but is this enough?
I have figured out some other areas where if worked upon will not only support the government's finances but also helps in improving our personal finances also. And the best part is that we deal with such situations on daily basis.
1.       Saving Fuel:
India is the one of the largest importer of crude oil in the world after United States, China and Japan. Though the major demand of Fuel comes from industrial sector but with the rising population and private vehicles, we are also a big contributor in this demand and which is also increasing day by day. Households participate in this demand through LPG and electricity needs. Now as country has to pay the import bill in dollars, the increasing imports has impact on country's foreign exchange reserves too. One of the main reasons of recent currency crisis in India was the result of rising crude oil prices internationally and thus more outflow of dollars from country which has further lead to rupee depreciation and created a vicious circle. High fuel prices lead to high production and distribution costs of everything, which in turn results into rise in inflation and thus more outflow from our personal finances.
Now if you are thinking that how can you help government reduce the import bill on Oil and petroleum, you just have to reduce your own spending on these items. When there's less demand, government will have to arrange less for supply. Reducing the wastage also brings your personal fuel expenses down, which in turn helps your country's fuel purchase bill down and thus improvement in forex reserves and current account deficit situation. 
This link will tell you some very easy to use tips which will increase the fuel efficiency of your vehicles.
2.       Restricting Gold Purchases:
We Indians have unending passion for gold. Last year when I wrote "Gold – Buy, sell or hold" I was of the opinion that most of the demand for gold is due to its rising prices and people are buying it as a part of their investment portfolio. But the Projected data by world gold council published in November'2013 said that the demand for gold in India this year (2013) would be around 900-1000 tons as against 960 tons last year, proved me wrong. We buy gold because we like gold, sorry we love gold.  Indian government has succeeded to some extent in curbing the rising demand of gold by hiking import duty on gold from 2% in January to 15%. But economists feel that once the government restriction on gold import eased, demand for gold will again Surge. One article in The Hindu, quoted Bureau of Indian standards notes, which says – "Indians do not buy more gold because it is cheap. Nor do they stop or buy less because gold is costlier. But if Indians become prosperous they buy more gold. So cheap gold does not entail more gold imports. It just means less outgo of FOREX." Though falling gold prices internationally also helped India in reducing the import bill and thus Current account deficit but it seems to be a temporary thing.
If you want to support your country in improving the financial situation, you just have to understand how different asset classes works. Your personal financial planning also wants you to do that. You should never go overboard on Gold as an investment. Treat this only as something which acts as hedge against inflation. If you don't create demand for gold, imports will automatically fall and which helps in improving India's Balance of trade.
Also Read : Rupee depreciation – Cause and effect on personal finances
3.       Taking Bills for every product or service you buy:
How many times have you asked bill from a chemist after purchasing some medicines? Did you ever get a proper invoice from a next door kiryana store where you purchase your monthly ration/grocery from? You have never asked receipt of payment when you pay to a doctor (in his private clinic) or a lawyer for his services. Do you ask receipts from the tuition master whom you pay fees towards your child education? By doing all these acts you are supporting the generation of black money in society. Though I am not saying that all chemists, kiryana merchants, doctors, lawyers, tuition masters and anyone for that matter who accepts cash as remuneration creates black income, but still there are many who don't show these incomes in their Income tax returns and evade taxes. Evading taxes and demanding the proceeds in cash is very common in Real estate transactions. Many times I have seen people earning in white and paying regular taxes on the same, forcibly pay money in cash to the seller while transacting in real estate.
By asking for receipts/bills you will make sure on your part that you are not promoting the malpractice. If there was no black income in the society I believe this country will never go into fiscal deficit.
Holding someone else responsible for your condition may not be the right thing. You have to stand up for the cause. If you are serious towards your own financial future, you have to be considerate towards your country's financial future at large. You cannot expect your own betterment if your country's financials are in bad shape.  Do your bit.
If you like my views than do share your opinions/views in the comments section below and do share this article to sensitize others towards the same.