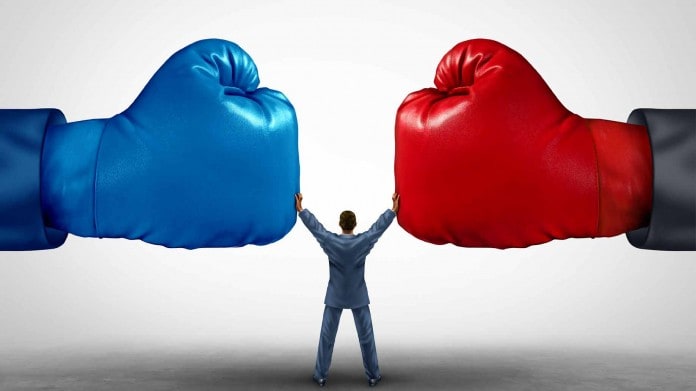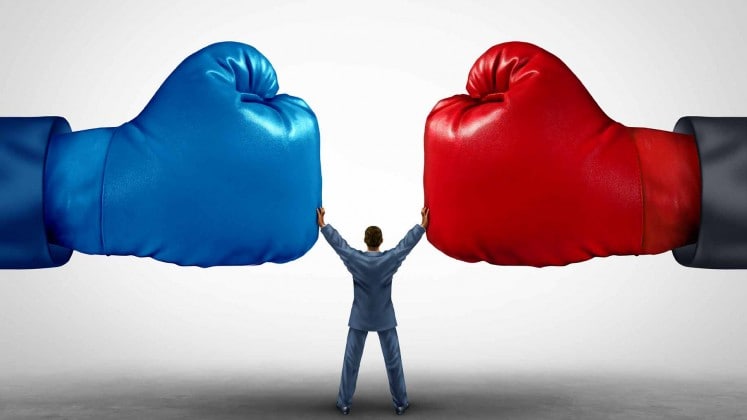 It is not necessary to have bad credit score due to your own bad credit behavior only; there can be other reasons where you are not one of the parties.
It may be due to default on repayments by the borrower friend where you are guarantor of the loan, or due to non-payment of credit card dues by the primary card holder and you being the add on card holder or as it happened in the case of Vikas where the credit institution had shared wrong information with CIBIL.
In the former 2 cases as mentioned above, there's nothing you can do except being cautious in your financial dealings, but in the latter kind of case there's a credit dispute resolution process laid down by CIBIL , with which you can get the mistakes rectified in Credit Information Report.
But, how would you know that what has affected badly to your credit score and what are the areas you should work on to improve the CIBIL Transunion score? There can be 2 ways:
1) React after your loan gets rejected due to bad credit score
2) Proactively review your credit report at regular intervals
I would advise you to go with second option, as it will give you enough time to get the mistakes corrected and also to help you improve on your own credit behavior.
(Also Read: What happens when you cannot repay your home loan?)
So first thing first, Purchase your Credit Information Report and read it thoroughly.
How to read Credit Information Report or CIBIL Report?
Your credit score is derived from your credit history, which was shared by the respective credit institutions from which you have taken loans, enquired loans or are part of loans taken by some other people. Your Credit score is the result of your credit behavior in the form of your payments history across loan types and credit institutions over a period of time.
Your CIBIL Report carries all such information which you had shared with the respective institution and also the type of loans accounts you have and the repayment track record.
The complete CIBIL Report is divided into 6 Sections.
CIBIL Transunion Score:
The first section reflects your Credit score. This ranges 300-900 and is derived basis the details mentioned in Accounts and Enquiry section (point 5 and 6) of the Credit report. Score above 700 and nearing 900 is considered as good. But having a good score should not stop you from reading the complete report…You never know J
2. Personal Information:
This section details your name, date of birth, gender, Identification types and numbers as submitted at the time of opening of Credit facility and also changes made during the service tenure. If you had not taken any loan but only made an enquiry by submitting a proof, then symbol "e" would appear along with identification type.
Here you should cross check the exact details with the proofs you have. Your name spellings should also be correct. Else you should report through CIBIL Dispute resolution process.
Contact Information:
This section of CIBIL Report will show your addresses, telephone and mobile numbers and email ids as reported by lenders. You may have applied for or been servicing different loans, while living at different places due to your job transfer, or your Rental accommodation, that's why CIBIL report will provide up to 4 addresses, by categorizing them as residential, official, permanent or temporary.
Do review this section in detail. All address mentioned should be correct, else get it corrected.
Employment Information:
This section contains details on your employment and income which was reported by you to credit institution at the time of opening of credit facility.
Account Information:
This is the most important section on which your credit score is based. This has all the details related to different credit facilities/Loans you have availed from different credit institutions.
Account information covers all EMI based loan accounts like Home loan, Car loan, Personal loan, and also other credit facilities like Credit cards.
It contains details as name of lender, type of loan, account number, Ownership and other specific details of loan with month on month record of up to 36 months of your repayments.
Ownership field tells as who is responsible to make repayments on the said loan. It may be Single – if you are single borrower, Joint – If you are Co borrower. You may have mentioned as "Authorized user" if you are ADD on Credit card holder and as "Guarantor" if you have pledged to pay some other person's loan in case of his default.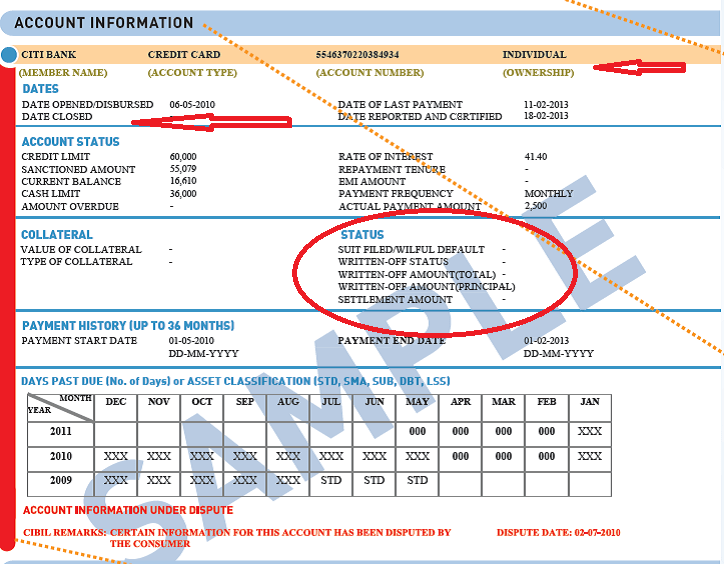 Being authorized user or Guarantor exposes your credit score to the risks of other person's bad credit behavior.
Besides ownership you also need to watch for "Open accounts", under the date section. The Loans which are currently being serviced should be the ones that are open and all others which have been paid off should be "closed".
There could be some loans which have been closed but still are showing in the "Open Status", and thus overstate your Credit exposure, should be immediately acted on and be reported through CIBIL Disputes resolution process.
If the same account is reflected twice then also the report needs to be rectified.
You should also be wary of the words "Settled" or "Written Off" in your Account status section. These two words could be the main cause of your bad credit score. Settled- shows that you have not paid the complete amount due (with whatever reasons) and lender accepted this amount and written off the balance amount and closed the loan in books. Whereas "Written off" means amount has remained unpaid throughout the term.
If you are aware of this and know that something like this has happened in past, due to whatever reason, then you have to live with it, since such kind of transaction will keep haunting you for long. You cannot do anything about this, but what you can do is to work on other areas that help in improvement of your score. If you can't do anything of negatives, better to work on positives.
But if the entry is due to mistake on the part of institution then better to get it corrected through CIBIL Dispute resolution process.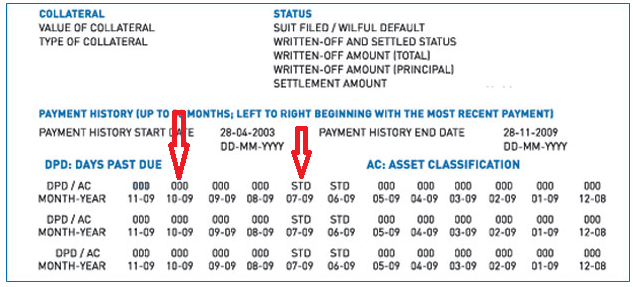 Besides this you should also look at the payment History as shown in "Days past due" section. Anything other than "000" or "STD" is looked upon negatively by lenders and impacts your CIBIL score. If you have missed some payments, then better to fall in line and don't miss or delay more EMIs, and you will find improved report in next 6-8 months' time.
6. Enquiry Information:
This section shows details on all the enquiries made by your lender on your credit application. It shows the name of the lender, date of enquiry, type of loan and its size. Please note that the date of enquiry and date of application may differ, as your lender may access your CIR report after a day or more you apply for loan.
But if you find some enquiries that you did not make, then it's better to rectify this error through CIBIL Dispute resolution process, as enquiry section also impacts your credit score negatively.
CIBIL Dispute Resolution Process
Once you have identified the inaccurate information, now is the time to initiate the CIBIL Dispute resolution process. Please note that the EMI payments get updated in CIBIL report in 45 days' time, so if you find some of your recent payments not being reflected in the report, you need not to worry. But yes, if 2 months old EMIs are also not reflecting, then that is a cause of concern and you should write to CIBIL through CIBIL Dispute resolution process to update the information.
You may raise dispute related to any or all section of Credit report. However in the Accounts section, you can either dispute Ownership or Field of accounts/Enquiry, because if you are raising dispute on ownership then how can you know details of the loan and if you know the details of loan then how can you deny ownership?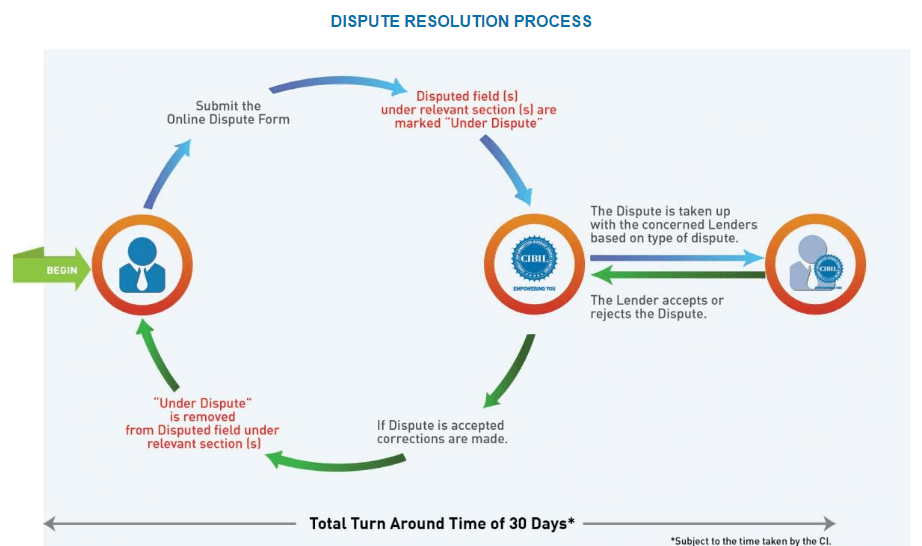 Image credit : www.cibil.com
You should know that CIBIL don't make changes on its own without getting the details or dispute resolved by the respective Credit Institution. So all the changes requested and done by CIBIL needs to be authorized by Credit institution.
There are 2 ways of raising dispute, which depends on how you have obtained your Credit information report.
If you have bought CIBIL score yourself, then you will be issued myCIBIL login and password, from where you can raise the dispute, else if you have obtained the report through a credit institution then you may raise the dispute through this link https://www.cibil.com/dispute/
You have to have "control number" with you which is mandatory for raising a dispute. Control number is a unique 9 digit number, mentioned on the top right hand corner of your CIR. You need to fill this number along with other details asked in the CIBIL dispute resolution form
Dispute form is quite simple, where you just need to fill in the personal details and give a brief description of the error you want to get corrected. Once submitted the dispute, CIBIL will forward the same to the respective lender and follow up to get the reply and close the query in next 30 days.
Conclusion:
CIBIL report is very important report to keep a check on your financial especially credit behavior. Low Credit score has a very long term financial implications. You need to review this report on timely basis so that you can work on to improve your score if and whenever required.
If the low score is due to the past financial mistakes committed by you, then reviewing the report timely will lead you, not to repeat such mistakes in future, but if the low score is due to some error committed or reported by lenders, then you should definitely follow CIBIL dispute resolution process to get the same error rectified and fix your credit score.
When was the last time you bought your CIBIL score? Your financial fitness is your responsibility. Get your credit score today and check the report for any discrepancy, and if there's any get it corrected through CIBIL Dispute resolution process.