In the series of reviewing health insurance policies offered by nationalized banks, this time I am reviewing Bank of India national swasthya bima policy. This is the third in the series, other two I already reviewed were – (You may click on the product names to read about them)
Canara bank Mediclaim  and PNB Oriental Royal Mediclaim 
One thing is very clear from all the reviews I have done till now is that health insurance policy can be bought cheap too. Yes, buying it from nationalized banks may be troublesome, as you may not get smooth policy servicing, but I think that is the cost you pay to save money on your otherwise costly health insurance cover.
If one is ready to make some efforts and is aware of the basics of health insurance, then he can save a lot on policy premiums with not much of differential in the Policy features. This was very much visible from Canara Apollo Munich policy.
BOI national Swasthya Bima Policy – in brief
This health insurance policy is for Bank of India account holders or card holders, in tie up with National Insurance company Limited. Features wise this policy stands at par with its counterparts, and premium wise also it is very much comparable.
This policy provides cover to Complete family covering Self, Spouse and upto 2 children, under floater version. Parents would not be covered in this policy.
The best part is that BOI national swasthya bima policy has no sub limits, which is difficult to imagine in a policy by national insurer, which makes this policy more attractive in its segment. Let us look at its basic features to understand the product
Important – BOI National Swasthya Bima has been discontinued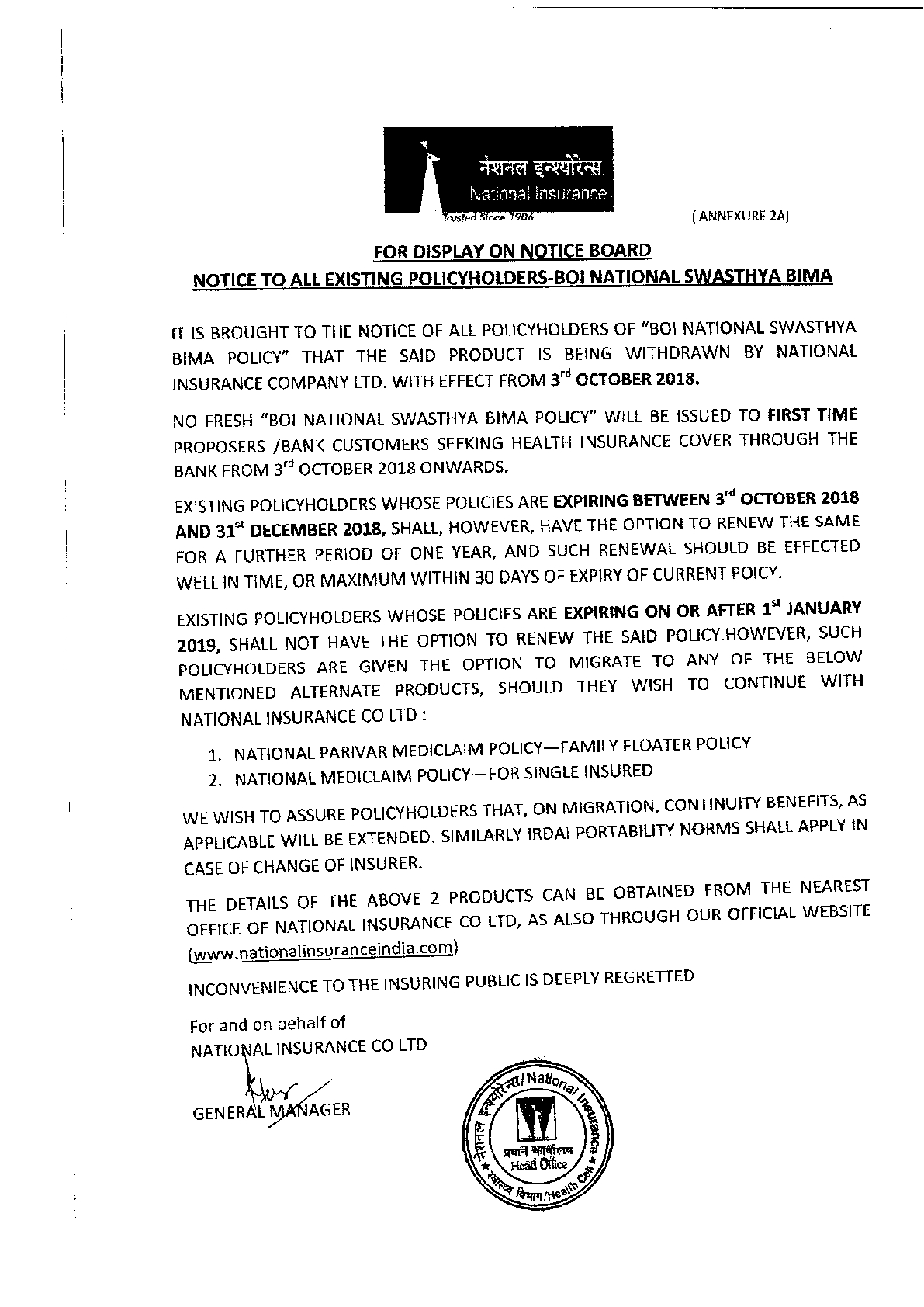 BOI national Swasthya Bima Policy – Features
*As per Policy brochure, but in FAQs it is mentioned as covered.
Additional benefits:
Maternity benefit – Up to 5% of Sum assured on Reimbursement basis (Check out the details on maternity benefit) 
Health Checkup benefit – 1% of Sum assured after completion of continuous Claim free 3 Policy years
NRIs can take this policy for Treatment in Indian Hospitals
In case of hospitalization of Children below 12 years, Rs 1000 per policy year will be paid towards Out of Pocket expenses.
Treatments in Nepal and Bhutan also covered in Indian Currency
(Download the BOI national swasthya bima policy policy prospectus)
BOI National Swasthya Bima Policy – Premium rates

BOI National Swasthya Bima Policy – Should you buy?
As a basic coverage this policy is not bad at all. But in my view Rs 5 lakh the maximum available cover in this policy is too less to have. However that can also be increased by taking a super top up policy, but national health Insurance does not have any Super top up policy…and it is always better to have both the basic and super top up from the same insurer to manage the claim better. ( Read: 4 ways to enhance health insurance cover)
I believe that maternity benefit should never be considered while buying any policy, but that can be taken as additional advantage. No Sub limit is also an attractive feature.
One should ask the insurer about the Day care coverage as nothing of this sort mentioned in the policy brochure. The policy documents received should be having the details about the same.
Rest as I always say that in case of health policy offered through nationalized banks buyers should be aware of the claim process and should be ready to make all the efforts himself as banks will not be providing any service related to this policy.
All in all BOI National Swasthya Bima policy looks to be a good buy, as a basic cover.