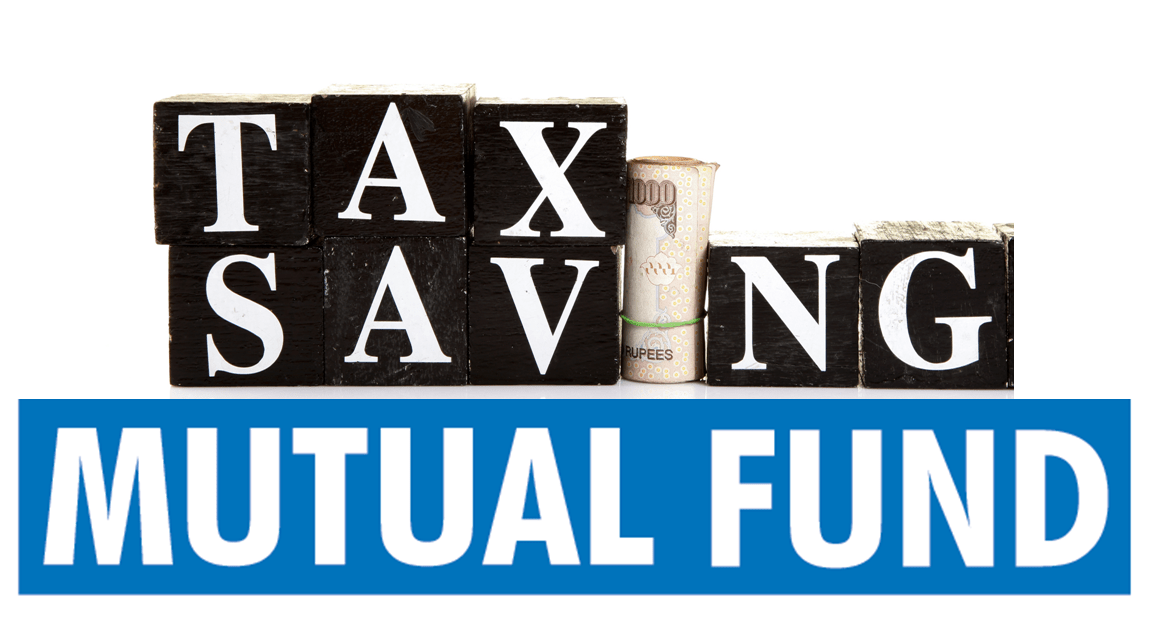 Last year I wrote a detailed article on best elss tax saving mutual funds to invest in 2013 with reference to parameters i shared on my Money control article.
This today's article is a kind of review of the earlier one, based on the same parameters with some fine tuning. Before going ahead, I would like to reiterate that there's nothing that can be called as best. It's just if it suits your risk profile and can provide you with decent, above average returns…it is a best elss fund for you.
Parameters to select best elss tax saving mutual funds for FY  2014 – 15
Fund should be in top quartile i.e among the top 25% of the funds in the same category, for last 3 years. You may chose it for 5 or more years too. The longer term you select, better it is.
Fund should have generated ALPHA with reference to its benchmark. Alpha is the extra return fund has generated as compared to its benchmark or anything you want to compare it with.
Check out the expense ratio of the funds.
You may be ready to compromise high expense ratio to fund's performance. But still cost of investment do affect fund's returns.
Fund manager Tenure. As we are considering all parameters to be above 3 years, so better to go with fund which is being managed by same fund manager for at least the same tenure.
AUM of the fund.
All the parameters mentioned above are quantitative in nature. Those who deal with and follow the Asset management companies closely may also get to know about the qualitative features of these companies which are also important to zero on to a particular fund. Ethics, Philosophy, aggressive or conservative management etc. are some of the qualitative factors which are also important to know and your personal advisor may take you through those.
So let's filter out the ELSS tax saving mutual funds as per the parameters mentioned above .
ELSS tax saving mutual funds which are in quartile 1 in last 3 years, are as under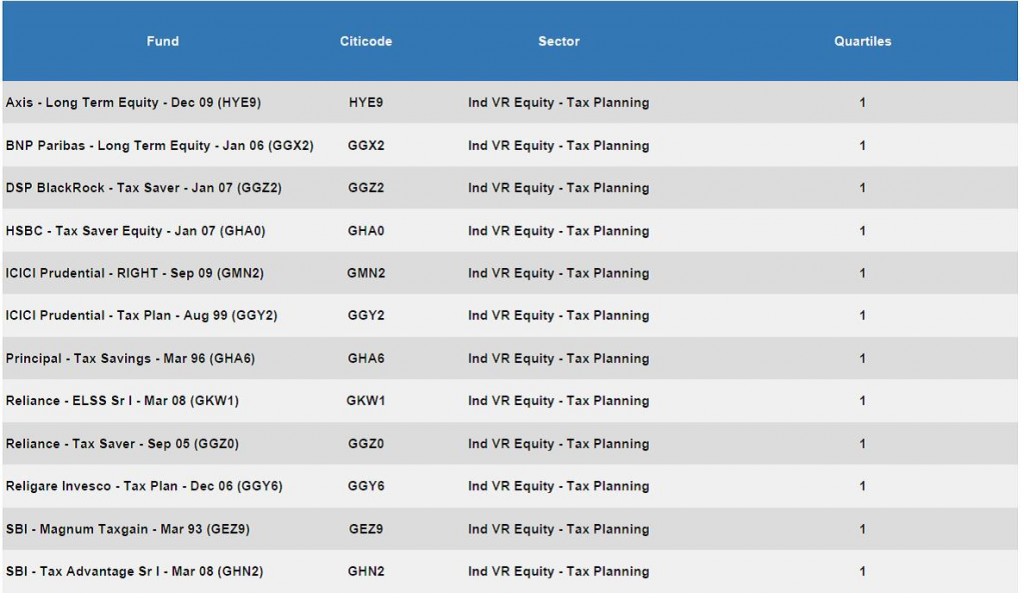 ELSS tax saving mutual funds which are in quartile 1 in last 5 years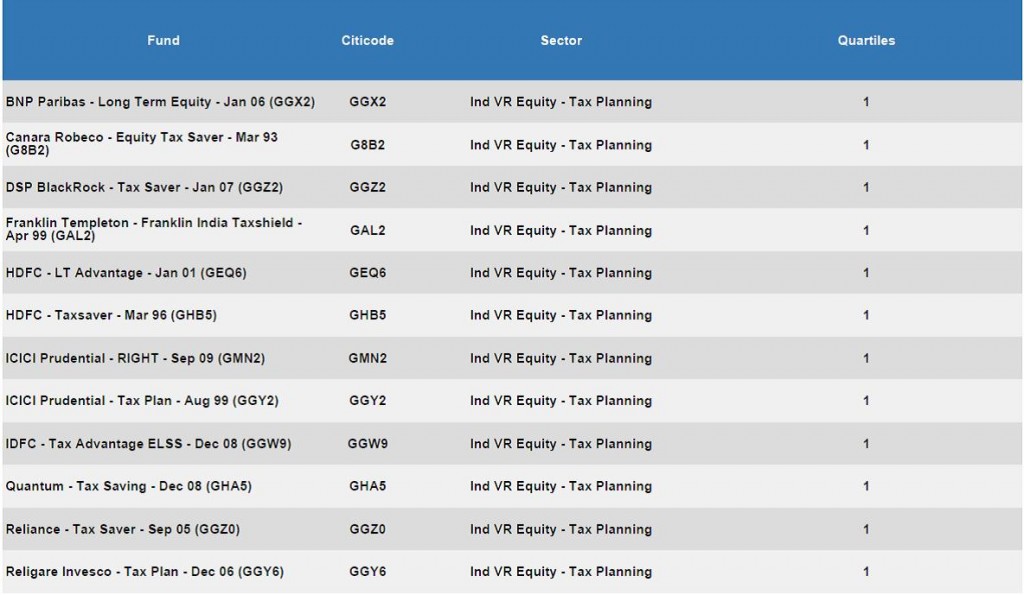 The common funds between 3 and 5 years time frame, in quartile 1 are

Quartile rankings tell the consistency of the returns. ELSS funds come under equity category and thus should be treated as normal equity fund meant for long term allocation. 3 years is the normal lock in period in these funds, but one should also look at 5 or more years return or quartile ranking too before further filtering.
I will be taking funds which are in quartile 1 in 3 and 5 year time frame, to find out best elss tax saving mutual funds to invest in FY 2014-15
Now, let's find out how well the fund manager has performed, as in how much extra return it has generated as compared to its respective benchmark. We need to look at the alpha that fund has generated. Here I have further filtered the above list with alpha greater than or equal to 1
The above filtering has thrown BNP Paribas long term equity fund out of list, but this is a software issue and the fund is as good as others for your consideration.
I have furthered filtered the funds above to check, with which fund, same fund manager has actually been working for 3 years or more. This is to check if the fund's alpha is due to the current fund manager's management

Further selection of funds can be based on the total expense ratio and AUM of the fund house. Higher AUM is better as it leads to low expense ratio and also checks the concentration of fund into few investors.

So we have 3 winners here in the category of best elss tax saving funds 2014.
But as I said that you should treat ELSS funds investments like any other equity investment, and should apply this test to long term quartile performance also. Sometimes 3 years performance may dodge you for long term investment
Best elss tax saving mutual funds to invest in 2014-15 by applying the above filtering to 5 years performance

Best elss tax saving mutual funds to invest in 2014-15 by applying the above filtering to 10 years performance

Data Source : FE Analytics Valueexpress dt 3 Nov'2014
Conclusion:
You can clearly see the presence of some funds at all levels of filtering. A solid short term performance can definitely change the long term track record, and that performance can be due to some of the stocks which have suddenly zoomed in recent years. This strategy can be risky for a moderate to conservative investor. You should select your best elss tax saving mutual funds for FY 2014-15 keeping in mind your personal risk profile and also fund's risk return parameters. The investment should support in your long term goal achievement.
Hope the above exercise helps you in selecting your best elss tax saving fund for FY 2014-15.
Any questions? Feel free to ask in Comments section below.
( Do you want to have Fundtastic investment portfolio ?- Click here)