What If scenario analysis also called as WISA, is generally used in business project analysis which points out unanticipated adversities which can make that project unstable and thus helps in proactive handling of the situation. But just to go deeper in the process if we use this (though in simple, non-technical form) in our daily personal financial life, then we may be able to avoid many disasters to happen.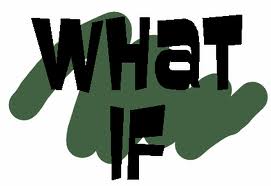 Financial Planning

itself is one of the "What if analysis tool", as it helps in the proactive arrangement of our finances to manage the certainties and uncertainties in a much better way. But as in most cases I have found that client leaves the whole Financial Planning process to planner only and believes whatever he says. With this attitude they fall prey to "me too financial Planners" who are there just to sell a particular product by showing some excel/software calculations.  This article is to give you an idea as to how you can use this What If approach in your financial planning and how to find that the approach being followed is genuine. Which means that if your advisor is not able to answer all your "what ifs" with conviction then he may not be following the right financial planning approach. This will also increase your involvement in the whole process.
"What if" will help you in pointing out your Financial Fears
On its most fundamental level, financial planning acts to eliminate financial fears in your life. Close your eyes and think about what exactly you are afraid of regarding your financial future and ask this question to your financial planner or try to answer yourself if you are "Do-it-Yourself" person.
 

What if I lose my job?

 

What if I become disabled?

 

What if I die tomorrow?

 

What if I live longer?

 

What if the emergency fund advised does not suffice in future?

 

What if Term plan/health plan advised does not suit my profile later?
All the above and many more such "What ifs" will help you answer the very basic question – "what would happen to your family and you …in case……" What I mean is that buying insurance(Read : Review the insurance portfolio) or creating emergency fund (Read : Keeping emergency fund)may not be enough; you should also understand the importance of it and reasons behind it and be ready to tackle the situation in case something unexpected happens.
"What if" will help you in setting and prioritising the financial goals.
You automatically will come up with all important goals like for Retirement , Child education, health issues etc. when you do the WISA to eliminate financial fears but you have many other desires/goals/queries too which you want to provide for or seek answers for. So to find out there place in a financial plan you need to do some more what ifs.
What if I postpone the purchase of Life/health/accident insurance, as I am already covered by my employer and use the surplus to buy new gadget or go for vacation?

What if I Pre close my loans now and get rid of my EMIs?

What if I continue with my loans as I can afford EMIs?

What if I save for Children education first and later for Retirement as it is too far?

What if I purchase house first as it gives me emotional satisfaction and start with other goals later?

What if I add my desire to go on foreign tour every year in my retirement goals?

What if the financial plan does not work?

What if the investments advised does not yield as expected?

What if the stock market falls when we are about to reach our goal.
Many of these "what ifs" may not be answered instantly and requires a detailed calculation of your finances. But this will surely help you in coming out with your thoughts, preferences and clear cut picture of what you want. And this in turn helps the financial planner or you to come out with detailed financial plan with all the simulations.
This "what if" analysis helps you prepare in every sphere of life. It will help you in designing the plan B, C, D etc. when plan A fails or does not produce the expected results. With "What if analysis" in financial planning, you and your planner
–          Can evaluate the feasibility and suitability of the completed plan under unfavourable situations.
–          Prepare response plans to avoid or overcome the worst scenario.
–          Mitigate the impact of uncertain or unexpected situations.
Hopefully, by now you must be searching for answer to
"What if you don't follow Financial Planning?"