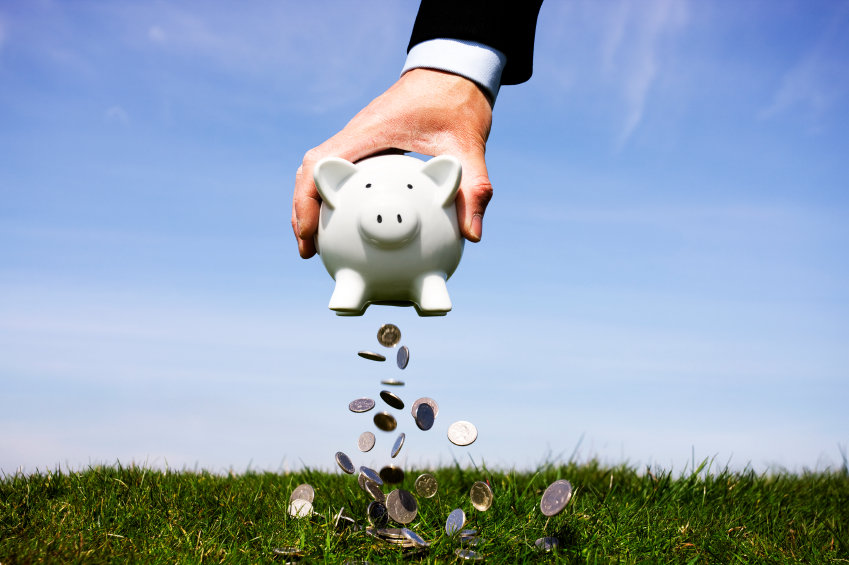 Sometime back I wrote one article on Systematic withdrawal plan which shows how SWP works best with monthly income plans (MIPs) as compared to the dividend payout option, which resulted in favor of Systematic withdrawal.
This article is about how systematic withdrawal plan works with other mutual funds. Does it make sense to go with SWP in case of equity mutual funds, how the transactions have worked out in the past and when one should give this a try, if at all.
This post is the result of long discussion with my friends and fellow financial planners on my bucketing retirement strategy article written for business standard. In that strategy I explained how post retirement income needs to be generated by creating different buckets for different years and thus how one should invest in different asset classes to manage the inflation and growth.
Though I still stick with my strategy of keeping debt and safe investment in first bucket and increase the exposure to equity in other 2 buckets, but still I did some back testing to check , how keeping money in only equity or equity oriented hybrid would have resulted.
What is Systematic withdrawal plan in mutual funds?
Well, definition wise in simple terms ,systematic withdrawal plan (SWP) is exactly opposite of Systematic investment plan ( SIP). Where in SIP you invest regular and fixed amount at predefined regular Intervals, in SWP you withdraw a fixed amount at regular and predefined intervals which can be monthly /quarterly
But as I said that it is exactly opposite to SIP which means that in SIP if Market/NAV is down you get more units, but in SWP when Market/NAV is down you withdraw more units.
Why and when one should use Systematic withdrawal plan facility?
The simple answer to this is that SWP should be used to supplement your regular income. Regular income may be coming in the form of Salary, Pension, fixed interest etc.
In case of Retirement buckets articles, I have clearly mentioned that the first bucket should comprised of very safe and regular income generating assets which includes bank Fds, Post office schemes, annuities etc. , in second bucket you should take some equity exposure through hybrid funds and should be used to supplement the regular income that is being generated in the first bucket, and this may be done through SWP as this is more tax efficient mechanism, the third and last bucket should be filled with pure equity or equity oriented hybrid funds which should be used to fill up the second bucket or even first bucket through profit booking or dividends earned, as both will generate tax free returns.
Besides retirement income planning, you can also use SWP when you want to create discipline of withdrawals from savings. Say for e.g. you have saved Rs 10 lakh for family expenses of 2 years, when you plan to take sabbatical from job. Now rather than handing over the complete money to family members or keeping this in saving bank account and leaving the withdrawal option to as and when, it is better to decide onto a fixed amount which may be equivalent to your salary and register that amount as SWP by parking the total money in Liquid Mutual funds.
The structure will automatically transfer a fixed amount to bank account by redeeming the required units. This on one side have not left the money idle, neither left a scope of getting the money misused and on the other side made arrangement of regular inflow for the family members.
How systematic withdrawal plans in mutual funds work?
You first need to select the fund, then decide the rate at which you want to withdraw the amount, you may also decide a fixed amount or can also ask for appreciation amount only. As mutual funds are not a fixed return instrument and also the withdrawal rate is as per your choice, so the total return from the structure depends on product/Mutual fund return and your withdrawal per month.
In my post on SWP in MIPs, I had assumed the rate of withdrawal as 8%, withdrawn monthly just to keep the comparison open with POMIS too. That calculation has shown that rather than taking dividend payout, if investor goes with Systematic withdrawal then the net returns would be much better. The XIRR calculated proves that correct and also was better if compared to POMIS.
Whenever you select a particular fund that should always first fit into your requirement and then should suit your risk tolerance as to how much volatility you would be able to absord.
As I wrote above in this post that in SWP you withdraw more when NAV is down, thus it is always better to make the SWP arrangement with less volatile funds which may be debt funds or debt oriented conservative funds. But keep in mind that your rate of withdrawal should always be less than the rate of return expected from that fund.
Now let's find out how SWP would have worked in different fund structures. I have filtered out few funds based on the parameters as discussed here. The charts below are taken from Value express analytics software. Other details are as below:
Amount Invested – Rs 6 lakh
Withdrawal rate – 8.5% per annum and withdrawal frequency is monthly.
Withdrawal date – 1st of every month
Period – last 3 years, last 5 years and Jan 2008 till date
Systematic withdrawal plan in Mutual funds- Last 3 years
Equity Mutual funds (Large cap)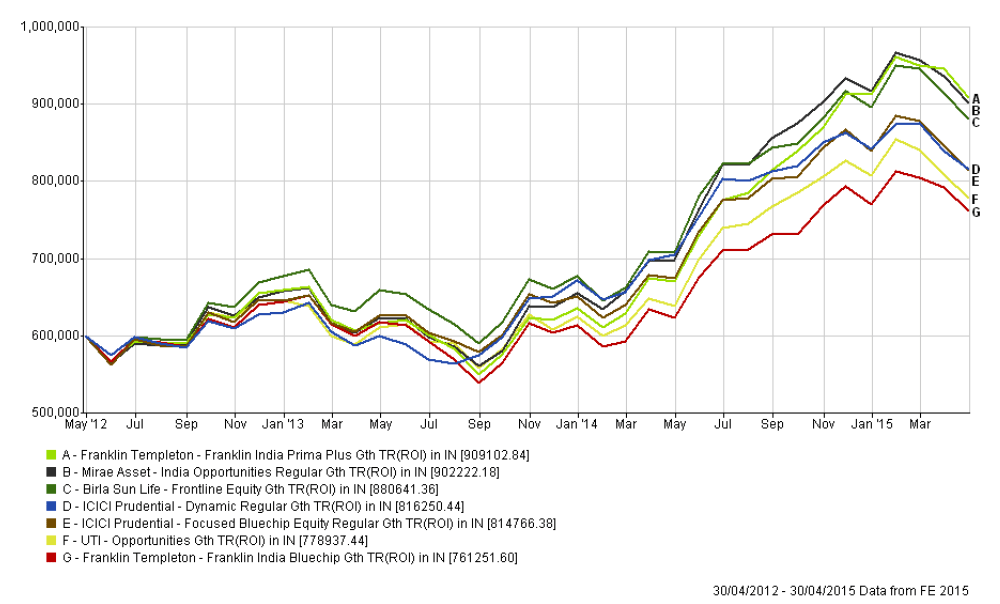 Equity Oriented Hybrid Mutual funds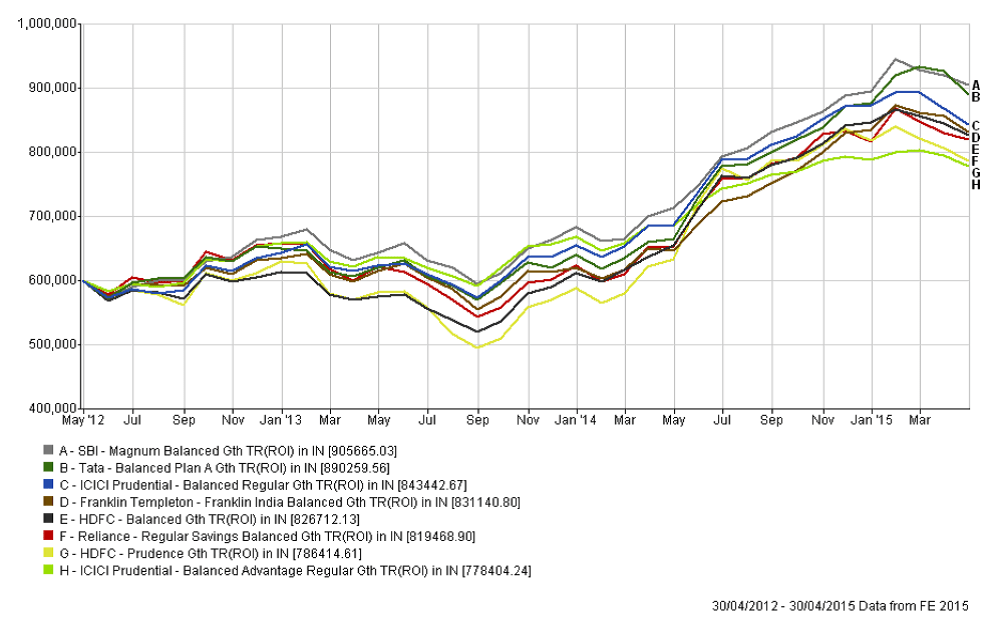 Debt Oriented Hybrid Mutual funds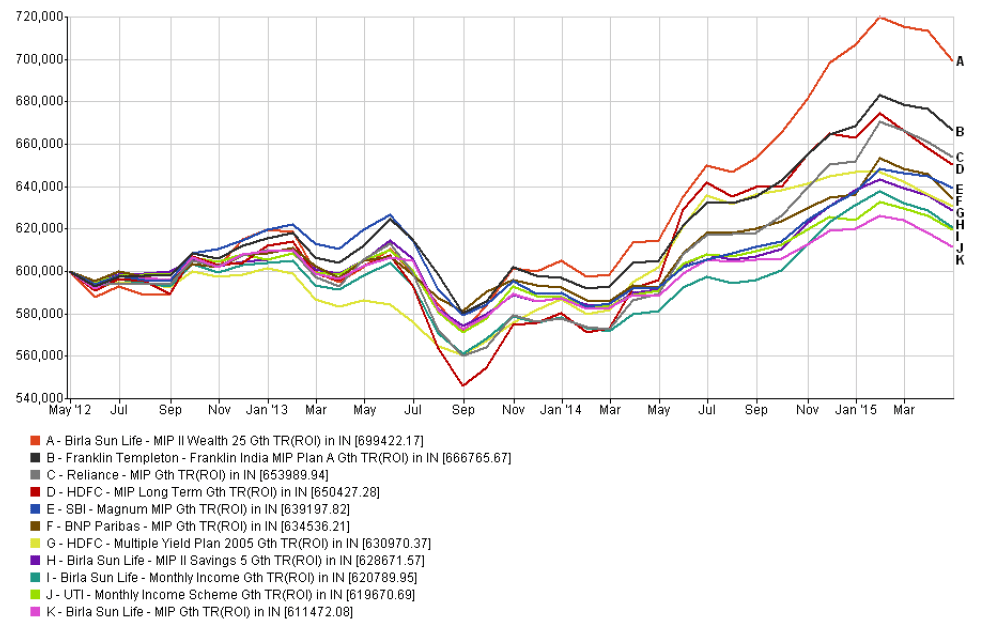 Last 3 years performance of SWP in all categories above, has went very well. I found the Hybrid category's performance better than other 2. Less volatile than equity but much better than debt. Debt funds has generated returns better than Post office MIPs.
Systematic withdrawal plan in Mutual funds- Last 5 years
Equity Mutual funds (Large cap)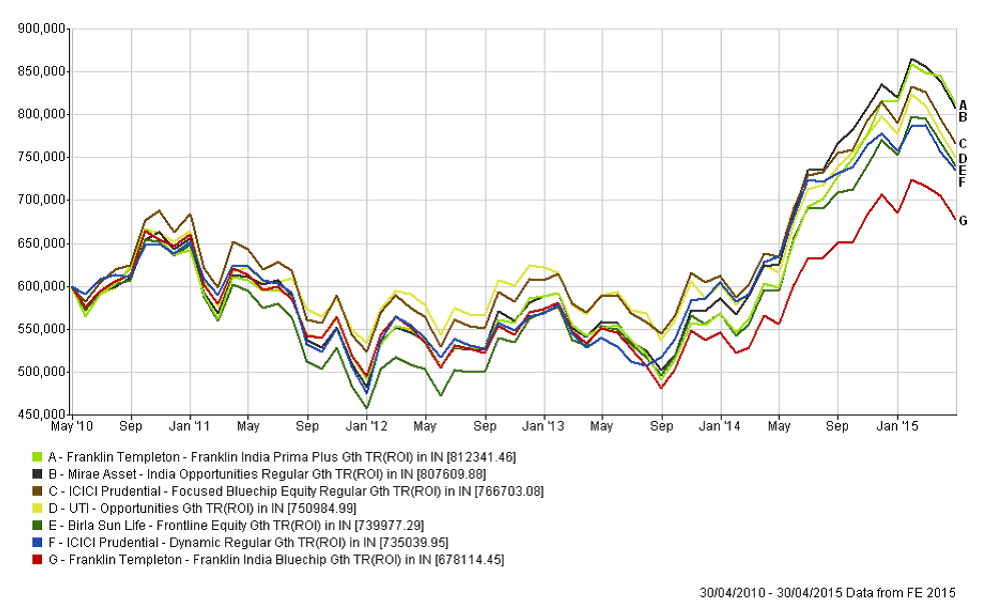 Equity Oriented Hybrid Mutual funds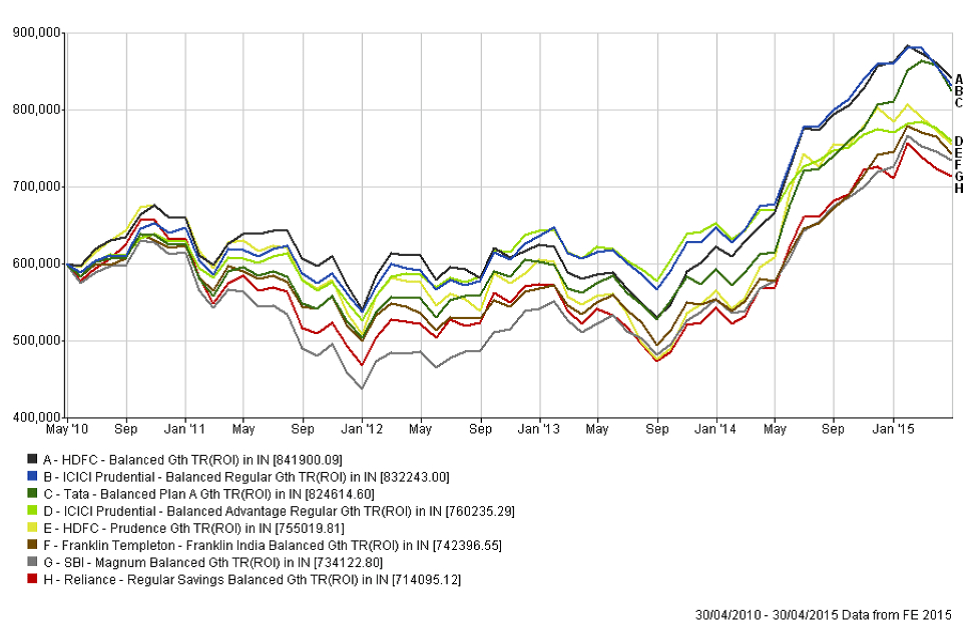 Debt Oriented Hybrid Mutual funds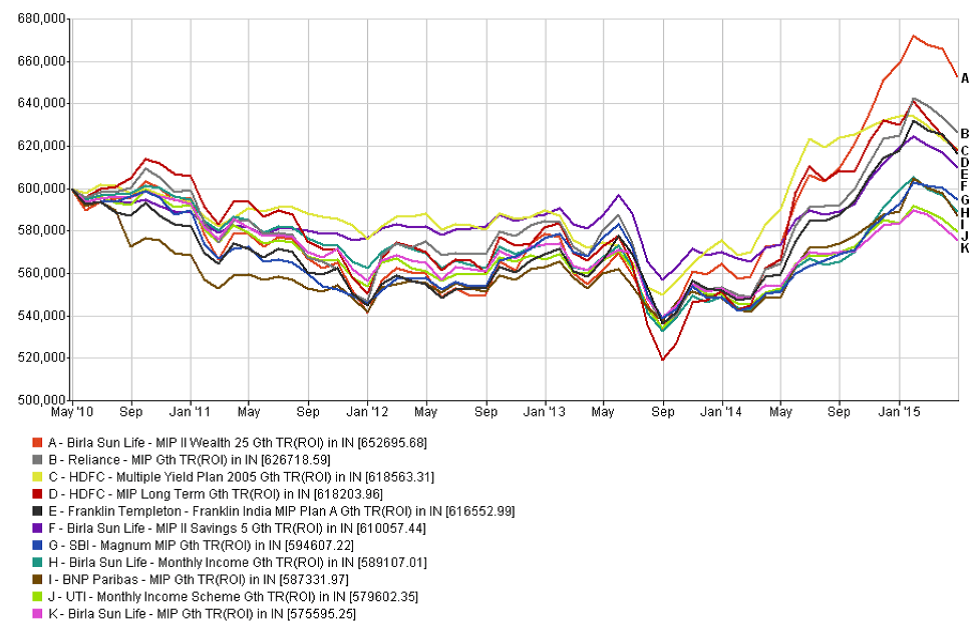 Even in last 5 years time frame, Hybrid Equity Mutual funds have performed much better than debt funds and even then equity funds.
Systematic withdrawal plan in Mutual funds- Since Jan 2008
The reason for taking this period is to check the returns in SWP structure when luck was not in your favor and and you happen to enter the market just before a fall – Real fall, as happened in 2008 due to Subprime Fiasco.
Equity Mutual funds ( Large cap)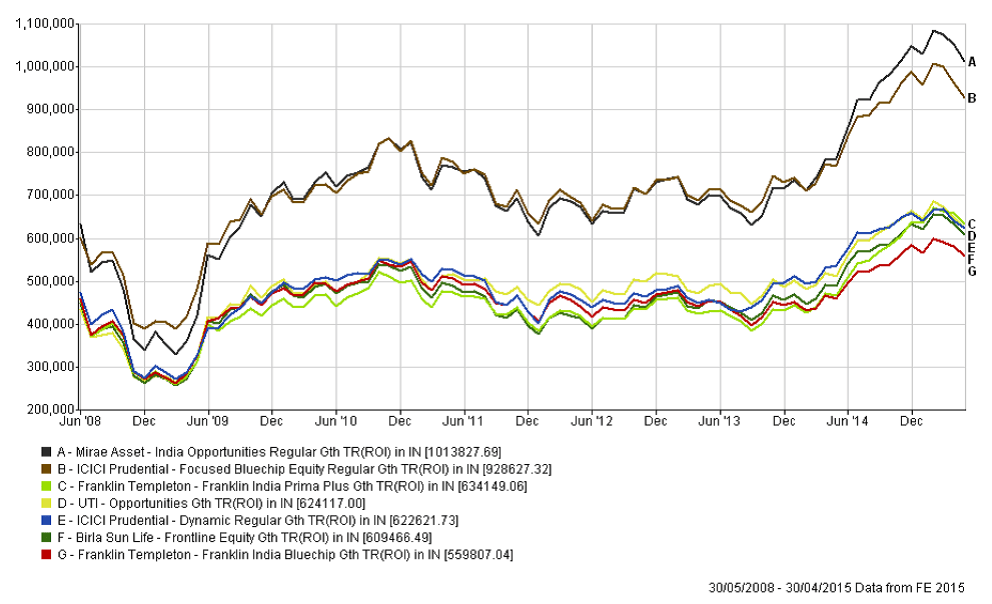 Don't get impressed by Mirae and ICICI focused as they were launched in April'08 and May'08 respectively, thus they were not participating when the fall happened. In fact they took the advantage of entering and buying stocks after the fall.
Equity Oriented Hybrid Mutual funds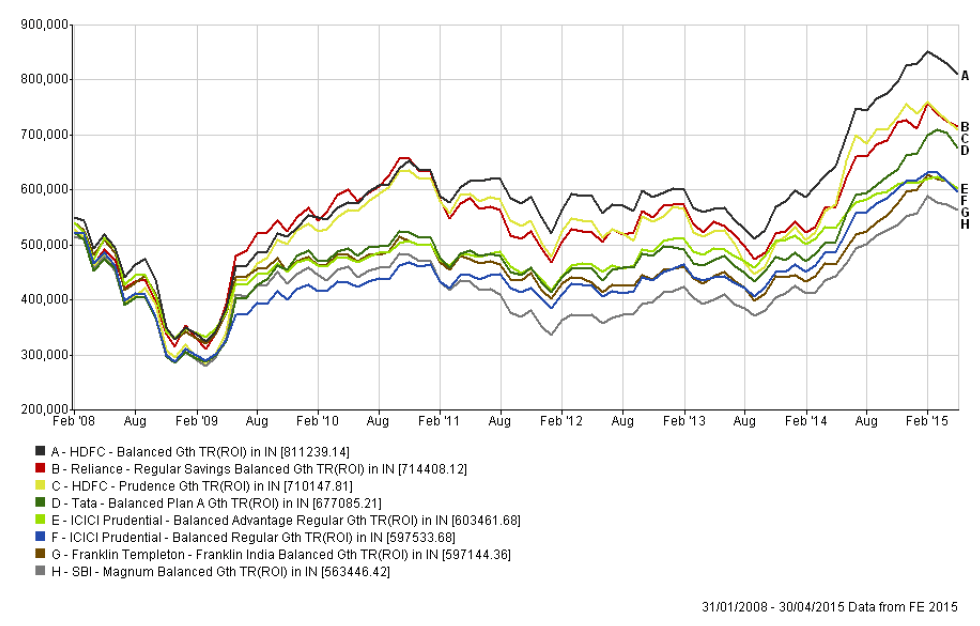 Debt Oriented Hybrid Mutual funds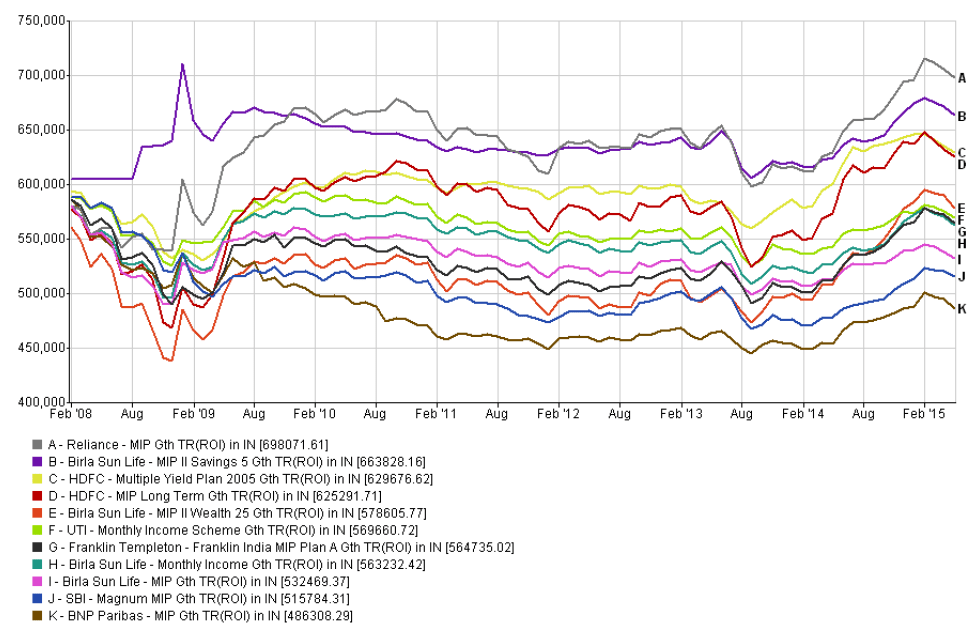 You should understand that this is extreme situation, but we cannot say that this situation will not get repeated. when and why no one can say.
The above charts shows a mixed picture . Some funds have performed too well and some are yet struggling. '09 to '14 was a period of lull…so barring few almost all funds had underperformed and it is only after Aug'14 or Feb'14 we could see some upside movements.
Before concluding, the article let me show you some charts for the last 10 years with same details as shown above.
Equity ( Large cap)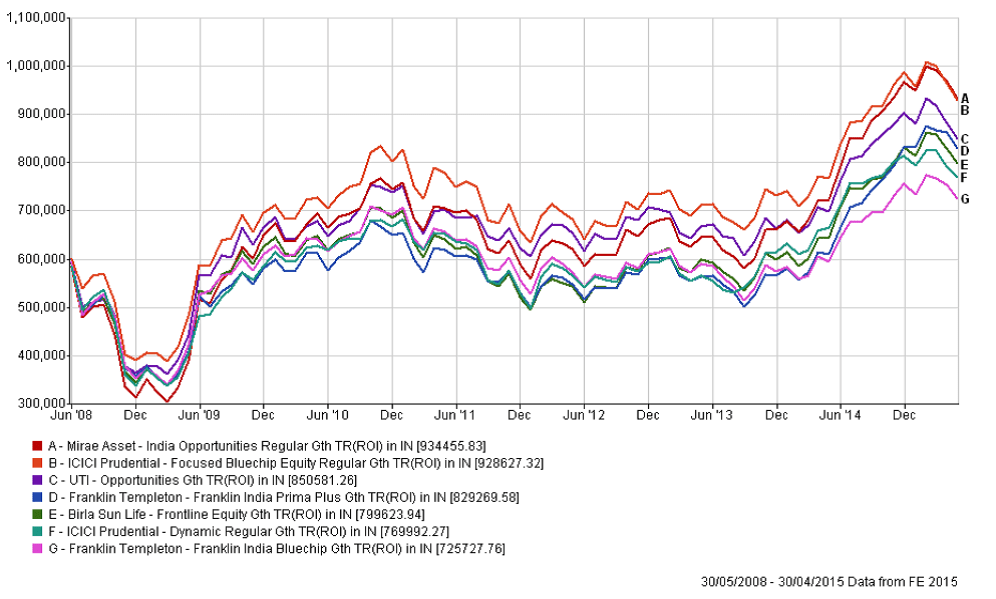 Equity Oriented hybrid mutual funds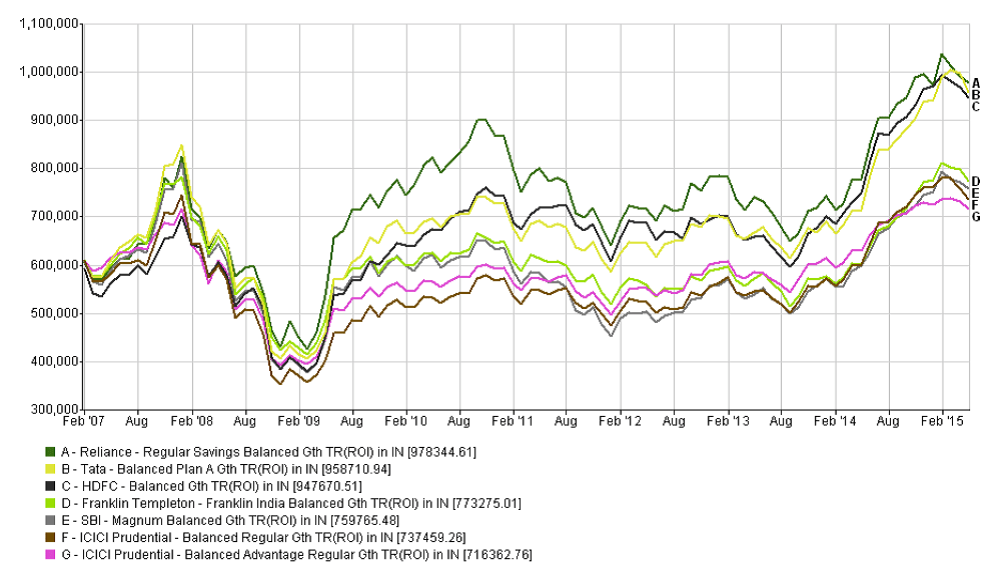 Debt Oriented Hybrid Mutual funds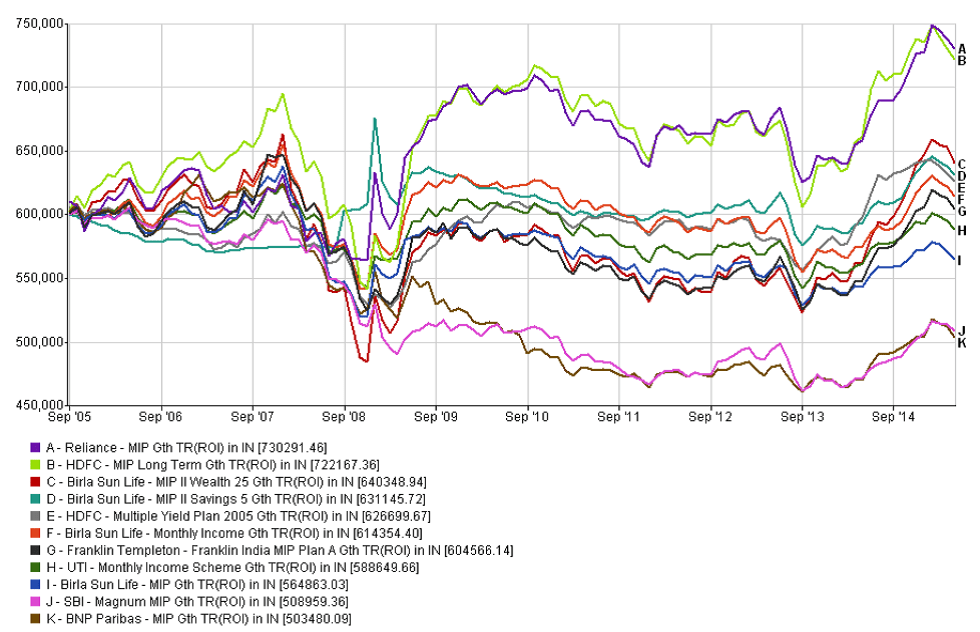 Conclusion:
As the last 3 graphs , of last 10 years tells that though equity mutual funds are volatile and may not be used for systematic withdrawal plan, but the longer you stay, things get balanced out and you get good returns. Long term funda gets applied here too. I found equity oriented balanced funds a better choice than equity or debt oriented hybrid funds.
Since volatility would be a part of this structure which may or may not be acceptable to many, and more over when you are at a stage when generating income from your savings is your dire necessity as in case of retirement, you should not take chances. First look out for a safe and secure income model by using fixed return instruments and then for the balance amount you may try with SWP and that too for long term. Don't get panicky with market movements.
If for short term you want to make regular income arrangement from savings, then do Systematic withdrawal through Liquid Mutual funds.
If you have any query on Systematic withdrawal plan in mutual funds, do ask in comments section below.