These days LIC Jeevan Ankur advertisement is regularly appearing in newspapers, TV, FM etc. Such frequency of insurance ads tells you the arrival of the festive season where you will be pitched as "gift your family a secure future" or arrival of Tax saving season where it would be much easy to sell a policy.
And when the policy is for your child future then automatically the marketing campaign gains the emotional touch. Moreover when the product is of LIC many has a tendency not to understand the features and believe what the agent says.
I have also been receiving many queries on LIC Jeevan Ankur, so to answer once and to all, I decided to write a post doing its detailed review.
LIC Jeevan Ankur – Basic Features
The plan works like any other endowment plan where you will have to pay a premium for a fixed tenure for which you will be given insurance coverage.
If you survive the term you will get Maturity/survival benefit which is Sum assured plus loyalty additions. And if the Insured dies within the policy term then the sum assured will be paid back to the nominee.
Now as LIC Jeevan Ankur is child future-oriented policy, so needless to say that it must be having some additional features. I hope you understand that additional features and additional costs go hand in hand.
Additional Features of LIC Jeevan Ankur
The Risk cover will be in the name of parent and child will be the nominee in this plan.
Death benefit: If Life Insured dies within the policy term then the Full sum assured will be paid to the Nominee. Additionally, a benefit equal to 10% of basic sum assured will be paid on each policy anniversary for the remaining term of the policy. (Please note here that this additional feature is because of inbuilt Income benefit rider in this policy, which has some cost attached to it)
Maturity Benefit: If policyholder survives the policy term then on maturity he'll be paid the amount equal to basic sum assured plus loyalty additions if any which depends on the corporation's experience. Thus it is very clear that the guaranteed portion is Basic sum assured and NON Guaranteed portion is loyalty additions.
Other Optional Features in LIC Jeevan Ankur
Accident Insurance: You may top up with the policy with accident benefit rider for a sum assured equal to basic sum assured with a minimum coverage of Rs 25000/- and maximum Rs 50 lakh.
Critical Illness Insurance: You may top up with the policy with Critical illness rider for a sum assured equal to basic sum assured with a minimum coverage of Rs 50000/- and maximum Rs 5 lakh.
Both Accident Insurance and Critical Insurance coverage are important, but whether it should be bought as a rider or a stand-alone policy is a point to decide. You may go through my other articles on accident Insurance and Critical Illness to understand these policies/riders in detail.
Eligibility conditions and other restrictions in LIC Jeevan Ankur

Now let's look at the Investment Part of LIC Jeevan Ankur.
Most people purchase this kind of policy looking at the benefit of investments only. When they listen to the Jingles called " Mera future pakka" they presume that this is the only plan which can provide a secure and satisfying future for their KIDS.
It will take care of his higher education and marriage expenses and that too for sure…as in "PAKKA". Even agents pitch these plans as investment plans only, because if the investor understands insurance well then there's nothing more convincing then term plan.
As already explained above, that the guaranteed portion in the returns part is only Basic sum assured and loyalty additions depends on corporation's experience. Still, from a calculation perspective, IRDA has given the leverage of showing the returns on the basis of 6% and 10% interest.
Though this was to curb the misselling by agents showing exponentially return to investors, it went in favour of endowment plans as I personally have seen many plans giving returns even less than 6%. So rather than going into guesswork lets calculate the return on the basis of illustration shown on LIC website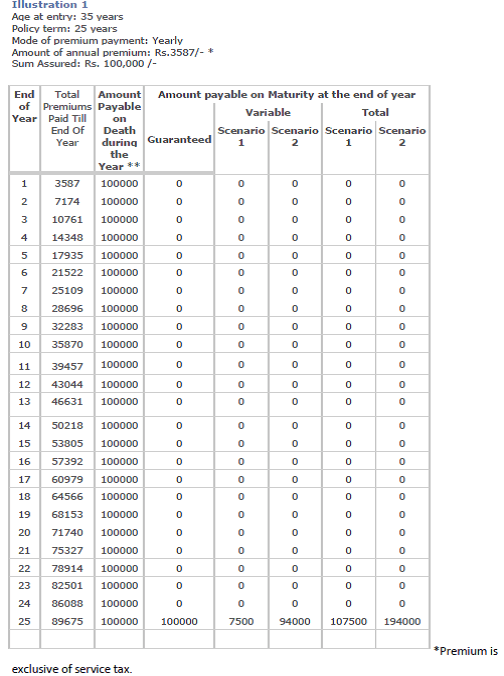 Source: http://www.licindia.in/children_need_0010_benefit_illustration.htm
The above table clearly shows that at 6% assumed rate the return generated by this policy would be 1.47%, and at 10% assumed rate the return would be 5.89%. This is when the premium amount is exclusive of service tax. Once service tax gets added in the premium then the returns will reduce further.
Should you invest in LIC Jeevan Ankur?
If you know the inflation rate in the economy and inflation rate of education expenses, then this question need not be answered. (Read: Plan your child's future)
Frankly, I always believe that these Insurance cum investment plans are meant for those who are not able to manage the finances themselves. By offering a bundle of features in a single policy these insurers make them attractive for investors.
But when you go in deep you will find that these features has made the policy costly/expensive and thus hitting badly on returns. Along with high distribution costs in the shape of commissions takes away the balance portion of good returns.
All these things make an endowment /ULIP policy not suitable for insurance and even not for investments.
Moreover, with the illiquid nature of such investments, the policies like LIC Jeevan Ankur should be given a complete miss.
What do you think? Do you feel somewhere LIC Jeevan Ankur Kind of policies may be invested in? Do share your opinion in the Comments section below.