HDFC life has come up with one of its kind unit linked insurance plan with name HDFC life Click 2 invests. Why it is unique is because it is devoid of many charges that generally ULIP insurance plans have. It doesn't have any allocation charge, administration charge and even the discontinuation charge. HDFC life click 2 invest can be bought online only and thus does not have any distribution cost attached too. But even after its no charge structure, does it make sense to invest in HDFC click 2 invest insurance plan. Let's find out.
HDFC life click 2 invest – Key features
HDFC Life click 2 invest is an online unit linked insurance policy. Like any other ULIP you have to decide on the premium you want to pay, depending on which you will be covered with insurance. As in ULIP insurance cover will be the multiples of premium you pay.
Premium you pay after deduction of allocation charges (which is NIL in this product) will get invested in the fund option you chose. There are 8 fund options available for investors in this plan.
With a single, limited and regular premium pay option the maximum policy term available is of 20 years. You keep on paying the premiums and at maturity you will get the fund value accumulated or at death your nominees will get highest of the following:
Sum Assured
Fund value
105% of the premium paid
HDFC life click 2 invest – eligibility and other conditions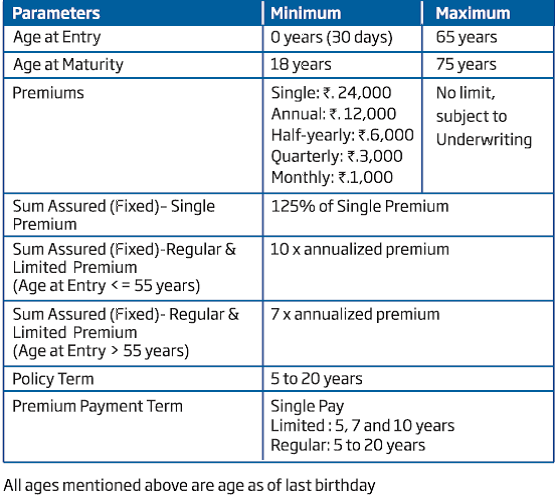 HDFC life click 2 invest – Other Features
Charges: There is no Allocation, administration charges in this policy. There's a fund management charge of 1.35% and being an insurance plan there's mortality charges too. ULIP charges are also subjected to service tax.
Discontinuation: There are no discontinuance fund charges. But if you discontinue the premium payment before the minimum tenure of 5 years, then the risk cover will cease and the fund value as on date of discontinuance will be moved to discontinue fund portfolio where you will get minimum guaranteed interest rate @ 4% p.a. You will be able to withdraw the funds only after completion of minimum of 5 years tenure.
Partial Withdrawal: You can also make partial withdrawal after completion of 5 policy years. First 4 withdrawals in single policy year is free, subsequent withdrawals will be charged.
Switch and Re direction: You may also switch the invested amount to some other funds of your choice or even redirect the premium payments.
Surrender: You can surrender the policy in between, but if you do it with in first 5 years, your fund value will be shifted to discontinued fund and can be withdrawn only after 5 years.
Settlement: There's one settlement option too, where you can claim the maturity proceeds in monthly installments for 5 years. But as in accumulation phase, even in settlement phase investment risk will be borne by you.
HDFC life Click 2 Invest – Should you invest?
The reason this plan is different but no different for me is the charge and investment structure. Where ULIPs are generally full of charges, this plan has no charges at all. Mortality charges are meant to be there being an insurance plan and fund management charges are due to investment structure attached to it.
The main point of contention to me is the ULIP investment structure. I mean i have never been able to answer the question of why should someone invest in ULIP or even endowment, for investments or insurance or for both?
If this is for insurance, then will the investor be able to pay enough premium and that too regularly to buy adequate insurance cover? Say for e.g. If a healthy nonsmoker male needs an insurance cover of Rs 20 lakh, then in case of HDFC life click 2 protect (term insurance) he will pay Rs 3798/- p.a. of premium, where as in case of HDFC life click 2 invest or any insurance ULIP plan he needs to shell out Rs 2 lakh p.a.
Even if one has enough money to pay for premium, how one can be sure that he'll be able to answer this commitment every year (at least from next 5 years)
If this is for investments looking at low fund management charges, then how would you track the funds performance, compare it among peers and above all by any chance you find that funds are not performing as expected, what options you are left with. You have to continue with this structure and keep on paying the premium for at least 5 years and if you don't you will get returns of discontinuance fund account.
On the other side investments products like mutual funds, PPF, bank FDs, Post office schemes etc. all are so flexible and one can invest as per his requirement and manage comfortably.
Conclusion:
Even though hdfc life click 2 invest is devoid of all unnecessary charges, I am still not convinced to advise on investing in this. My advice is still the same keep insurance and investments separate. Buy adequate insurance cover through term insurance plans and do investments in pure investment products as per your short and long term goals and risk profile. Keep your investments simple and flexible.
How do you find hdfc life click 2 invest? Do you agree with my views?