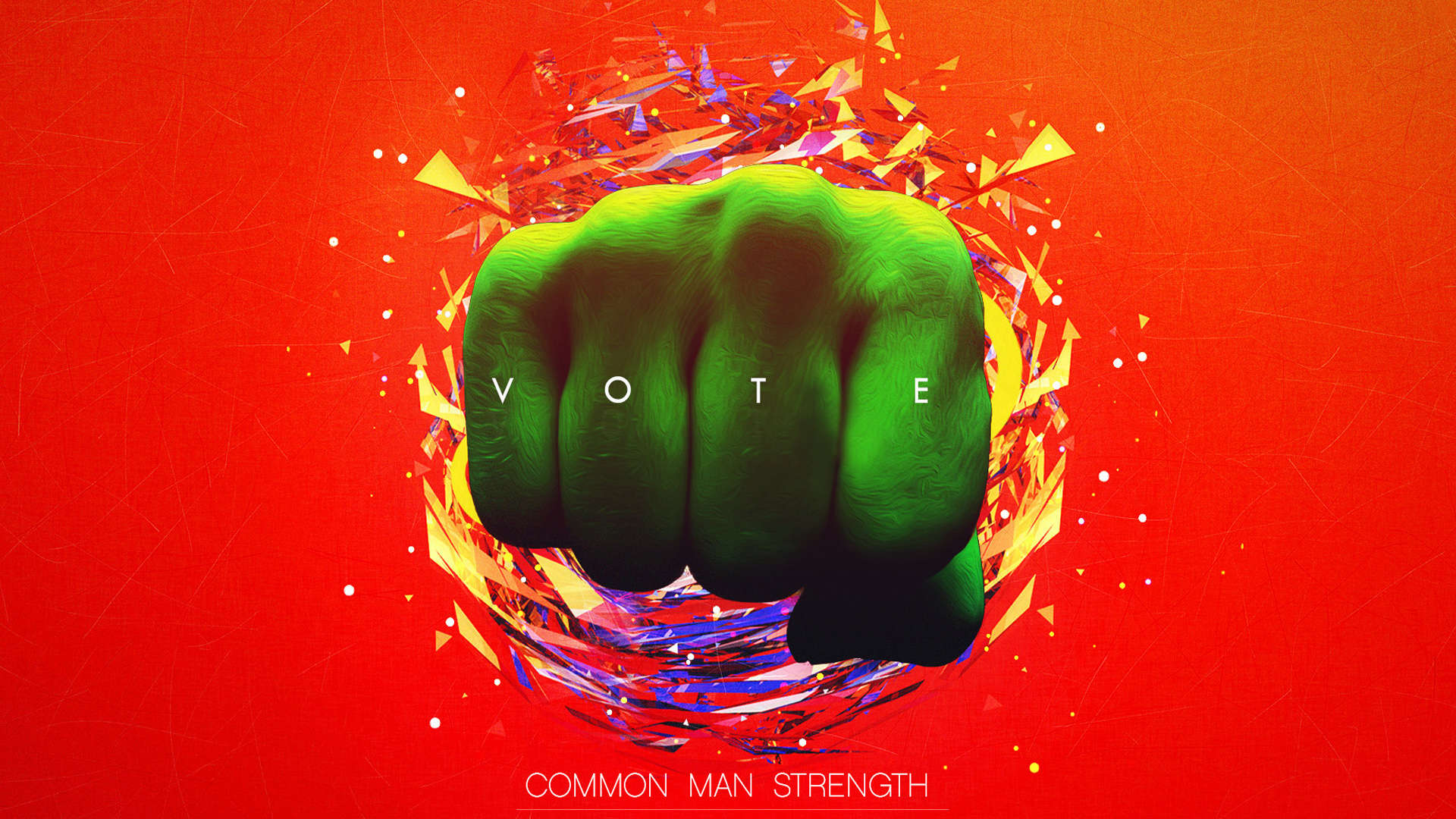 General Elections 2014 dates have been announced. We'll have final decision on which party is going to "rule" or I should say "serve" as I don't want to get ruled by someone on May 16 ' 2014 and we'll have 16th Lok sabha in place on or before May 31'2014.
Have you decided which party or person you will vote for? Who you want to represent your constituency in lok sabha this time? Do you want to vote for a party's ideology or a candidate's (representative of party) credibility? I believe that we don't send someone  just to sit and watch the lok sabha proceedings or to bring the PM that we love in the center. We want someone who should be amongst us, knows what we need at ground level, raise our concerns there and work for the development of our constituency, right?  
I am not so politically active person but these elections sounds to be different and important too. Different in the sense that I personally have not seen such an active participation by youth ever, they actually are taking interest in Indian politics and coming forward to participate and vote this time. I have never seen such different issues coming out like of corruption and lokpal, bringing political parties under RTI, Women empowerment etc. I have never seen political people giving importance to AAM AADMI and yes AURAT too and actually asking their suggestions while making there Manifesto. Inflation, rupee depreciation, black money, corruption, fiscal deficits etc. are some of the parameters which tell the state of our economy. Poor economy effects badly on personal finances too. We are actually looking forward for a stable and willing government to bring reforms and work towards betterment of country. But this is also what we had expected in 2009 from UPA as we trusted many eminent economists being part of that party, no?
In the past 5 years of financial planning I have met so many different people profiles facing different problems in different spheres of life which I being a planner could not resolve but are very important for their financial and overall wellness. I would like to get answer of these questions. I would like to know what the party's view on these issues and if we bring them in power what would be there modus operandi towards these issues. Also I would like to know from the local representative his/her personal view on these matters and how abreast h/she is with local problems. Economic policies are devised to bring growth in the country and I think many times it gets effected by international factors which is not in anyone's hands. Along with economic growth I am actually looking for an economic development. I have few concerns which I would like to ask the candidates when they will come to pitch me for my and my family's votes.  Some of those are:
1.       Education quality and cost:
It's not a hidden fact that how fast education cost is rising and quality of education is coming down. Every year in March April I read in newspapers how parents run from pillar to post to get their kids admitted in good schools. No one now days want to look at government schools due to Peer pressure, brand image or the perceived quality of education over there. Why this area is being neglected by government? When we can copy many policies and regulations from our western counterparts then why can't we have an education system like USA over here, where public schools are as good as private. (Disclaimer: I have never been to USA, and this was told to me by 2 of my clients and one of my friends ;)). In private schools education is too expensive that many families are actually finding it difficult to make their both ends meet, leave aside other important goal achievements.
Also when it comes to colleges for higher education we find so many institutes affiliated to different universities opened in many nook and corner of this country which produce so many low quality professionals which indirectly are increasing the numbers of unemployed in this country. Corporates are not ready to take them and even for government jobs they need to clear some exams which they could not.
My concern is that education is getting expensive and quality is getting deteriorated. What are the views of the political parties on this and what the local candidates know about the situation in his constituency and how he thinks this can be improved.
2.       Poor medical facilities:  
How many of you want to visit government hospitals for your or your relative's medical treatment? I am sure there are very few? Now assume the situation when you are not covered with any kind of medical insurance (neither from employer, government or private). Now tell me where would you like to get yours or your family members' medical treatment done? The answer again is Obvious. The quality of treatment is comparable in government hospitals but number of hospitals and dispensaries are very less. Private medical is getting so expensive that it will very soon be out of budget for many even if they have medical insurance with them.
And the reasons are many. It is also linked to the education cost of doctors, cost of production and profit margin in medicines, and yes, less number of government hospitals. (Remember: Satyamev Jayate's episode on this).
In financial Planning I've always felt that education cost does not let people to save much in saving years and health care costs does not let them to enjoy what they have saved in retirement years.
I want local candidate's and there party's view on this.
3.       Women safety :
Some months back one of my client found himself in cash crunch when his wife left the Job. The reason was the employer wanted her to come in night shift and she was not comfortable with that in a city like Gurgaon.
I would like to know political plans regarding working towards women safety and empowerment. And how they want to get it implemented at the ground level? Are they only going to woo the 49% voters by just fake promises or they have some strategies or deadline to work in this area. I personally feel that this is a politically targeted segment, but a very very sensitive and important area to work on.
( We at good moneying are celebrating Women's month…click here for details)
4.       Judicial system and Police reforms:
What are their plans to improve the Judicial system of India? When will the Police reforms be passed? When can I start saying that I have faith in my judicial system and I will get speedy justice.  When can I feel confident that the Police officer sitting in local police station will help me and not harass me and I can complain him/her without any hitch or fear?              I would like to ensure the safety of my parents living far away from me. When should I expect the police to be sensitized towards senior citizens and women of this country?
What does their manifesto say about all this?
5.       Black Money:
Menace of black money is so widespread in this country which has its own effect on the middle class people. We could not buy our own house just because of rising property prices. The one of the reason of that unnecessary rise is the black money. Even if we save enough for our house, we are asked to pay some portion in cash (black) as the circle rates are less and seller don't not want to pay more capital gain taxes. There was a huge hue and cry few years ago on SWISS bank deposits, but now in election season I am not hearing anything from any political party about that. Even Baba Ramdev is keeping Mum on that subject now days.
This parallel economy is very risky for not so poor country like India. Why we are not so poor because one news report says that we are on 4th rank worldwide among the countries of ultra rich people.
Economic Growth does not take into account the size of this Parallel economy, as the black economy is an unrecorded economic activity. Economic development alleviates people from low standard of living into proper employment with suitable shelter.
Asking questions related to their manifesto , knowledge and credibility of local candidate is a mix of Top down and bottom up approach fund managers follow in selecting stocks, and results in a good performance. See if we really want our country and ourselves to grow we should send a strong and knowledgeable representative of us in parliament. How can we vote for anyone from our constituency who doesn't even belong to this area, who is not educated enough to have an understanding of different issues we are facing. I think now is the time we should come forward and call these people to answer our queries. Call them in your society, Mohallas, school, colleges and ask these questions from them. This time Vote for country issues and not your personal ones. Even if that person's party could not form the government, you will not be at loss as h/she has WILL to Work . Also h/she will prove to be strong opposition to party in power and keep them accountable towards the country's development.
Also do ask them that after winning the elections, how they will be accessible to you all? Will this "Chai pe charcha" or "darbars" or "Public gatherings" continue to happen?
What questions you will ask your Lok sabha representative this election? What qualities you are looking in them? Do share your views