Thanks for Showing Interest in My Book – The Art of Being Good with Money.
This is the first book I have written in collaboration with CNBC TV 18.
More than Financial Planning, Its about Life Planning. The Book Theme is –
Money itself is an Important Relation in your Life so it has to be treated well like others. And when you be good with money, money reciprocates in the same way
Please find below the Table of content of the Same.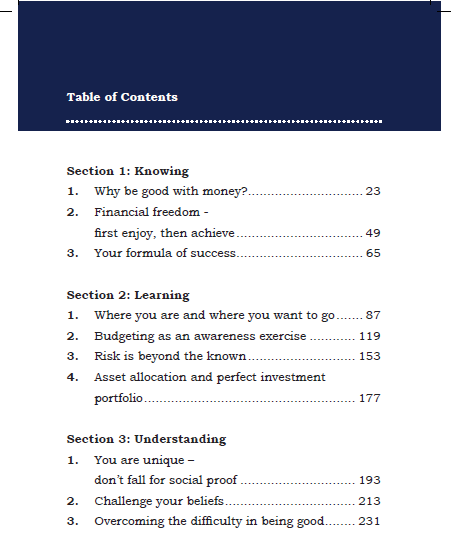 You may also Download the Preface from here to have a grip on the basic understanding of what is the book all about.
Here is an Offer for you. (Only for Good Moneying Email Subscribers)
Step 1 – You Buy the Book from the link below.
Step 2 – Share the Review on Amazon as a Verified Buyer
Step 3 – Send me your Postal Address on [email protected], and I will send you the Signed Copy of the Same Book.
You may Gift the Book that you bought to any of your Close Friends, Relatives and spread the Goodness.
I think you have got the idea of the offer. It's not only about making you buy the book but to make you read, review and so you be good to others, by getting them to read this Powerful book.
So Rather than calling it Buy 1 – Get 1, You may call it Buy 1 – Gift 1
This is a Limited Period Offer!! Valid Only till 31.03.2020
So, Hurry Up!! Make the Most of this offer. You have got the opportunity to make people be Good with their Money.